Las Vegas books shut out of Olympic betting, relic of college fight
February 8, 2014 - 12:26 am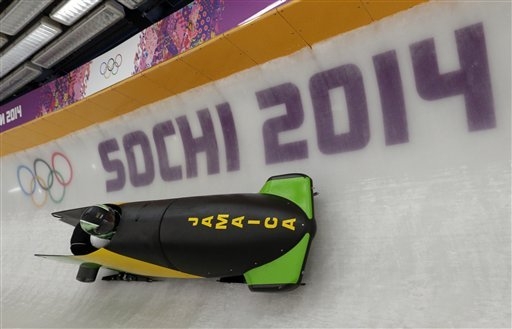 Want to get down on the U.S.-Russia "Miracle on Ice" rematch or place a wager that the Jamaican bobsled team will win a medal at the Winter Olympics?
Bettors will have to go offshore to do so, because Nevada sports books aren't allowed to accept wagers on Olympic events.
The regulation was passed in 2000, when the Amateur Sports Integrity Act unsuccessfully sought a betting ban on college sports, which would have been a big blow to local books.
At about the same time, the Nevada Gaming Commission eliminated a double standard by allowing betting on the state's two colleges, UNLV and UNR.
As a result, Sen. John McCain, R-Ariz., who championed the bill, had to settle for an Olympic betting ban.
"It was something that we knew wasn't a significant concession because very little action was accepted on the previous Olympics," LVH sports book director Jay Kornegay said. "But we should revisit it again. It seems to be outdated, since the rest of the world is taking wagers on the Olympics.
"In my opinion, there's nothing wrong with accepting wagers on those type of events, especially ones that have a final score or a race — basically, anything outside of a judging event."
When betting on the Olympics was allowed before 2000, Kornegay said besides the Nancy Kerrigan and Tonya Harding figure skating controversy, hockey and basketball games attracted the most interest.
"And it wasn't even a significant amount of wagering," he said. "The only inquiries that we ever receive are for the hockey games."
As for NHL games taking a 15-day hiatus from the betting boards for the Winter Games, Kornegay isn't concerned.
"For us, it's a small number," he said of the amount of money wagered on the NHL. "I don't mind not having it on the board. It's not going to make or break the month."
While the Winter Games begin in earnest today in Sochi, Russia, the Olympic men's hockey tournament doesn't start until Wednesday, with the gold-medal game scheduled for Feb. 23.
The host Russians haven't struck hockey gold since 1992, but handicapper Alex Smith (axsmithsports.com) said he thinks that drought will end soon. His best bet is on Russia to win the gold medal (plus-225).
"The Russians are, by far, the best of the NHL-heavy rosters," Smith said. "They're the home country, and they'll be walking into packed arenas with everyone cheering for them.
"The U.S. is the only challenge they really face, and they've got the speed and skill advantage — and the larger ice, especially, will be a huge advantage."
The international ice surface used at the Olympics is 15 feet wider than the ones used at NHL rinks. Smith expects Canada — the favorite, at plus-200, to win gold — and the U.S. (plus-600) to start sluggishly because of the expanded surface, travel, time difference and subpar accommodations.
"If any team settles in quicker, it will be Russia," he said.
While NHL-leading goal scorer Alex Ovechkin and two-time NHL scoring champion Evgeni Malkin will lead Russia's offense, Smith said he thinks goaltender Semyon Varlamov is the squad's biggest strength.
The Colorado Avalanche netminder has been dominant in international play, going 19-3 with a 1.95 goals-against average for the Russians.
Smith's other best bet is on the Czech Republic — led by Jaromir Jagr — to win Group C (plus-220) over Sweden, Switzerland and Latvia.
"Sweden has a lot of injuries, which is going to hurt them a lot, so I think the Czech Republic will jump in front of them to win Group C," said Smith, who predicts the Czech Republic will win the silver medal.
Smith is picking Finland, led by Teemu Selanne, to win the bronze over Canada, which won the gold in Vancouver in 2010 when Sidney Crosby scored in overtime to beat the U.S.
Smith advises betting on two prop bets at Bovada.lv: Will Finland win a medal? (yes, plus-175), and will Canada win a medal? (no, plus-275).
The Americans, led by Patrick Kane and Zach Parise, are in Group A with Russia — who they'll play at 7 a.m. PST on Feb. 15 — and even money to win a medal.
"They pretty much have to beat Russia," Smith said. "I don't see any chance of them medaling."
As for the Jamaican bobsled team, they're 50-1 to win a medal and plus-300 to crash the bobsled.
Contact reporter Todd Dewey at tdewey@reviewjournal.com or 702-383-0354. Follow him on Twitter: @tdewey33.