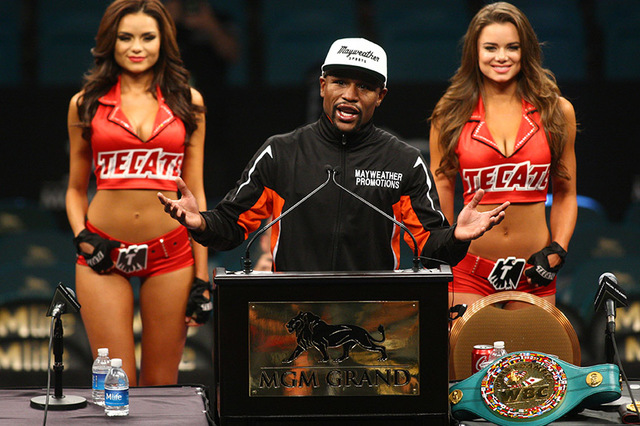 When Butch Harmon looked at who was entering the Southern Nevada Sports Hall of Fame with him on Friday, he was somewhat surprised by the company he was keeping. It's not often you find yourself discussed in the same breath as Floyd Mayweather Jr.
Boxing legend Mayweather Jr. and longtime golf instructor Harmon are two of the five honorees at the induction ceremony, which will take place at 4 p.m. Friday at Orleans Arena. The two will be joined by race car driver and owner Sam Schmidt, football player and high school coach Overton Curtis and the Las Vegas Bowl.
"I think it's surreal in that the former inductees, I know a few of them and have a lot of respect for a great deal of them," Schmidt said. "It's just a huge honor."
The Las Vegas Bowl, which celebrated its 25th anniversary this year, is only the second event among the hall's 98 inductees, joining the National Finals Rodeo. Since its inaugural game between Bowling Green and UNR on Dec. 18, 1992, it has featured plenty of memorable moments, including San Diego State running back Donnel Pumphrey breaking the NCAA's all-time rushing record in December.
Executive Director John Saccenti also remembers "The Holy War in Sin City" between rivals Brigham Young and Utah in 2015 fondly, when the Cougars rallied from a 35-point deficit after the first quarter, only to lose by a touchdown.
"The original plan was just to create tourism the week before Christmas. It's grown into one of the marquee events in Las Vegas," Executive Director John Saccenti said. "The bowl has kind of been at the forefront of paving the way for all those other NCAA-sanctioned and collegiate events (to come here)."
The Curtis family also passed a milestone in December. Overton Curtis died on Dec. 15, 1991 after suffering a heart attack while driving his car.
"He would've taken it in stride, he was a very classy coach," his wife Connie Curtis said. "He said what he had to say, meant what he had to mean. He would've been very honored."
Overton Curtis played football, basketball, baseball and was on the track team at Las Vegas High School, before playing college football at San Bernardino Valley College and Utah State, where he was the NCAA's kickoff return leader in 1957. He then came home and followed through on the career aspirations he had since he was 6 years old: teaching and coaching.
Curtis worked at Valley and Rancho High School and coached football, basketball and track. He gave swimming lessons in the summer, and was enough of an all-around athlete that he was recruited by fellow coaches to also help with soccer.
"There he was, every season. When you find the spot in your life where you excel and you're at peace, that's where you go," Connie Curtis said. "And that's what he found. He was a natural with it."
Now, Overton Curtis finds his place in the Southern Nevada Sports Hall of Fame along with four fellow inductees.
"We're very surprised. It's such an honor for him to be recognized," Connie Curtis said. "The family is just very grateful that this has been done for Overton."
Contact Ben Gotz at bgotz@reviewjournal.com. Follow@BenSGotz on Twitter.