LAS VEGAS BOWL: Fresno State, USC vulnerable if they treat game as consolation prize
December 20, 2013 - 10:27 pm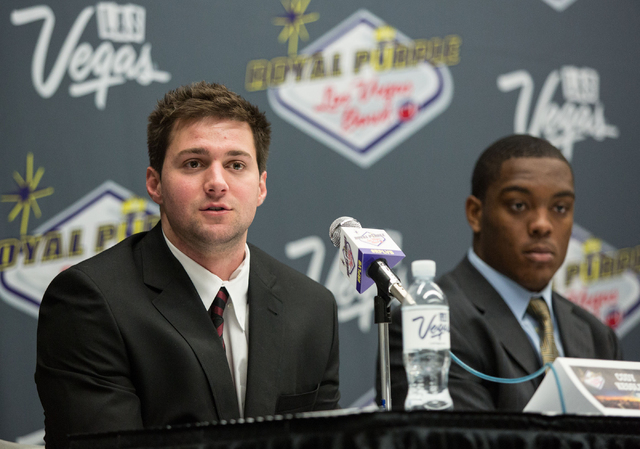 Fresno State is ranked No. 21, averages 45.3 points per game and fields a passing offense unmatched nationwide.
Southern California has the star power that has produced national titles and Heisman Trophy winners, and its band, cheerleaders and fight song are almost as famous as the team.
For the Las Vegas Bowl, it's a dream matchup. Or it should be, as long as both teams really want to be here.
If they do, today's 12:30 p.m. meeting at sold-out Sam Boyd Stadium should make ABC executives quite happy as the bowl season begins.
Coaches and players from both teams have said the right things all week about their hearts being in Las Vegas, but the play on the field will tell the story.
Both teams have plenty of reasons to be distracted and plenty of reasons to be focused.
Fresno State (11-1) will be distracted if the Bulldogs rue not being in position to play in a Bowl Championship Series game. They would be on their way if not for a 62-52 loss at San Jose State in the regular-season finale.
Considering Fresno State responded the following week by beating Utah State 24-17 in the Mountain West title game indicates it is a tough-minded team capable of moving forward.
"I hope that's what it showed," Fresno State quarterback Derek Carr said. "I hope that when we hit adversity that people see that we bounce back. We don't just give in."
And in playing USC, a team filled with players the Bulldogs know, Fresno State could be motivated to send a message to one of the nation's elite programs.
"Any time we get a chance to play against a BCS opponent, our guys, it gets their attention," Fresno State coach Tim DeRuyter said. "To play one with the name or recognition of USC, our guys couldn't have been happier."
USC (9-4) will be distracted if the Trojans let all the adversity catch up to them. They are playing for their third coach this season in interim Clay Helton. Lane Kiffin was fired after five games, and Ed Orgeron resigned after the regular season when Steve Sarkisian was hired to oversee the program.
And Las Vegas before Christmas isn't where USC usually plays its bowl games. The Trojans were in the more prestigious Sun Bowl last season, barely showing up in a 21-7 loss to Georgia Tech.
"There's no question this team has a purpose and a goal we set coming into this bowl week to get a 10th victory," Helton said. "That would be extremely special. I think there are 22 teams in the country right now that have 10 victories. That puts you in elite company.
"When you're talking about a team that's gone through the adversity they've gone through, that would be a statement. That would do something to carry on the tradition of excellence at USC and to pass it over to Coach Sarkisian. We did not want this to be a wasted year."
USC will be fired up if Helton's words resonate, and getting to a 10th victory really is a big deal for the 6-point favorite.
Like Fresno State, the Trojans have shown the ability to play through adversity. The Trojans, in fact, have dealt with far more of it, especially for a rabid fan base not accustomed to losing at home to Washington State and UCLA.
The Trojans, however, put together a five-game winning streak when they could have simply played out their season.
Watching video of the Bulldogs' passing attack also should be enough to get USC's attention. Carr leads the nation with 4,866 yards and 48 touchdowns passing. Two receivers are over 1,000 yards — Davante Adams with 122 catches for 1,645 yards and 23 touchdowns, and Josh Harper with 79 receptions for 1,011 yards and 13 TDs.
Isaiah Burse, who has 94 catches and five touchdowns, is just 13 yards from making it a trio to hit a grand. Only four other teams have had three 1,000-yard receivers.
But other than maybe Utah State, the Bulldogs probably haven't faced a defense as talented as USC's. The Trojans allow just 21.3 points per game.
"We're definitely going to have our hands full trying to slow those guys down," USC linebacker Devon Kennard said.
Contact reporter Mark Anderson at manderson@reviewjournal.com or 702-387-2914. Follow him on Twitter: @markanderson65.