Las Vegas boys get overtime win at Foothill
December 10, 2013 - 11:27 pm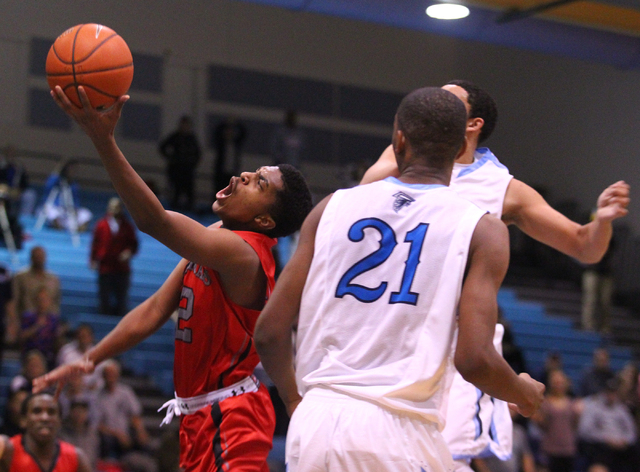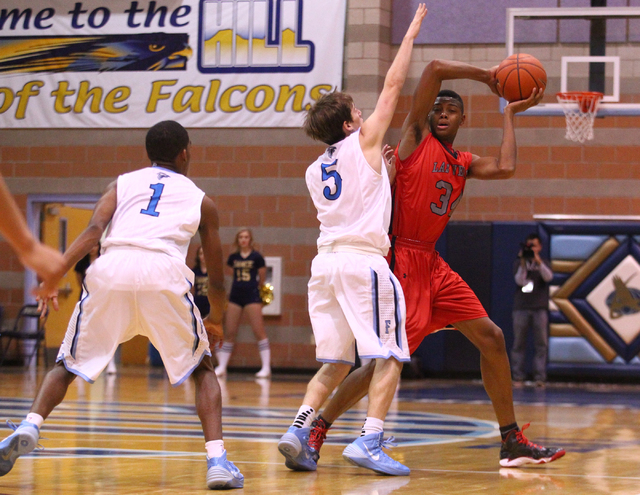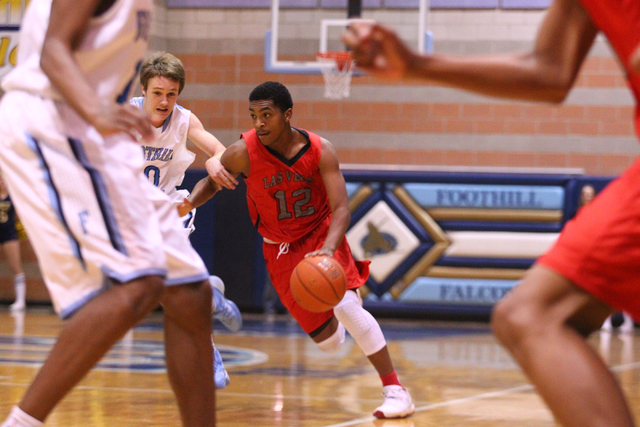 Las Vegas High's basketball team was due a break around the basket on Tuesday.
Reserve forward Will Loche gave them one.
Loche grabbed an offensive rebound and hit the follow to give Las Vegas the lead with 2:04 to go in overtime, and the Wildcats went on to beat host Foothill, 77-74.
The 6-foot-3-inch Loche had just checked in to replace 5-11 guard Deshawn Weathers.
"We had Deshawn in the game and he was just outmatched physically to get rebounds, so we decided to put Will in there," Las Vegas coach Jason Wilson said. "As soon as he got in the game, that ball fell right on his hands, and he went back up with it. That kind of worked out pretty well."
Re'Kwon Smith was at the free throw line for two shots with 2:11 to go in overtime and the Wildcats trailing 72-70. He hit the first, but missed the second. Smith grabbed his own rebound, but couldn't get that to go either. Loche was there for the follow, and Las Vegas wouldn't trail again.
The Wildcats (3-0) needed a break after a pair of tough plays around the basket down the stretch in regulation.
Las Vegas led 61-59 when Foothill's Jalen Shepard went to the basket in transition. His layup missed, but the ball went off the hands of a Las Vegas player, off the backboard and into the hoop to tie the game with 1:17 to go in regulation.
With time running down and the Falcons (3-2) leading 66-64, Devon Colley drove to the basket. His layup was still touching the rim and about to fall when Smith touched the rim, and the bucket was waived off.
Colley was fouled on the play and hit both foul shots with 12.1 seconds to tie the game and force overtime.
"Just crazy stuff, especially in this environment," Wilson said. "This is two pretty good teams, I think, just getting after it. And when that happens, crazy stuff happens.
Foothill cut the lead to 75-74 on a bucket by Torrance Littles with 1:01 to go in the extra period. Colley hit two free throws to make it 77-74 with 9.2 seconds.
Foothill pushed the ball down the floor and got it to sharpshooter Austin Starr on the wing. But Starr's forced 3-pointer over two defenders was short, and Tyler Bey grabbed the ball and raced down the court to run out the clock for the win.
Colley had 22 points and eight assists to lead Las Vegas. He had eight points, two rebounds and three assists in the fourth quarter.
Smith added 21 points, seven rebounds and three blocked shots for Las Vegas, which got 13 points from Patrick Savoy and 11 points, eight rebounds and four blocked shots from Bey.
Ian Ellis led Foothill with 18 points and six rebounds. Shepard and Starr each had 16 points. Shepard also had seven rebounds and nine assists.
Contact prep sports editor Damon Seiters at (702) 380-4587 or dseiters@reviewjournal.com. Follow @DamonSeiters on Twitter.