Las Vegas features variety of road races on Thanksgiving Day
"First we run, then we eat."
If you're shirking Thanksgiving cooking responsibilities in favor of a road race, you'll likely see more than one shirt with that slogan on your course. You'll also likely find more than one person sporting a turkey on their head as they bob up and down the course.
Thanksgiving Day has become the single most popular day to run in the United States, so you're in good company if you tie up your laces Thursday.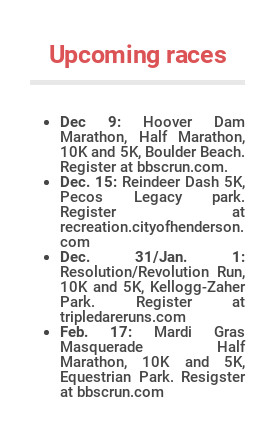 The first Turkey Trot took place in Buffalo, New York, in 1896, according to Runner's World and only six of the four runners finished the 8K event held by the local YMCA. The event has been held every year since, even in 2002 when a snowstorm threatened to cancel the event. Fortunately, that's not something we've got to worry about here.
Here's a look at some of the area's turkey trots:
Ongoing construction will re-route one the valley's most popular routes this year. The Six Tunnels to Hoover Dam half-marathon, 12K, 5K and 1-mile run in Boulder City is one of the largest Thanksgiving Day races. Runners travel along an old railroad track, which originally helped move materials and men during the construction of Hoover Dam.
Those signed up for the half-marathon and 12K — a 12K is about 7.5 miles —will be able to run through three of the famed tunnels, but construction on the trail is forcing part of the course to go through Boulder City. The 5K and 1-mile races are not affected by the construction.
Packet pickup Thursday starts at 6 a.m., with the first race at 7:30 and the courses closing at 10:30. That'll get you home in plenty of time for food and football, even if you stop in the Hoover Dam Lodge for a complimentary postrace beer.
If you're in Summerlin, Jus Run is hosting The Turkey Rock along the Western Beltway Trail. The start line for the 10K, 5K and 1-mile run is located behind PKWY Tavern. Organizers say to expect a gradual uphill on the way out, but a fast downhill finish with views of the Strip.
Contact Meghin Delaney at 702-383-0281 or mdelaney@reviewjournal.com. Follow @MeghinDelaney on Twitter.