Las Vegas is the new home to NASCAR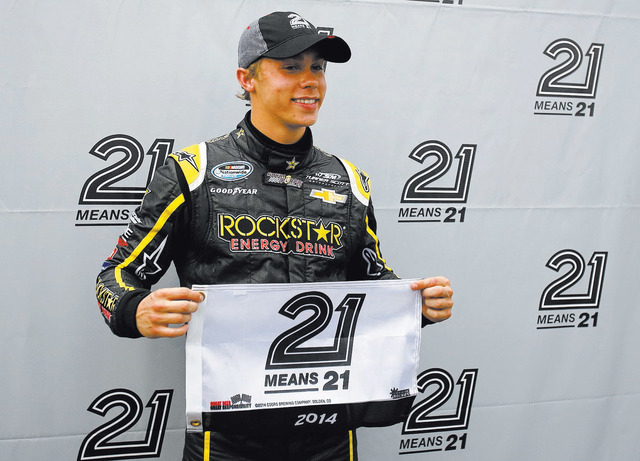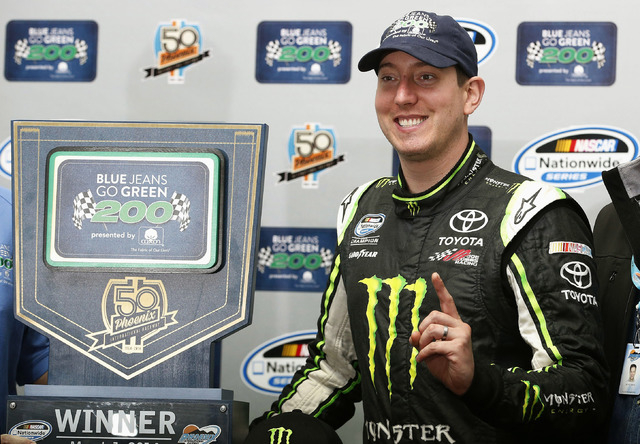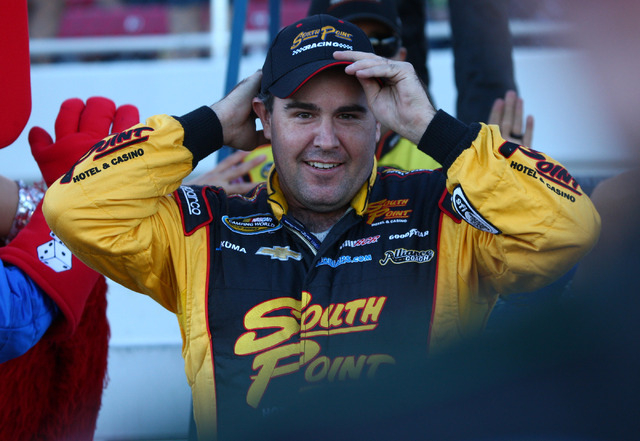 Dylan Kwasniewski is the definition of cool. Circa 1950s flop-top haircut that is cut short on the sides. Just 18 years old and with a seemingly bright future driving fast cars.
You want him to lose his cool, even if just a little bit?
Just mention how racing in the West is viewed by NASCAR fans in the East.
"I would just get ticked," Kwasniewski said. "We've got Jimmie Johnson, who's from California. And then we've got Kyle Busch and Kurt Busch coming from Las Vegas. And we've got Brendan (Gaughan), and hopefully I'll be able to follow in their footsteps and do good as well. It shows we've got extraordinary talent out here. We can race with the best of the best in this sport, and it doesn't segregate us just because we're on the West Coast."
Drivers such as Kwasniewski are making fans all over the country take notice of the West. More specifically, fans are having to recognize Las Vegas as the new hotbed of NASCAR.
Four Las Vegas drivers compete in the organization's top two series, Sprint Cup and Nationwide.
All four are in their hometown this week with NASCAR returning to Las Vegas Motor Speedway. The Boyd Gaming 300 Nationwide race is Saturday, and the Kobalt 400 Cup event is Sunday.
And all four — Kyle Busch in both series, Kurt Busch in Cup, and Gaughan and Kwasniewski in Nationwide — come in with careers on the upswing. That was evident in the weekend's first event at Daytona when three Las Vegas drivers finished in the top eight of the Nationwide race, and Kyle Busch challenged for the Daytona 500 before a crash on the final lap ended what chances he still had left.
"We're all kind of heading in the right direction," Kyle Busch said. "One of these days, we'd love to be able to bring a championship back to Vegas. I know Kurt's done it once. If Kurt can't do it again, hopefully it's me."
How did Las Vegas become such a hub for racers?
Gaughan, 38, said the seeds were sown before LVMS opened in 1996, when he used to race on the same property where the 1½-mile speedway now stands.
When LVMS was built, the facilities allowed racing to truly flourish by providing a training ground. None is more important than the three-eighths-mile oval at the Bullring.
"It is all possible on the NASCAR side now because of how well the Bullring does," Gaughan said. "If you don't have a good Legend car program, you don't have a good Late Model, a good feeder series, you're not going to give these kids chances to get here. Vegas has a great short track with the Bullring. Everything is done well."
The Busch brothers were the trailblazers. They not only found their way to NASCAR's top levels but also won when they arrived.
Kurt Busch, 35, became the first Chase champion when he won the Cup title in 2004. He has won 24 Cup races overall and has finished in the top 10 of the final standings six times.
"Being the first one out of Vegas and in a big-time contract, I didn't know how long I was going to last," Kurt Busch said. "I asked (his employer) the Las Vegas Valley Water District for a leave of absence for 12 months just in case racing didn't work out and that my bubble could've popped. So I pushed hard. Jack Roush put his arm around me, but at the same time, it upset a lot of veterans in our sport. It started a tough road from an image perspective."
Kyle Busch, 28, still seeks his first Cup title, but has won 28 races and last season finished a career-best fourth in the standings. He also dominates Nationwide, having won 64 races.
The Busches brought their own style, which sometimes created problems and negative media attention, but also has helped bring a different flair to NASCAR.
"Kurt Busch and Kyle are pure showmen," former champion and current Fox broadcaster Darrell Waltrip said. "They really go out there and put on a show. That's one of the things I like about them, is they're entertainers."
Kwasniewski appears to be next in line to follow the Busches.
He is coming off two seasons in which he became the first driver to win the West and East K&N Pro Series championships. Kwasniewski won the pole for the Nationwide race at Daytona two weeks ago, then finished eighth.
Then there is Gaughan, whose career was in jeopardy before experiencing a rebirth last season with a seventh-place finish in the Camping World Truck Series. That led to a Nationwide ride in a Richard Childress Racing car.
The quality coming out of Las Vegas is nearly unmatched, with no other city churning out this many top racers.
Not even Charlotte. The state of North Carolina, in fact, has just three native drivers competing in Cup.
From a historical perspective, Las Vegas most closely matches Owensboro, Ky., which in the first decade of this century placed five drivers in the top two levels. Another driver from the town of about 55,000, Waltrip, won three Cup championships in the 1980s.
"There's always a trailblazer, somebody that sets the pace and has a bunch of guys try to follow him," Waltrip said. "The way it worked for me, people always said, 'If you can win at Nashville, you can win anywhere.' Well, I dominated Nashville. I owned that place."
And because people noticed that success, Waltrip said, that led not only to his breakthrough with NASCAR but also for those who followed.
Las Vegas is undergoing a similar process, and how long the run lasts remains to be seen. But it's this Southern Nevada city that unexpectedly has become home to NASCAR talent.
"Las Vegas has been a bigger race town than it ever was given credit for," Gaughan said before reciting popular events going back about 40 years. "There's a lot of racing that happened in Vegas, but it wasn't the scale that NASCAR brings."
Contact reporter Mark Anderson at manderson@reviewjournal.com or 702-387-2914. Follow him on Twitter: @markanderson65.