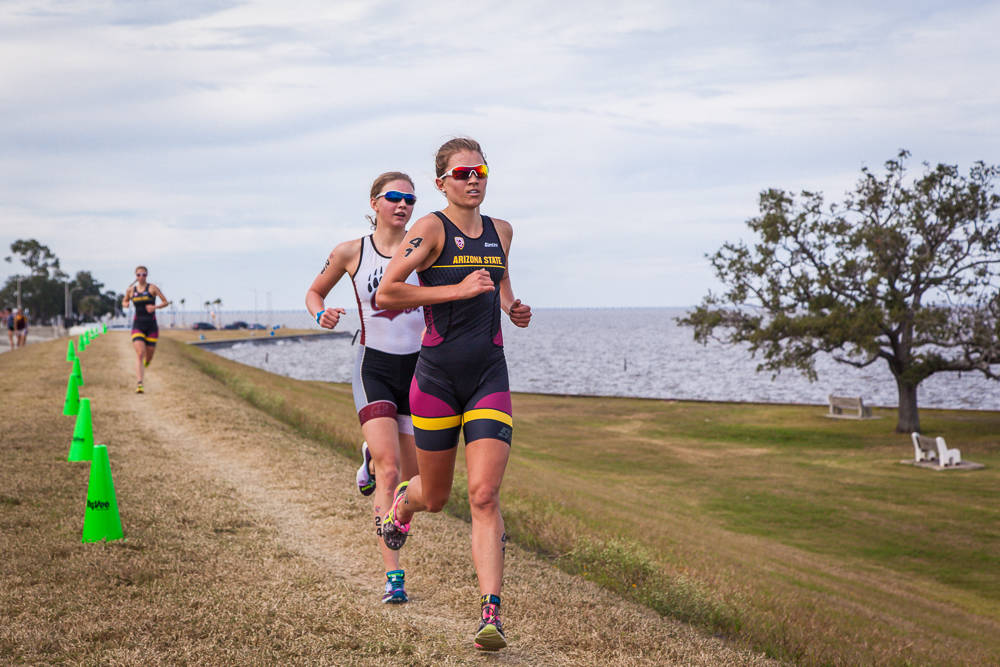 When Katie Gorczyca ran her first triathlon at Lake Mead at 13-years-old, she stopped to put socks on between events.
"Rookie mistake," Gorczyca, 21, said. "I've come a long way."
Since that first race in the desert, the Las Vegas native has become one of the top young female triathletes in the nation while competing for Arizona State. Gorczyca finished third at the USA Triathlon Under-23 National Championships with a time of 1:02.41 on Sunday, which was part of the West Des Moines CAMTRI Sprint Triathlon American Cup.
"I really enjoy (triathlons) because just doing one sport for a really long time can be kind of boring," Gorczyca said. "The fact that I can do three sports is always entertaining."
Gorczyca, who was also named the USA Triathlon Women's U23 Triathlete of the Year in April, started out as a runner, until an injury caused her father to put her on the swimming team to cross-train. Once it became clear she had a talent for both sports, her swim coach suggested she add a third and give triathlons a try.
She grew to love triathlons so much that Gorczyca, who won the state cross country title as a freshman at Palo Verde, turned down financial aid offers from UCLA and Arizona to train instead at the Colorado Springs Elite Triathlon Academy. While there, she was able to take classes at nearby University of Colorado and access resources at the Olympic Training Center.
"When it came down to it, training at the Olympic Training Center is something not a lot of people can do," Gorczyca said. "It helped me grow so much."
But Gorczyca always had her eye on competing in college, and after two years she decided the time was right to transfer to Arizona State's fledgling triathlon program. The Sun Devils were one of only 13 U.S. colleges to have a varsity triathlon program in 2016 and the only one from a Power 5 conference.
"I saw Katie as someone who had really good abilities and someone who could start the team and be a part of our foundation," Arizona State coach Cliff English said, adding he sold Gorczyca on his vision of a program that sent athletes to the largest national and international competitions.
The partnership worked out right away, as Gorczyca became the team's top scorer and finished second at the NCAA Championships in November, helping Arizona State win the team title in its first year as a varsity program.
"She is, for lack of a better word, very clutch," English said.
The Sun Devils will look to repeat as champions this fall when they host the NCAA Championships, with Gorczyca expected to lead a roster that will almost double in size. While she still has a lot of opportunities coming up for herself as an individual athlete, Gorczyca also knows she's at the forefront of establishing a varsity sport at the college level.
"Everybody was new to this. My coaches, the team, the whole sport was new to the NCAA," Gorczyca said. "For the younger generation, it's going to be a really good thing for them."
BMX
The USA BMX National Series will make a stop in Las Vegas this weekend at the South Point Hotel and Casino.
The USA BMX Las Vegas Nationals will take place Friday through Sunday and 17 local riders are expected to compete. Many of the riders will use the stop in Las Vegas to prepare for the BMX World Championships being held in South Carolina at the end of the month.
Recreation notebook appears Wednesdays. Contact Ben Gotz at bgotz@reviewjournal.com. Follow@BenSGotz on Twitter.