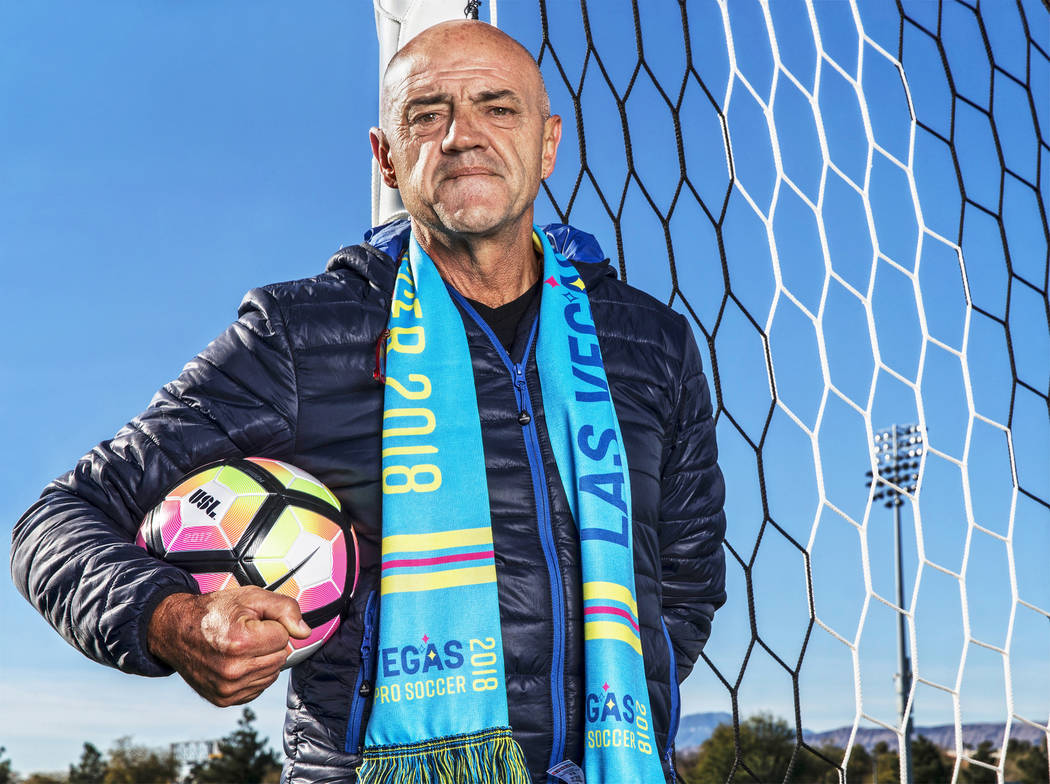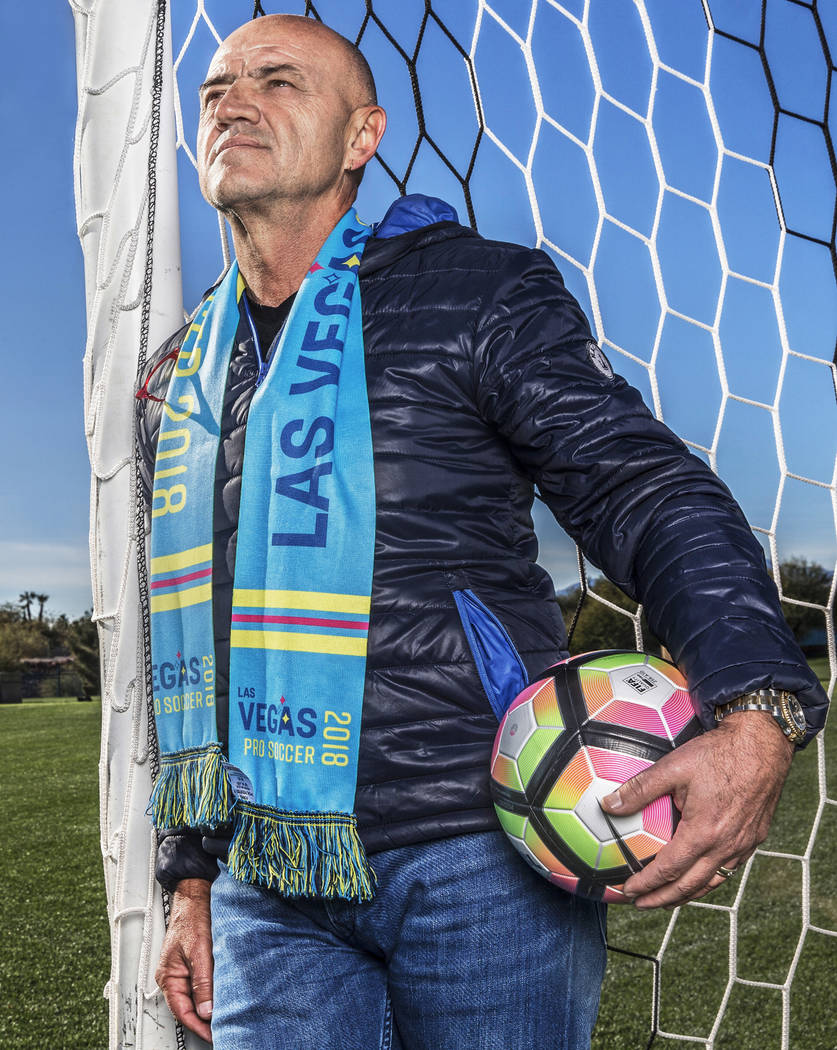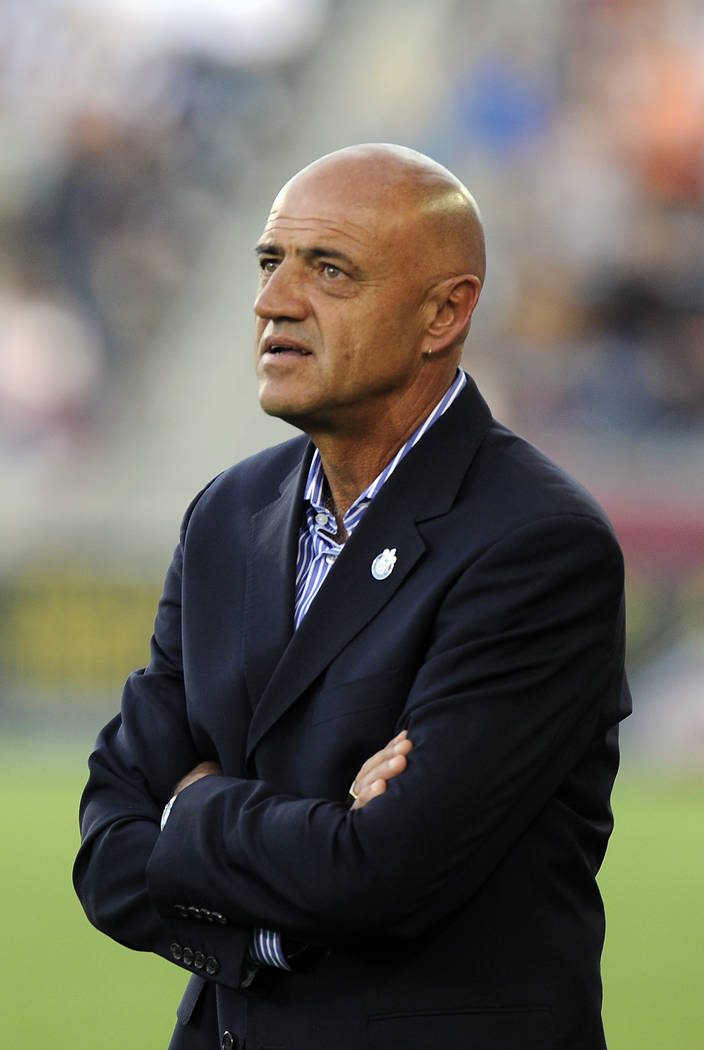 On the stage of Inspire Theatre in November, Las Vegas' newest entertainer described his goal: to be as thrilling to audiences as Celine Dion and Criss Angel.
José Luis Sanchez Solá isn't a musician or magician, though. He's a soccer celebrity.
The 58-year-old was introduced Nov. 14 as the coach of Las Vegas Lights FC, the city's newest professional outdoor soccer team, and since then he's used his knowledge and charisma to sell himself and his United Soccer League club to a market primed for the sport.
He is an experienced hand who has competed at the highest levels of American and Mexican soccer. He is also a magnetic, outspoken frontman — once, hours before a match against Real Salt Lake, he tweeted that when his grandchildren misbehave he will tell them he is going to send them to cold, gray Utah.
The Lights are hoping their leader, who commonly goes by the nickname Chelís, can blend style and substance to create a product worth seeing in the increasingly crowded Las Vegas sports landscape. And there's no question the coach, whose first test is an exhibition game Feb. 10 at Cashman Field, helps the team stand out.
"(I) have only one promise to everyone, and that is every time someone watches the Las Vegas Lights FC … they will be entertained," Chelís said through a translator at his opening news conference. "If you go to the game and it's entertaining, that's a win. And if you score more goals than the other team, that's a win too."
El Promotor (The Promoter)
Chelís (pronounced like the Spanish word "feliz") became a soccer fan at age 4, cheering on his hometown team Puebla FC in Mexico. He dreamed of joining the soccer world, but he wasn't good enough to turn pro, and his attempt to study sports communication didn't pan out.
His break came in 1995, at age 35, when he obtained his coaching license in Mexico. Soon he was leading Puebla FC's youth academy, and in 2006 he was put in charge of his hometown club.
La Franja ("The Strip Band"), as the team is nicknamed, had just been relegated to Primera A (Mexico's second division at the time), and despite Chelís leading the team to a league championship in December, the club was soon in dire financial straits. At the end of its next season, Puebla FC played Dorados for the right to move up to Liga MX, needing the new sponsors that would come with the promotion to stay alive.
"There was no money for the next season," said Chelís' son, Isidro Sánchez, who played for Puebla from 2007 to 2010. "That was our last chance."
Chelís led his team, comprised mostly of his former academy players, to a 3-2 victory in front of more than 50,000 fans in Puebla on May 26, 2007. The victory saved the then-63-year-old club, and the team has not returned to the second division since.
Chelís stayed with the club another three years before leaving, leading the team to consecutive playoff berths in 2009 for the first time since 1991-92.
"Nowadays with Las Vegas, it's very similar. It's not the same, but it's very similar, building a team from nothing," Chelís said. "It's a very similar idea, a very similar project to the one at Puebla."
El Motivador (The Motivator)
After his time at Puebla ended, Chelís made stops with various teams in the first and second divisions of Mexican soccer, along with the now-defunct Major League Soccer team Chivas USA in 2013. In that span, he gained a reputation as an energetic players' coach who kept everyone on their toes.
A routine possession drill might suddenly involve wearing wolf masks. A pregame practice could turn into a kickball tournament, with prizes like iPads up for grabs.
"He's unlike any other coach I've had," said Las Vegas High graduate Herculez Gomez, who played for Chelís in Puebla. "He's not so much an X's and O's type of guy. He's not going to sit there and have a tactical discussion with you.
"But he does find common ground with the human being, the individual. He's really gotten the most out of a lot of players in Mexico, myself being one of them."
Chelís' unorthodox methods translate to the sidelines, where he is often demonstrative and never sits. He doesn't know another way to lead, believing that if he's animated, his players feel that passion on the field.
"He's an emotional coach," said FC Dallas coach Óscar Pareja, who competed against Chelís in MLS. "He has a lot of energy on the sidelines."
His support for players also extends off the field, as Gomez said there were times in Puebla that Chelís threatened to not practice because the players hadn't been paid. In exchange for that support, though, the coach demands loyalty to the team and a commitment to improving.
"It's never enough for Chelís," said Sánchez, now an assistant coach with the Lights. "For me as an assistant coach, he will ask for more. As a son, there is never enough. For the players, whatever you can give, tomorrow Chelís will ask for more."
El Celebridad (The Celebrity)
Chelís' dynamic methods and personality made him a "media darling" in Mexico, according to Gomez, bringing plenty of attention to himself and to his teams. His fame was further heightened when he was hired as an analyst by the ESPN Deportes show "Fútbol Picante" ("Spicy Football") in 2014, and he's quickly capitalizing on his popularity in Las Vegas.
"Look at the buzz growing about the team," Lights owner Brett Lashbrook said. "He's the perfect guy to launch the Lights with."
Chelís' notoriety has been evident since the moment he was hired by the Lights, from fans storming a local radio station after his interview there to onlookers requesting photos at the team's local combine.
His presence has already impacted the club's footprint, as the team's Twitter account has gone from about 2,000 followers to more than 5,000 in the month since his hiring, according to Lights Vice President of Corporate Partnerships Steve Pastorino. The Lights' Spanish-language account, created a week before the bilingual coach's hiring, has more than 650 followers.
"Vegas, when it comes to the Hispanic community, it's huge," said Joaquin Rivas, who played forward at UNLV from 2010 to 2013. "I think the (Lights') fan base is going to be extremely huge."
Chelís has taken almost every opportunity to engage with the community since coming to Las Vegas, even grabbing beers with fans at the downtown bar Gold Spike the day he was introduced. The Lights are banking on his renown with the Mexican soccer community, as well as his outgoing nature, to help grow their group of supporters.
"Chelís' hiring is definitely going to get the attention of a lot of people. He's a very charismatic individual," Gomez said. "But it all depends on what you put on the field. At the end of the day, people want to see a winner."
El Localizador (The Localizer)
Chelís knows one thing he wants to put on the field: Las Vegas talent. One of the first announcements the team made after his hiring was that it would hold an open combine for local players to try out for the team.
The coach's willingness to ensure Las Vegans would be a part of the club is one of the reasons Lashbrook hired him, and the team has guaranteed at least one player on its roster will have local ties or roots. Fulfilling that promise shouldn't be an issue, as many members of the local soccer community don't expect the team to stop at one.
"I think we have just as much talent as anywhere else," Coronado High School boys soccer coach Dustin Barton said. "I know of a few (local players) that will probably make (the USL)."
Chelís was pleasantly surprised by the local talent when the open combine took place Dec. 9 and 10, and the Lights found 19 players worthy of an invitation to their tryout camp featuring professional players.
It comes as no surprise to men's coaches Rich Ryerson of UNLV and Geoff Hawkins of College of Southern Nevada that there's talent in Las Vegas, as both run successful programs reliant on nearby athletes.
"In the last four seasons, we've won our conference twice," Ryerson said. "I've had as many as seven of the 11 players starting, sometimes even eight, that are Las Vegas or Nevada residents. It's been a pretty successful recipe for us."
Hawkins added that the local community should be able to provide the Lights a worthy player or two per year, which is all the team would need to fulfill its guarantee. But Chelís isn't just interested in checking a box; he's earnestly seeking players who can be successful and keep fans engaged.
"(I want) to make sure this team smells like Las Vegas," Chelís said.
El Agresor (The Aggressor)
The Lights' distinct aroma won't just come from players, as the team plans to adopt a style of play that reflects its community. Lashbrook intends to bring an aggressive, attacking brand of soccer to Las Vegas, and to do so he partnered with a coach who once said he would rather lose 5-4 than win 1-0.
"The (Lights are) really looking for an attacking team that can put together an interesting game for the fans. That it's exciting and fast paced. That it has a flair," said Pepe Galván, whose soccer consulting company, Six Pack Mental, helped connect Lashbrook and Chelís. "Chelís is the ideal candidate for that."
Whether that flair brings wins is still in question. Despite his success in Mexico, Chelís was fired midseason with dysfunctional Chivas USA in his only other coaching stint in the United States.
The coach considers winning on the field only half the battle, though. To win twice each night, he needs to turn the Lights' downtown stadium into Strip-caliber entertainment.
"I think he'll do well if he's given the opportunity to have his blueprint worked into the team," said Sporting Kansas City goalkeeper Tim Melia, who played for Chelís with Chivas USA. "I think if given time in Vegas, he'll do a good job. It's different, for sure, but I think the results could be there if he finds the right players."
Contact Ben Gotz at bgotz @reviewjournal.com. Follow @BenSGotz on Twitter.
Review-Journal reporter Damon Seiters contributed to this story.