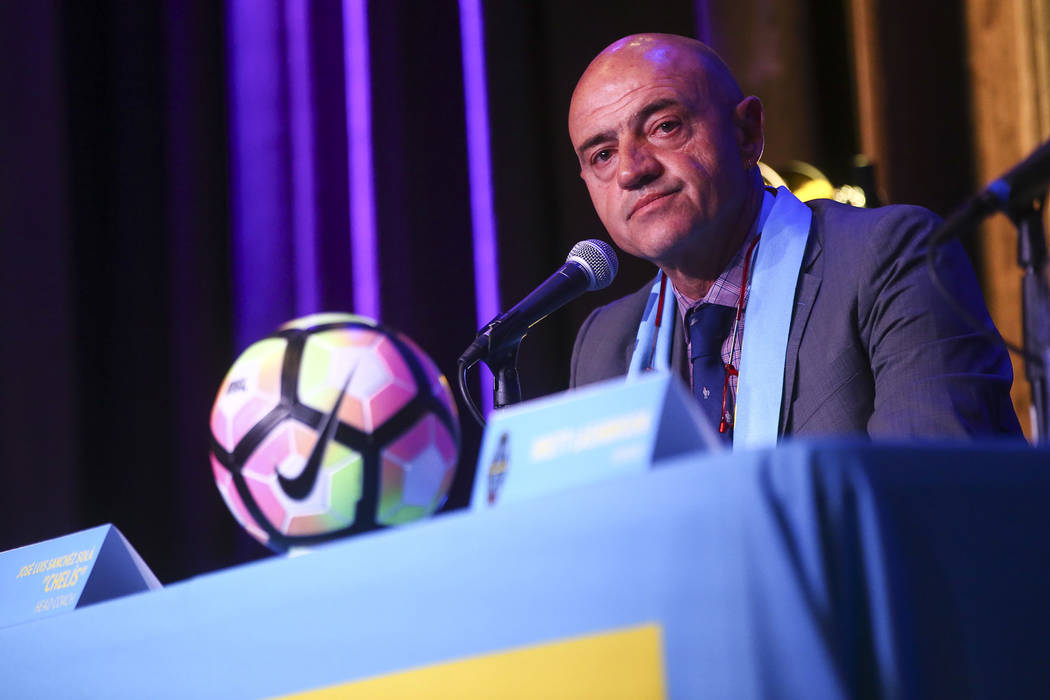 Las Vegas Lights FC coach José Luis Sanchez Solá, commonly known as Chelís, has said he wants his team to reek of Las Vegas.
This weekend, he'll see if anyone out of a group of more than 700 players passes the smell test. The Lights will host their first player combine on Saturday and Sunday at Kellogg Zaher Soccer Complex, with the hope that one of the many local hopefuls competing impresses enough to make their inaugural roster.
"I really respect how Chelís plans to handle this," Lights owner Brett Lashbrook said. "He is adamant that there are players that fit his system that are often overlooked by the so-called 'experts.'"
The team announced it was having the open tryout Nov. 17; a week later the team said registration was closed with more than 700 sign-ups.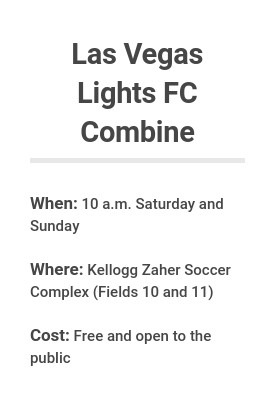 While there's a certain novelty to the idea of more than 700 people trying out for a professional soccer team, Lashbrook said open tryouts can have real results. When Orlando City SC won the United Soccer League championship in 2013, Lashbrook said the team found three of its players from local combines.
The Lights also backed up their commitment to Las Vegas players by announcing Friday that they are permanently guaranteeing one of their 30 maximum roster spots to a local, though like most USL teams the club will likely only carry 23 to 25 players at a time. That doesn't mean the Lights will for sure sign someone out of the combine, but if they don't they'll still find someone with Las Vegas roots or ties to play for them.
"I am just convinced there is someone here who has fallen through the cracks," Lashbrook said.
UNLV coach Rich Ryerson expects several of his former players to take part in the combine, and Rebels alumni Julian Portugal (2011-14), Sebastian Hernandez (2013-14), Carlos Lara (2013-14) and Salvador Bernal (2011-14) are among the names preparing to compete.
Portugal, a midfielder, appeared in nine games for the USL's Tulsa Roughnecks in 2015. Bernal, a forward, was selected in the fourth round (40th overall) of the 2015 Major League Soccer SuperDraft and played for Toronto FC II in the USL from 2015-16.
One name Ryerson does not expect to be part of the UNLV contingent is forward Danny Musovski, who won the 2017 Western Athletic Conference Offensive Player of the Year award near the end of his senior season. Musovski, who had 15 goals in 16 games in the 2017 season, is currently training for the MLS combine and draft in January.
"He's waiting to hear from the MLS. There's MLS interest in him," Ryerson said. "That's the route that Danny's always dreamt of."
Musovski aside, the Lights hope this weekend is their first step in mining the soccer talent in Southern Nevada. And there's plenty of people who believe they'll be striking at a rich vein.
"Hopefully they look at that local talent and build something from that, because they can," former UNLV forward Joaquin Rivas said.
Contact Ben Gotz at bgotz@reviewjournal.com. Follow @BenSGotz on Twitter.