Las Vegas Marathon generated economic impact of $226 million, study says
March 25, 2016 - 10:27 am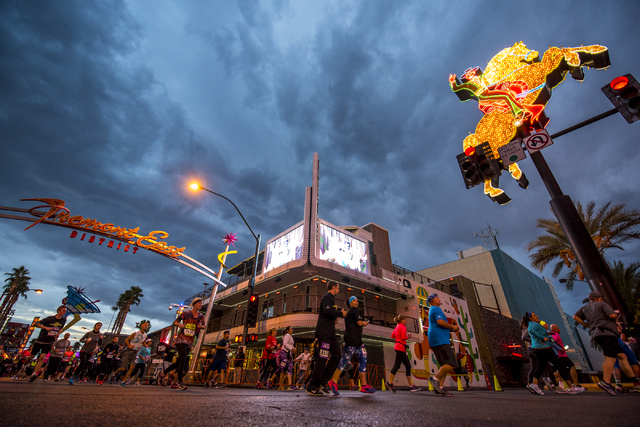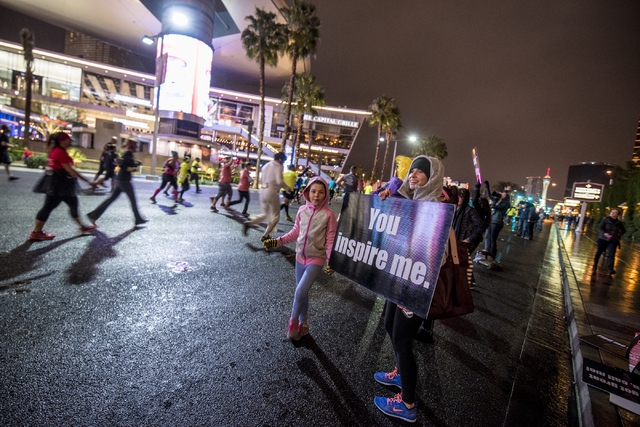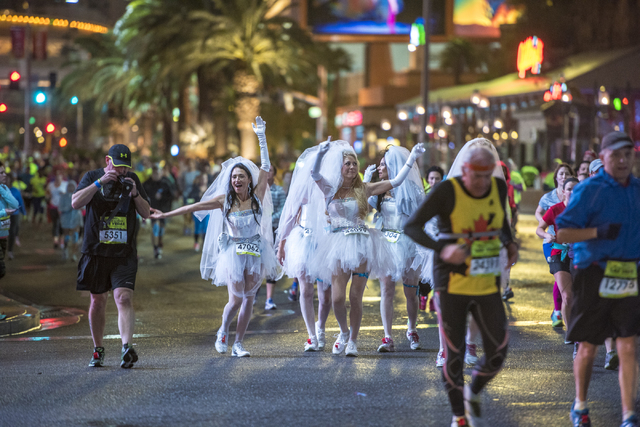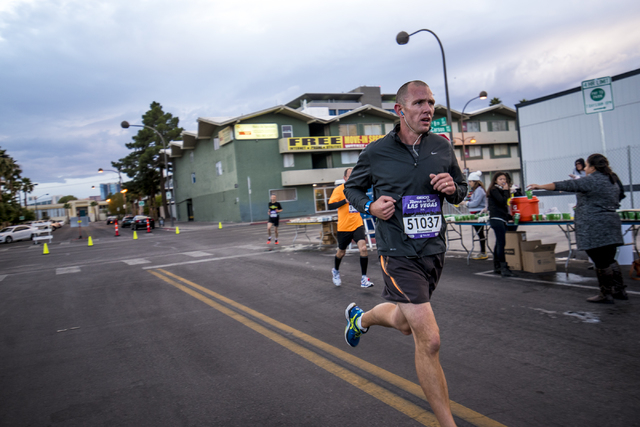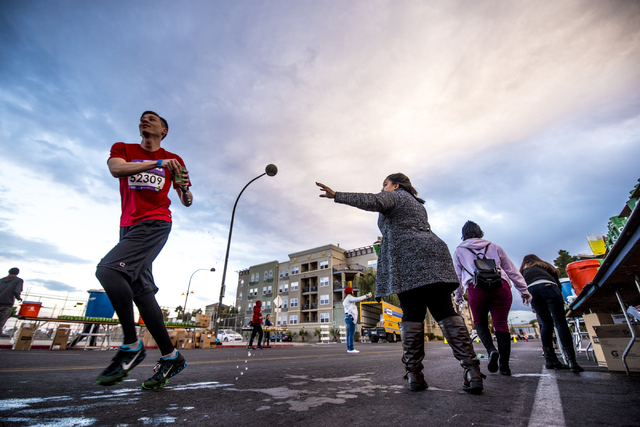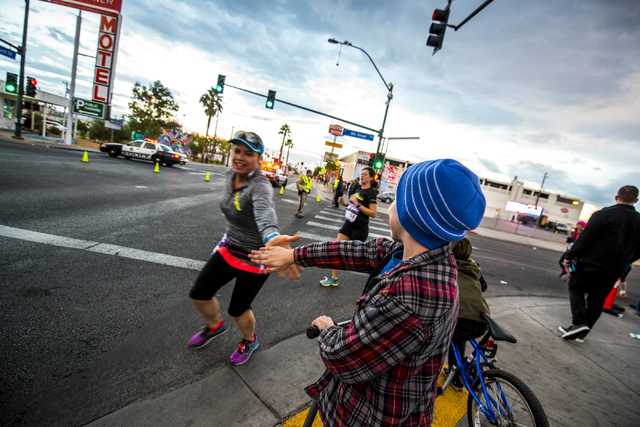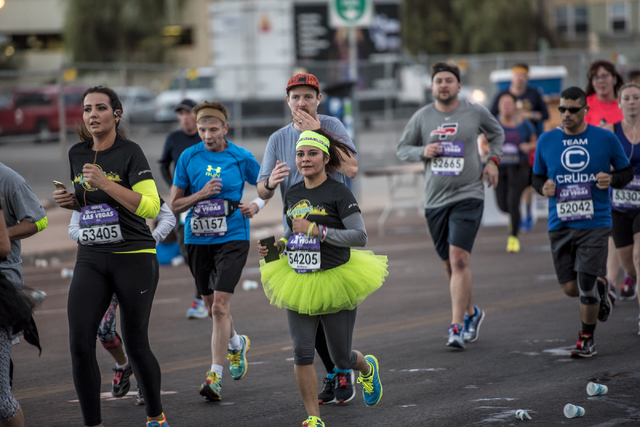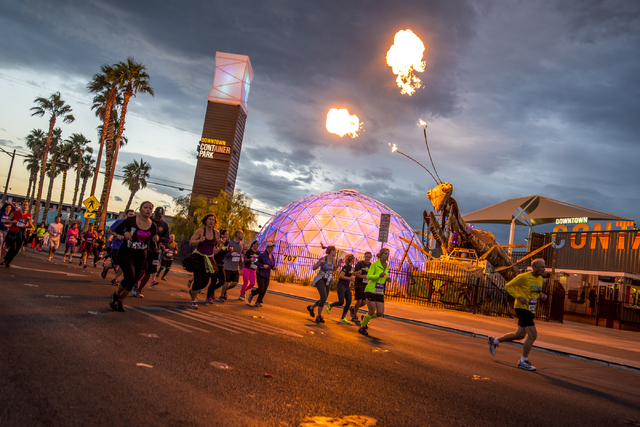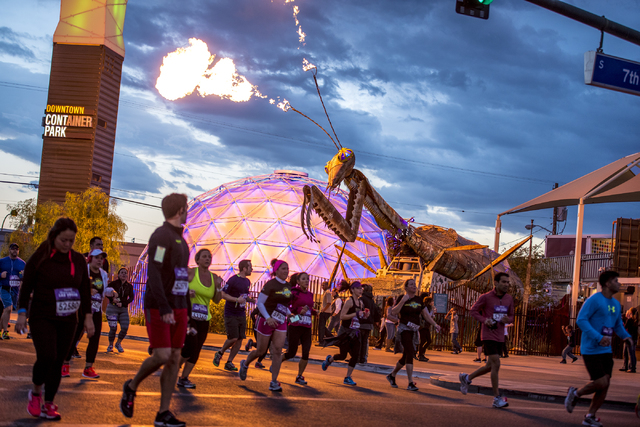 To paraphrase the unofficial motto of the U.S. Postal Service, neither rain, nor wind, nor cold kept runners from the swift completion of last year's Rock 'n' Roll Las Vegas Marathon under the lights on the Strip.
In fact, despite wind gusts of more than 40 mph that forced runners to dodge debris along the route in the cold November rain, the Las Vegas event set a record for total finishers with 37,426 who completed either Sunday's marathon, half-marathon or 10K race or Saturday's 5K race.
The inclement weather also didn't stop participants from generating an estimated event-record total economic impact of $226 million — including more than $89.7 million in nongaming, direct visitor spending and filling 108,768 hotel room nights — according to a study conducted by San Diego State.
More than 63,000 visitors traveled to Las Vegas for the marathon weekend — which expanded to four days for the first time with the three-day Health and Fitness Expo opening Thursday — and 89.1 percent of them were from out of state.
"We do (studies on) a number of these events, and I think Las Vegas is unique because it's a place where tourists expects to spend money more than other places," said Scott Minto, director of San Diego State's sports MBA program that conducted the study. "It's not often that people go to Vegas and plan to stay in. And it's not just gaming, but they'll go see a show or go to a nice dinner or go shopping.
"You end up seeing a greater economic impact because people get the feeling, 'Well, I'm in Vegas, so let's go for it.'"
The study was based on postrace surveys sent via email to Las Vegas event finishers, more than 20 percent of whom filled out the survey.
"It's pretty accurate," Minto said.
According to Las Vegas Events, the marathon weekend of Nov. 13 to 15 — which also featured the American Association for Ophthalmology conference — was ranked No. 8 in the city's 2015 weekend occupancy rankings, filling 97.8 percent of hotel rooms. The top spot of 98.5 percent was claimed by the AAU basketball tournament weekend of July 24 and 25.
The Las Vegas half-marathon had 23,046 finishers last year, putting it among the three largest half-marathons in the country — along with 13.1-mile races in Brooklyn, New York, and Indianapolis — and top 10 in the world.
San Diego-based Competitor Group Inc. owns 30 Rock 'n' Roll Marathon Series events, with Las Vegas being the largest in the portfolio. It bought the Las Vegas marathon event and rebranded it as a Rock 'n' Roll property in 2008.
Registration for the 2016 event opens April 5 and costs $125 for the marathon or half-marathon. More than 4,600 have entered the event through early registration.
The expo, which is free and open to the public, is scheduled from Nov. 10 to 12, when the 5K will take place. The marathon, half-marathon and 10K are slated for Nov. 13. For more information, visit RunRocknRoll.com/las-vegas.
Contact reporter Todd Dewey at tdewey@reviewjournal.com or 702-383-0354. Follow him on Twitter: @tdewey33