Las Vegas phenom Harper joins Washington squad in Florida fall league
September 17, 2010 - 11:00 pm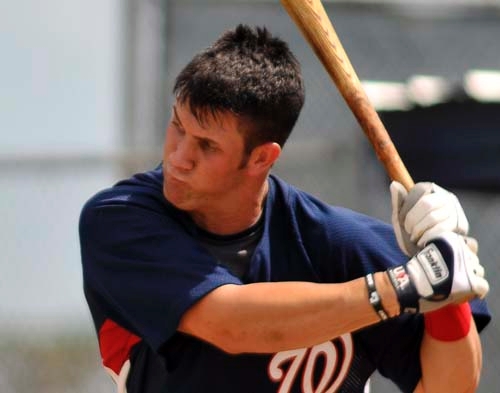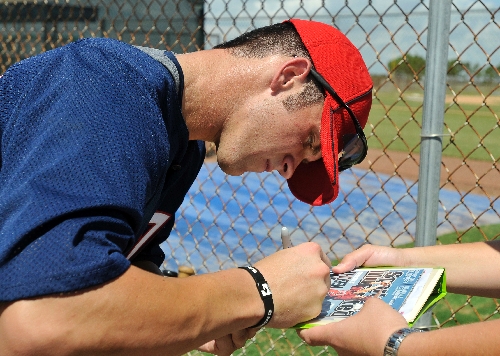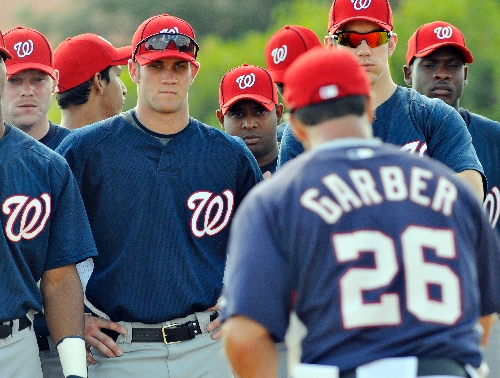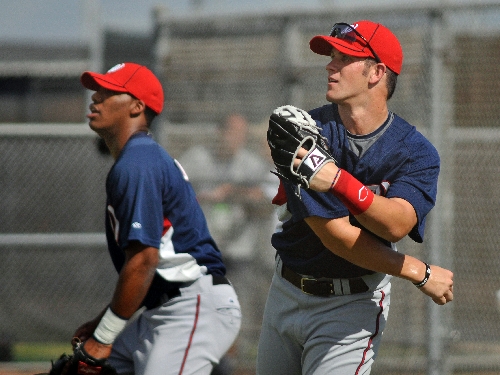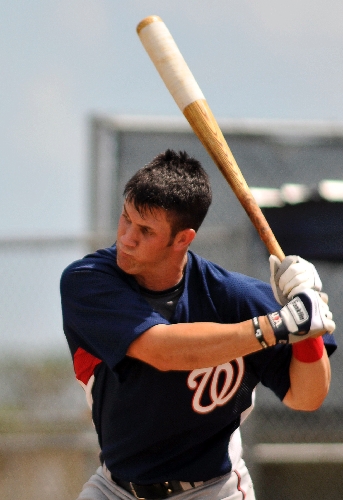 VIERA, Fla. — Bryce Harper did everything expected of him — and more — on his first day of professional baseball.
The 17-year-old Harper, the No. 1 overall pick in June's Major League Baseball draft by the Washington Nationals, was among about 40 players who reported for Florida Instructional League fall drills Friday.
They participated in bunting theory, bunt defense, baserunning, stretching and conditioning, position player drills, outfield drills, batting practice and bunting practice. Harper, who starred at Las Vegas High School and the College of Southern Nevada, even took time after sweating through the three-hour workout to sign autographs and meet with reporters.
The five-year, $9.9 million contract he signed in August was irrelevant as he began learning the fundamentals and finer points of the game.
"I got to see him as an amateur; he was as talented as anybody in the draft," said Bob Boone, the Nationals' assistant general manager and vice president for player development. "With the bat, he's probably more talented than anybody in the last several years coming out of the draft. We'll just have to see how it translates when you start turning up the speed."
In other words, don't reserve his big league roster spot just yet.
"Oh, he needs a lot of tweaks. He's 17 years old," Boone said. "It's to teach him the game like everybody else, the professional game. He's going to experience a lot of things he hasn't experienced yet. It's just to start the process."
Harper, who is being converted from catcher to right field to take advantage of his powerful right arm and athleticism and perhaps get him to the big leagues sooner, appears to be a willing student.
"I love being out on the field. I love working hard," said Harper, who led CSN to the Junior College World Series last season.
He's also adjusting to being away from home, admitting the biggest change has been his eating habits. He was used to eating meals cooked by his mother, Sheri, but is now settling for a lot of fast food.
"I'd go home and get my mom's home-cooked meals. That was awesome being able to go home and get that," he said. "Come out here, eating fast food and stuff like that. It was never anything like that."
The strapping, 6-foot-3-inch, 215-pounder isn't totally without the comforts of home. His dad, Ron, will be with his son for two weeks.
"It's great to have him out here. I love having him around," Harper said. "Anything I need, he'll always be there for me."
But mastering the most difficult of games rests on Harper's shoulders. His education will continue through daily workouts, then the 16-game Instructional League season that begins Thursday and concludes Oct. 12.
After that, the Nationals will decide whether to send Harper to the Arizona Fall League or put him on an offseason program with the goal of having him ready for spring training. Either way, much work remains, on and off the field.
"Day in, day out, you don't play twice a week here, you play every day," Nationals pitching coordinator Spin Williams said.
"That's one of the big things. You have to take care of yourself. You have to do things that you're capable of doing but not trying to do too much. The day-in, day-out routine of throwing every day, running every day, taking batting practice every day. The mental part is probably a bigger learning (curve) than would be the physical. Most kids the first couple of years are mentally tired instead of physically tired. That grind."
Harper welcomes the challenge.
"I'm going to come out and get my work done," he said. "I'm not going to change my approach … stay with what I've been doing my whole life and take some things the coaches feel I can get better on. I can always get better on every aspect of the game.
"I'm not perfect; nobody's perfect. I want to be perfect in every aspect of the game."
Bryce Harper's first day as a pro