Las Vegas police, fire departments gear up for competition
September 14, 2016 - 12:23 am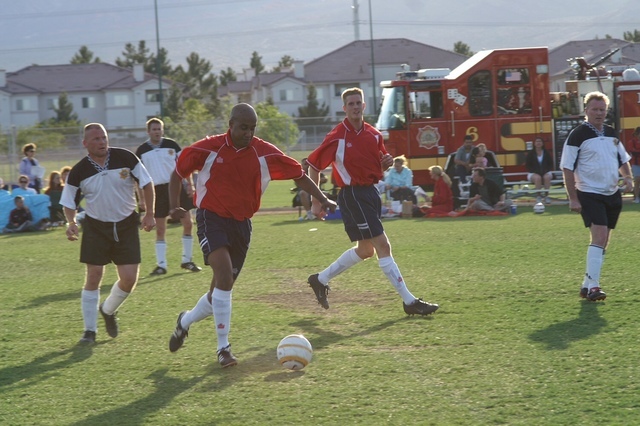 The Metropolitan Police Department and Las Vegas Fire and Rescue often come together in the line of duty for the greater good.
But Saturday, the departments will be fierce competitors as they compete in the Guns 'n' Hoses benefit to raise money for the Injured Police Officers Fund and Burn Foundation.
The soccer game will be at the Peter Johann Memorial Soccer Field at UNLV as part of a tripleheader that will include an alumni game and a UNLV-Oregon State men's game.
The benefit game begins at 4:15 p.m., with the day's festivities starting at 3:30. The events will continue into the night, wrapping up around 8:30 after the three games and demonstrations, including a canine unit halftime show.
Jon Stevenson, the assistant chief of operations of Las Vegas Fire and Rescue, said the event started in the 1990s and was inspired by the police/fire benefit football game, which he said was immensely popular in the 1970s.
After four years, the soccer benefit fizzled out for a while.
"It was me just kind of doing the whole thing, and little by little, life kind of took over and I stopped pursuing it," Stevenson said.
But when UNLV coach Rich Ryerson approached him about bringing it back, he jumped at the opportunity.
Stevenson brought it back last year, and the fire department took home a victory.
In this year's game, the winning team will donate 60 percent of the proceeds to its charity of choice. The other 40 percent will go to the other charity.
Tickets cost $7 in advance or $10 at the stadium, and children and UNLV students gain free admission.
Stevenson said the game "takes on a life of its own," with good friends going head-to-head on the pitch.
"It gets super competitive. It doesn't get dirty. It gets close to dirty, but not full-on dirty," Stevenson said. "We take shots at each other, but then the game is lots of fun."
SENIOR SOFTBALL ARRIVES
Starting Friday, Senior Softball will descend on the valley for a tournament that runs through Oct. 2 and will be played at 12 sites.
About 15,000 athletes from ages 40 to 85 spread across more than 560 teams will participate in the competition. Teams will come from all over the country to participate.
Betsy Helfand can be reached at bhelfand@reviewjournal.com. Follow on Twitter: @BetsyHelfand