Las Vegas police run half marathon to honor fallen colleagues
Updated November 11, 2018 - 10:11 pm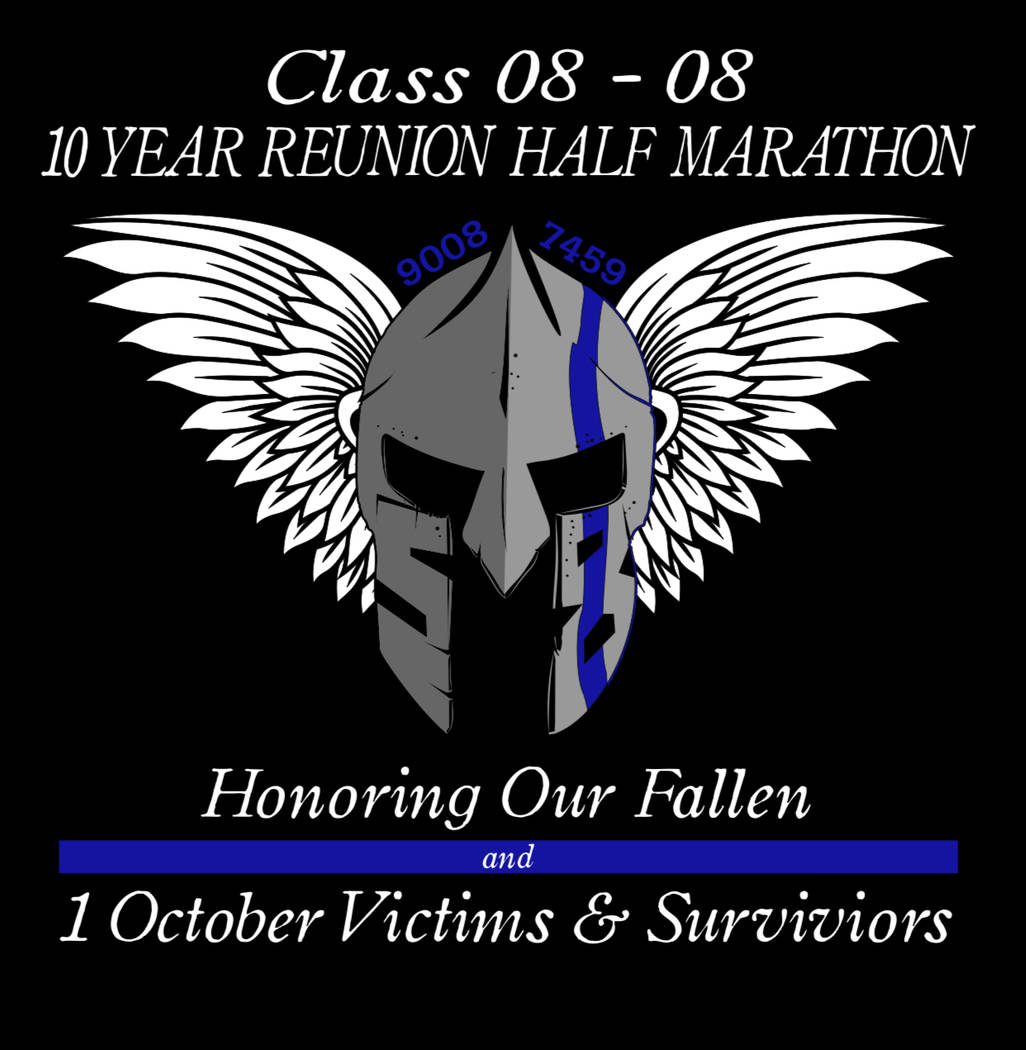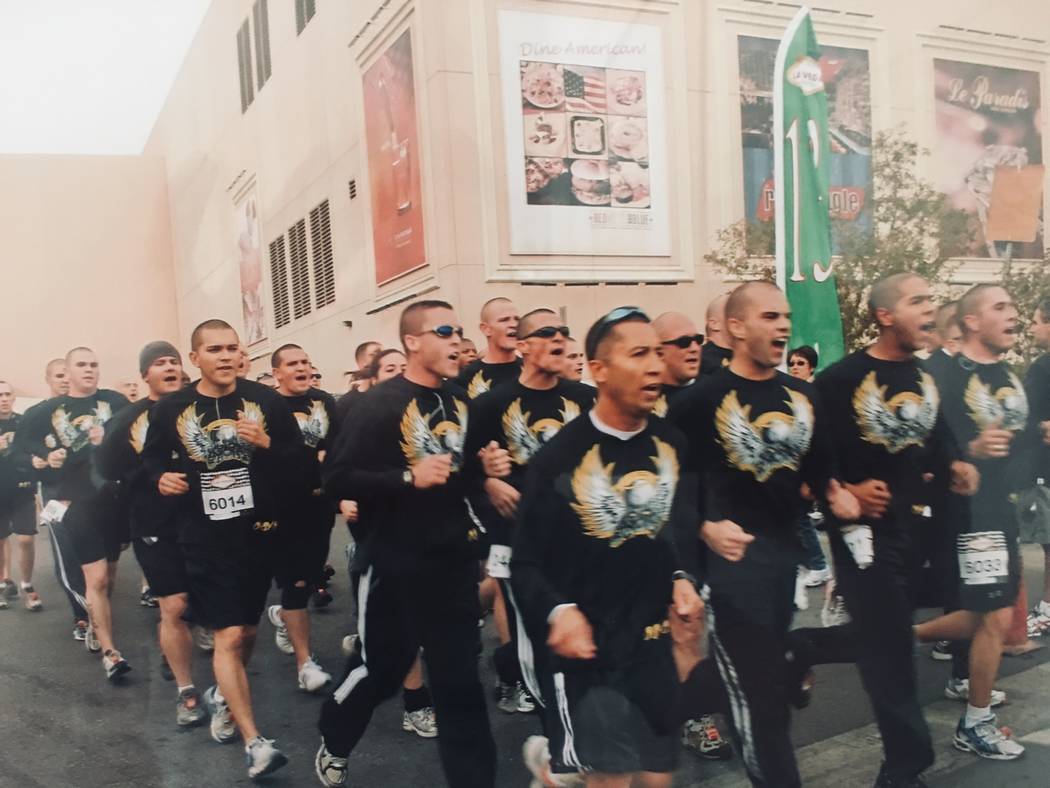 On top of the logo — a helmet with wings — were the personnel numbers of two fallen police officers, Alyn Beck and Charleston Hartfield.
The group of runners met at the start line of the Rock 'n' Roll Las Vegas Marathon on Sunday as they began the half-marathon race to honor Beck, who was killed during the CiCi's Pizza shooting, and Hartfield, who was killed during the Oct. 1 mass shooting.
Nicole Beck, Alyn's widow, was slated to run with the group, many of whom ran 10 years ago as an academy class at the Metropolitan Police Department. Hartfield's widow, Veronica, and son, Ayzayah, joined along for the final mile.
Back in 2008, when now-Sgt. Ryan Cook was leading an academy class, Cook trained them up to 10 miles, to the point where they were conditioned enough to run the half-marathon.
"I said 'Hey, I don't know if anybody knows this, but there's a half-marathon coming up,'" he said.
The training class decided they wanted to run it as a group, and so 38 people, including Alyn Beck, ran 10 years ago with Cook leading them in a formation.
About a year and a half ago, Cook said, people started asking him about doing a reunion run.
Cook said about 13 from the original group were scheduled to run Sunday, and they did so in honor of their fallen officers and Oct. 1 victims and survivors.
"Those are a couple things that were on our hearts and minds that we wanted to do," Cook said.
Las Vegan places third in 10K
Noah Jordan, a 17-year-old from Las Vegas, placed third in the men's 10K, finishing with a time of 34:36.
Jordan is a senior on the Palo Verde cross country team.
Noah Neace, 25, of Normal, Illinois, placed first in the 10K with a time of 34:36, and Rochelle Persson of Colorado Springs, Colorado, paced the women in the race, finishing with a time of 39:54.
Fires bring elite runners
The half-marathon had some extra competition Sunday, as four elite runners entered the race at the last minute after fires in California forced the cancellation of the Monterey Bay Half Marathon.
Though the deadline for elites to enter had passed, Rock 'n' Roll made an exception and welcomed them to run in Las Vegas instead of California.
Women's half-marathon winner Kellyn Taylor was one of those who adjusted on the fly, landing in Las Vegas just hours before she stood at the start line.
"This was a Hail Mary," she said.
Contact Betsy Helfand at bhelfand@reviewjournal.com. Follow @BetsyHelfand on Twitter.