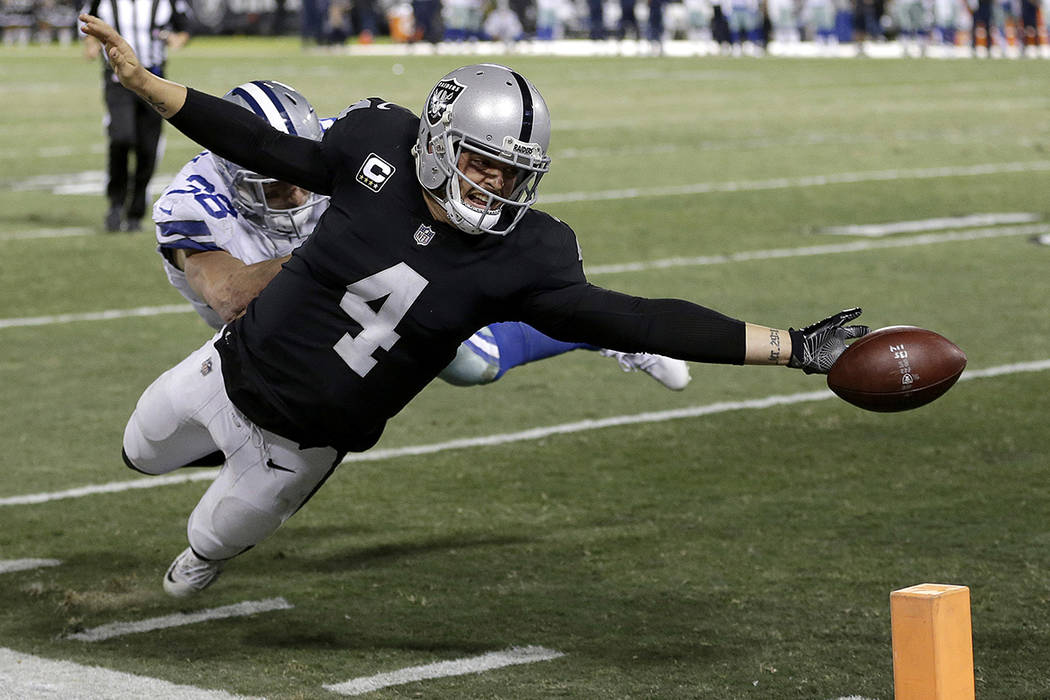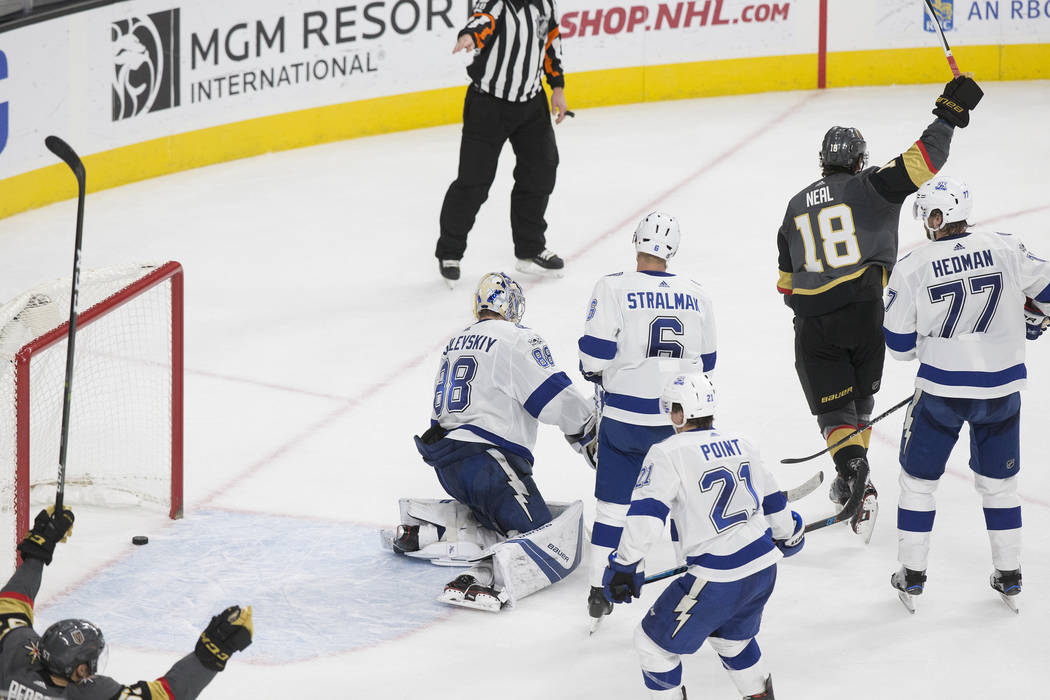 The puck stops here. So, too, will the NFL.
"Now it's real, right?" Nevada Gov. Brian Sandoval said in November after scooping real dirt onto a ceremonial shovel during groundbreaking for a $1.9 billion stadium the NFL's Oakland Raiders will christen in 2020 when they move to Las Vegas.
Sandoval donned the hard hat only a month after the Vegas Golden Knights dropped the puck on their inaugural NHL season at T-Mobile Arena.
One major league sports franchise making its debut in dramatic and unforeseen fashion. Another arriving in 2020.
In response to the governor's rhetorical question, it was both real and surreal.
A look at the top 10 local sports stories of 2017:
1. It's true — the Raiders are coming
The sort of history Las Vegas has never known took place March 27 in Phoenix, when by a 31-1 vote NFL owners approved the relocation of the Oakland Raiders to Southern Nevada. The Miami Dolphins were the lone dissenting vote, but folks from the Sunshine State never have been all that good with ballots.
The Raiders are expected to open the 2020 season in Las Vegas, where they will play in a $1.9 billion domed stadium, for which a stirring and emotional groundbreaking ceremony was held in November at the Russel Road site.
That night, the team honored those 58 killed at the Route 91 Harvest country music festival while also celebrating one of the more significant sports moments for Las Vegas.
ICYMI: The @RAIDERS stadium groundbreaking ceremony Monday paid tribute to the 58 people who died in the #1October #LasVegasShooting https://t.co/XwnjrqZZWE pic.twitter.com/12QrxSByxK

— Las Vegas RJ (@reviewjournal) November 17, 2017
2. Knights to remember
On Christmas Day, the expansion Golden Knights were tied for first place in the NHL's Pacific Division with the Los Angeles Kings, who were an expansion team in 1967. This might not be the equivalent of Mike Eruzione scoring the winning goal against the Soviets in Lake Placid, but how many Zamboni drivers could have predicted it?
On December 19, the Knights beat the Tampa Bay Lightning, hockey's best team, on a power play goal with 2.3 seconds remaining, shaking the foundation of T-Mobile Arena. "It felt like a playoff game," Lightning coach Jon Cooper said. "Felt like that game could have been played in May."
It might be too soon to grow a playoff beard, but who could blame Golden Knights fans for starting to show stubble?
Expansion Vegas Golden Knights score with 2.3 seconds left to beat NHL-best Tampa Bay Lightning. https://t.co/z86XXvuhvz

— USA TODAY Sports (@usatodaysports) December 20, 2017
3. Floyd vs. Conor
It didn't generate the 6-plus million pay-per-view buys those promoting the event have consistently suggested, but 4.3 million in North America is nothing to snicker at.
The second-biggest selling fight in history ended as most everyone presumed, although not nearly as fast, with Floyd Mayweather Jr. beating MMA crossover star Conor McGregor via technical knockout at 1:05 of the 10th round at T-Mobile Arena in August.
The circus that was Mayweather-McGregor, complete with the often entertaining buffoonery of a pre-fight world tour, allowed Mayweather to surpass Rocky Marciano's renowned record of 49 wins against no defeats. Floyd is now 50-0 … and counting.
Floyd Mayweather Beats Conor McGregor by 10th-Round TKO in Megafighthttps://t.co/JmYv5ABvfW pic.twitter.com/ssapfHAJPZ

— Kevin McKenna 🇺🇸 (@kpmck63) December 4, 2017
4. UNLV basketball rebounds
After the team he inherited won only 11 games in his first season as UNLV coach, Marvin Menzies and some new players he recruited already had matched that total by Christmas of his second.
No, these aren't the glory days of Jerry Tarkanian, or even those of Lon Kruger who guided the Rebels to the Sweet 16 a decade ago. But fans have started slowly trickling back to the Thomas & Mack Center, and the Rebels are back to runnin' again under Menzies.
An NIT bid isn't out of the question.
.@JovanMooring_30 with some crazy athleticism! pic.twitter.com/jrRToWvjuQ

— UNLV Basketball (@TheRunninRebels) December 23, 2017
5. 51s get their palace
It took more than 2,000 years to build the Great Wall of China, just a tad longer than the 51s waited to have a solid exit plan from that dump that is Cashman Field. Dreams come true, as the Triple-A team is expected to open play in 2019 at its new stadium in Downtown Summerlin.
The Las Vegas Convention and Visitors Authority approved a 20-year agreement with the Howard Hughes Corp., owners of the 51s, dedicating $80 million toward naming rights for what will be called Las Vegas Ballpark.
The total price tag for the 10,000-seat structure will be around $150 million. The only question is which MLB franchise will the home team represent? The New York Mets are ending their affiliation with Las Vegas at the end of the 2018 season.
From @DavidsonLVRJ – Looks like we've got a new ballpark for @LasVegas51s. #51s #PCL @TripleABaseball @summerlinlv @DTSummerlin https://t.co/sftNsiMa5Z

— Bill Bradley (@billbradleyLV) November 8, 2017
6. WNBA comes up Aces
It was confirmed in December the WNBA's San Antonio Stars will be moving to Las Vegas in 2018 where they will be called the Aces.
The Stars were the WNBA's worst team, but with former Detroit Pistons' Bad Boy Bill Laimbeer coming aboard as coach, they should be more interesting to watch as Aces. Elbows are bound to fly. Attitude almost certainly will be prevalent.
A lot of basketball people think the Aces are a trial balloon for the NBA coming to town. Maybe so, but knowing Laimbeer, he'll probably try to win anyway.
Cool logo. MGM Resorts International announced that its WNBA franchise will be called the Las Vegas Aces. Las Vegas' first major professional basketball team – formerly the San Antonio Stars – will begin play in its new home in the 2018 season. pic.twitter.com/1GH7yaonqa

— Chad Allan Holloway (@ChadAHolloway) December 20, 2017
7. UNLV hires new AD
In April, UNLV hired Desiree Reed-Francois, making her the first Hispanic female athletic director at the FBS level. The colossal failure that is/was/never should have been a new UNLV logo, unveiled in June, was in the works long before Reed-Francois came aboard.
Her challenges are not unlike any AD from a non-Power Five conference, which is to say fund raising at a successful level for a department that runs a multi-million-dollar deficit is paramount.
The heartbeat of higher education is defined through philanthropy, and nobody relies on it more in major college athletics than a school like UNLV, existing within an average Mountain West with a forgettable TV contract. It's on Reed-Francois to prove her hire was as strong as most nationally believed.
UNLV AD Desiree Reed-Francois is one of a kind https://t.co/QmKz3iJXP8

— Helen Williams (@hmwsports) August 23, 2017
8. Lights go up in the city
The last time Las Vegas had a legitimate pro soccer team, the incomparable Pele played against it. It has been 39 years since the Las Vegas Quicksilvers disbanded after one season in the North American Soccer League, so Las Vegas Lights FC will be getting off to something of a fresh start in domestic soccer's version of Triple-A baseball.
Provided the plumbing near the first base dugout doesn't explode again, the United Soccer League's Lights will become the sole tenant of Cashman Field after the 51s move to a new ballpark in Summerlin in 2019.
Local aficionados wanting the "beautiful sport" to take hold here are hoping colorful coach Jose Luis Sanchez Sola — aka "Chelis" — and his players don't step in anything.
The many faces of @Elchelis … coming to the Cashman Field sidelines in February 2018. #TBT #LightItUp pic.twitter.com/CBHd5rhqtN

— Las Vegas Lights FC (@lvlightsfc) December 14, 2017
9. Gaels denied national title
It ended — the quest for a fourth straight mythical national championship — on a September evening in Santa Ana,. Calif., where Bishop Gorman High's football team was outplayed by Mater Dei. The Monarchs, who beat Gorman 35-21 in a battle of parochial national powers, went on to post an undefeated season and claim the 2017 national title.
The defeat also snapped a 55-game win streak by the Gaels, a run that began in 2013 and included several memorable victories against ranked teams mixed with what has been a preposterous level of dominance against Nevada opponents.
The Gaels finished their season 13-2, winning a ninth straight Nevada state title. Then someone asked head coach Kenny Sanchez about the proposed North-South 5A split. He called teams from Reno a bunch of cowards and everyone laughed.
Bishop Gorman rolls to 9th straight state football title https://t.co/2FQlOo0sM4 via @reviewjournal

— Allen Leiker (@AllenLeikerLVRJ) December 3, 2017
10. LVMS Cup runneth over
It was a big year in local auto racing as Kurt Busch won the Daytona 500 and younger brother Kyle finished a close second in the NASCAR championship. But the biggest news of all was that Las Vegas Motor Speedway will be hosting two Cup Series races beginning in 2018.
The longstanding Pennzoil 400 in spring and the new South Point 400 in fall will be triple-headers, featuring the NASCAR Truck and Xfinity Series.
A lot of visitors from the southern states who spend a lot of money at local hotel-casinos — and on beer and ice and Styrofoam coolers at 7-Eleven — are expected to attend.
'These race cars, they gotta follow the money' to second race at Las Vegas Motor Speedway https://t.co/rcUF9Ae6nF pic.twitter.com/olepYyLmUz

— TheChase News (@Nascar___News) March 9, 2017
Contact Ron Kantowski at rkantowski@reviewjournal.com or 702-383-0352. Follow @ronkantowski on Twitter.
Contact columnist Ed Graney at egraney@reviewjournal.com or 702-383-4618. He can be heard on "The Press Box," ESPN Radio 100.9 FM and 1100 AM, from 11 a.m. to 2 p.m. Monday through Friday. Follow @edgraney on Twitter.
Honorable mention
Other top local sports stories in 2017:
11. UNLV football loses to Howard and UNR to fritter away bowl chances.
12. Canelo Alvarez-Gennady Golovkin bout excites fight fans on the Strip.
13. O.J. Simpson is released from jail and relocates to Summerlin.
14. UNLV's new logo is declared a dud by everyone involved.
15. Youth football coach Charleston Hartfield, UNLV assistant hockey coach Nick Robone are victims in Route 91 Harvest festival shooting.
16. Henderson's Blue Sox win national American Legion title.
17. NBA Summer League has record attendance for 10-day run amid Lonzo Ball hype.
18. Las Vegas Bowl gets feisty matchup in Oregon vs. Boise State.
19. Palo Verde High wins five spring sports titles in a week.
20. 51s pitcher Logan Taylor is attacked on the streets of Salt Lake City.