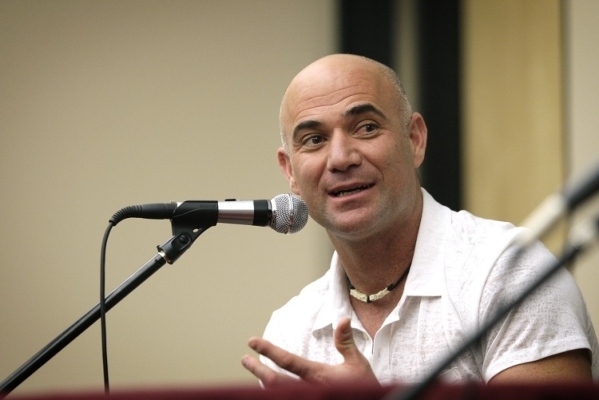 Thousands of people come to Las Vegas every year for family, class and military unit reunions.
But an event later this month will bring together a unique group — 300 elite athletes who have represented the United States in the Olympic Games and the Paralympic Games over the past 67 years.
The event is being chaired locally by Las Vegas tennis gold medalists Andre Agassi and Stefanie Graf and former Lt. Gov. Brian Krolicki, who holds tight to the goal of Nevada someday hosting the Winter Olympics.
The reunion is scheduled at the Tropicana Feb. 19-21. Among the events planned during the reunion are a dinner open to the community, sports clinics for area youth, a fund-raiser for the Olympians for Olympians Relief Fund, gatherings of athletes by Games year, a table tennis tournament, an Olympic-themed video marathon and a celebrity golf tournament.
A limited number of seats will be available at the Feb. 20 dinner at which Olympians will be introduced by decade. Tickets are $250 or $3,000 per table, where two athletes will be seated.
Tickets can be purchased by calling reunion organizer Anne Warner Cribbs at 650-323-9400.
Las Vegas is a popular destination for reunions, but the Las Vegas Convention and Visitors Authority does not track them individually among the more than 20,000 gatherings that occur in the city every year.
Olympians last gathered for a reunion in San Jose, Calif., in 2008. Organizers view the Las Vegas event as a means to boost interest in the 2016 Summer Games, Aug. 5-21 in Rio de Janeiro.
Cribbs, a member of the 1960 U.S. swimming team that competed in Rome, said one of the goals of this year's organizing committee was to get at least one athlete from every summer and winter Olympic competition.
The event is being hosted by the U.S. Olympians and Paralympians Association and has the theme "All teams, all sports, all years, always."
"Most of all, it will be a time for Olympians and Paralympians from different sports and different years to renew old friendships, foster new friendships and celebrate the unique experience of representing their nation at the Olympic and Paralympic Games," three-time track and field Olympian Willie Banks, a former association president and chair of the Reunion 2016 planning committee, said in a statement announcing the event.
"I've had the opportunity to work with Olympians and Paralympians over the past several years and we are honored that they have chosen Las Vegas," said Krolicki, who chairs the Reno Tahoe Winter Games Coalition.
That organization, formed in 2003, has worked over the years to develop bids to host a Winter Games competition in Northern Nevada. The group came closest to bidding in 2012 for the 2022 Games, joining forces with a northern California group to stage events at Squaw Valley, Calif., near Lake Tahoe, with Reno as the host city. Squaw Valley hosted the 1960 games.
But the U.S. Olympic Committee, favoring efforts to bid on the 2024 Summer Games, withdrew from the Winter Games bidding, which included proposals from Denver, Salt Lake City and Bozeman, Mont. as well as Reno.
In a recent interview, Krolicki said he still hopes Reno can bid to host future Games, but added that would depend on which venues are selected in future years.
He said supporting the Olympic movement with events like the reunion and last month's World Financial Group Continental Cup of Curling at the Orleans keeps the state's profile high as a supporter of world-class athletic competitions.
Contact reporter Richard N. Velotta at rvelotta@reviewjournal.com or 702-477-3893. Find @RickVelotta on Twitter.