Las Vegas runner turns life around, to compete in half marathon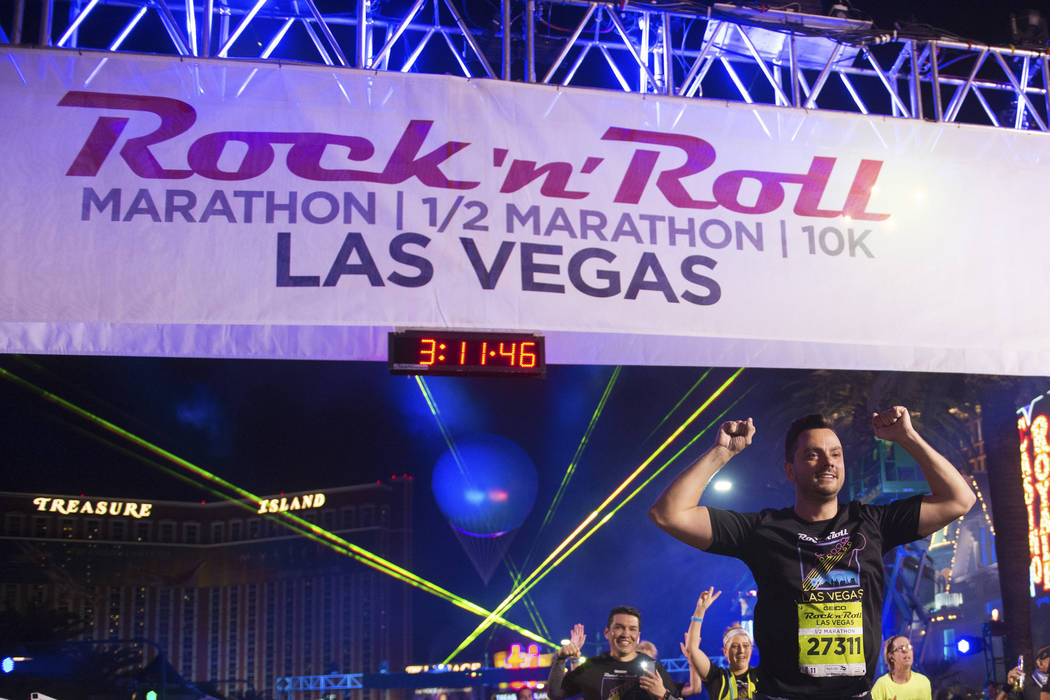 The "Reader's Digest" version of his story, Tom Alig said, goes something like this.
He had been involved in sports his entire life. He was a successful athlete and coach. He had run since he was 12.
Away from sports, he was a purchasing manager. He had a good job, a family and a house in Southern California.
But about age 45, injuries began creeping up on him.
He had bulging disks in his neck, along with ankle, knee and hip problems.
He couldn't run.
Eventually, those problems compounded around 2013, he said.
"I ended up turning to drinking because of that runner's high missing, and the drinking became more frequent to the point where I ended up losing my job, my house, my family," Alig said. "I ended up kind of going on a spiral down."
But today, the 54-year-old is in a much better place. After two nights on the street, Alig found the Las Vegas Rescue Mission and entered in a program on Feb. 15.
A few months later, Alig was one of 27 to sign up for the Rescue Mission's half-marathon training program in conjunction with Up and Running Again, a California-based nonprofit that helps provide structure and resources.
And Sunday, Alig will be one of seven to complete that program and run in the Rock 'n' Roll half-marathon after 13 weeks of training.
This is the eighth season the Rescue Mission has partnered with Up and Running Again — they offer a half-marathon in the spring and one in the fall.
And while Alig is an experienced racer, many of those who train with Up and Running Again haven't raced at all.
"We have a lot of people that talk about it for months before they can even start running, so when it comes to sign up, we normally get anywhere from 25 to 30 clients," Las Vegas Rescue Mission director of development Heather Williams said. "They have to be at a certain phase in their recovery program in order to be able to run."
The program starts with a slow buildup of running and walking. Participants meet at 5:30 a.m. on Monday, Tuesday, Thursday and Saturday.
"I'd say the other six are all pretty fresh at running the actual races," Alig said. "It'll be new to them, and it'll be an exciting time for them because they have made the commitment and showed up all these days where a lot of people dropped by the wayside."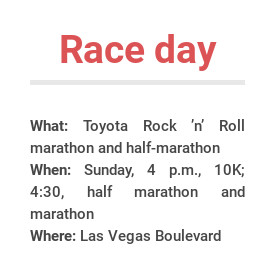 Up and Running Again has programs at multiple rescue missions, and program coordinator Brittany Watrous said she has seen a huge difference in people who have run being able to finish the program.
"They're learning confidence through running and dedication," Watrous said. "We end up with a lot of people that start, and we do have a dropout rate, but those that finish are like, 'I kept going when everybody else quit. I was able to stick with something,' and then it carries into their lives."
Williams anticipates an emotional day Sunday when the racers cross the finish line after months of training.
"A lot of the times clients in recovery, they sometimes have never finished something that they've started before," she said. "Sometimes they're a little afraid of that success in some things, so to see these runners set this goal and to say, 'I'm doing this,' and then cross the finish line is beyond amazing because it's all on them."
Alig now works at the Las Vegas Rescue Mission, taking a job last month as a case manager.
"In a nutshell, not only Las Vegas Rescue Mission but Up and Running kind of gave me a new outlook on life, a new lease on life," he said. "Everything's coming back, job, family, sobriety."
Contact Betsy Helfand at bhelfand@reviewjournal.com. Follow @BetsyHelfand on Twitter.
Related stories
Marathon to force road closures along Strip, downtown this weekend
5 things to know for Rock 'n' Roll Las Vegas Marathon weekend
Here's the map for 2018 Rock 'n' Roll Marathon in Las Vegas