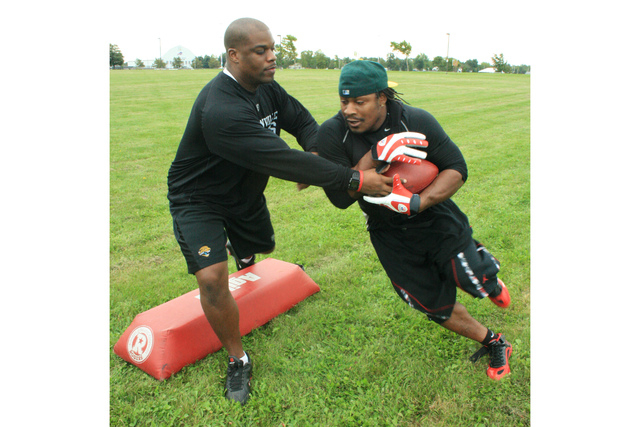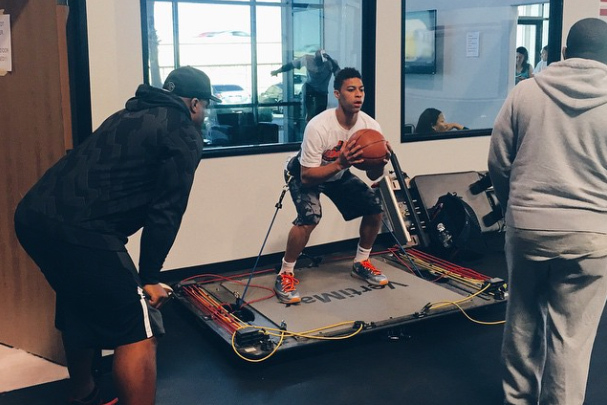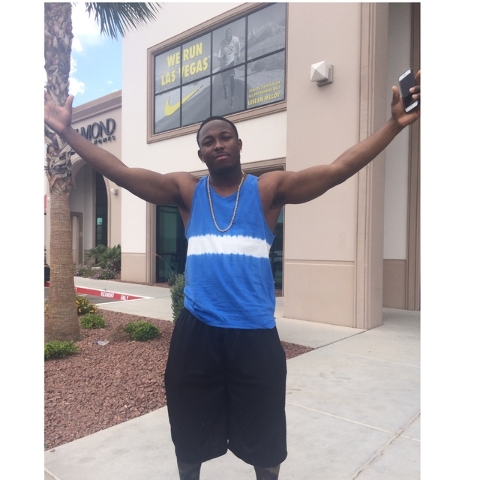 Considered the gold standard for NFL trainers, Travelle Gaines' client list resembles an All-Pro roster.
Andrew Luck, Tom Brady, Antonio Brown, Marshawn Lynch and LeSean McCoy are only a handful of the players who have trained with Gaines to get ready for the NFL Draft combine and the rigors of the NFL season.
Brown and McCoy recently worked out with the guru in Las Vegas at Athletic Gaines, the sports performance training facility Gaines opened in January at 7770 S. Dean Martin Drive.
"I have trained with Travelle since I entered the draft in 2009, and his program is the reason for my success on the field," said McCoy, who plans to return to Las Vegas for six weeks this summer to prepare for his first season with the Buffalo Bills. "Travelle works me like a dog, man. He gets the best out of me and helps me perform the way I want to perform."
The NFL Network's resident training expert who estimates he's worked with about 300 NFL players, Gaines also counts NBA star Carmelo Anthony and baseball star Troy Tulowitzki as clients.
He has quickly attracted the top prep basketball players in Las Vegas to his facility as well, including Bishop Gorman's Stephen Zimmerman and Chase Jeter — headed to UNLV and Duke, respectively — and Findlay Prep's Allonzo Trier (Arizona) and Derryck Thornton Jr. (Duke).
"Travelle has been a key to my success at the high school level and my physical development," Thornton said. "The workouts are tough and challenging, but they have prepared me to play in college at a high level."
Gaines, 34, has helped author countless success stories. He was instrumental in Philadelphia Eagles running back Ryan Mathews' surprising ascent to the 12th overall pick in the 2010 NFL Draft and Washington Redskins safety Dashon Goldson's rise from a reserve to a two-time Pro Bowler.
His latest reclamation project is Golden State forward Harrison Barnes, who regained his spot in the Warriors' starting lineup this season after an offseason workout program with Gaines and is averaging more than 11 points and five rebounds in the playoffs.
"He had a horrible year last year and lost his starting job. He came to me, and we got after it," Gaines said. "He was dedicated, he lost a bunch of weight, cut his body fat in half and got his explosiveness back. He had a great year, shot 40 percent from the 3-point line, almost 50 percent from the floor and played very good defense.
"He should be getting ready to sign a pretty big contract."
Securing Gaines' sought-after services isn't cheap. The price for pros starts at $5,000 per month.
"For Carmelo, it was $25,000 a month. It depends on the traveling," Gaines said. "For these athletes, their bodies are their money bags, so they have to trust in someone to know and take care of their bodies. It's a results-driven business."
The cost for kids ranges from $250 a month for twice-weekly training to $500 a month for unlimited sessions.
"They're getting pro training for a fraction of the cost," Gaines said. "I really wanted to work with kids. I just felt this was a place where I could have a pretty big impact."
For all the tales of triumph Gaines has helped facilitate, the most impressive one might be his own.
Born in New Orleans near the Lower 9th Ward — the area hit hardest by Hurricane Katrina — Gaines lost his parents by the time he was 11 years old and was often forced to fend for himself.
"My son is 12 years old and has never seen a bad day in his life. I thank God," he said. "Growing up, I was figuring out what you're going to eat tonight, where you're going to sleep, if you're going to get evicted and if your parents are coming home."
After his parents died, Gaines moved to Oakland, Calif., with a relative and went on to play baseball and football at De La Salle High School, a national power.
Drafted in the 11th round by the Montreal Expos in 1998, Gaines ultimately decided to play college football at San Jose State, where injuries sidelined him for most of his career.
"I was there three years and only lettered once. That's what made me really start to get into the body," he said. "I was a workout fanatic."
When his strength coach left for Louisiana-Monroe, he urged Gaines to join him.
"He said, 'I think you'd be a great trainer. There's something about you that people like, they listen to you and you work very hard,' " Gaines said. "He offered me a job making $500 a month."
Gaines, who initially aspired to be an inner-city school principal, took the offer and hasn't looked back. He was an assistant strength coach at Louisiana State in 2005 and 2006, when he began training Reggie Bush, then a rookie running back for the New Orleans Saints who became Gaines' first high-profile client.
"We just connected," Gaines said. "We're both quiet guys, and we just hit it off."
Gaines spent a year in Seattle in 2007, when he had a small group of three pros that quickly grew to 30. His clients thrived, as former Seahawks cornerback Marcus Trufant earned Pro Bowl honors and former Portland Trail Blazers guard Brandon Roy was named the NBA's Rookie of the Year, but Gaines decided to follow the sun to Southern California, where it was easier to attract players.
After reuniting with Bush, Gaines landed a succession of big-name clients in Matt Leinart, Carson Palmer, Brady, Chris Johnson, Lynch and Jamaal Charles.
"Things just kind of steamrolled," Gaines said. "It was all word of mouth. I didn't have a website or business card.
"The guys I trained swore by me, I got very good results and people just liked working with me."
After working on his own for a few years, Gaines took a job at Athletes Performance in 2010 and helped the renowned company produce 16 first-round NFL draft picks in back-to-back years. In 2012, he trained Luck before he became the No. 1 overall pick.
"The best pro prospect ever was either Andrew Luck or John Elway. Period. To train Andrew and to be his guy was a huge honor and a huge blessing," Gaines said. "Andrew didn't just show up at the combine. He showed up bigger than people thought, faster than everybody thought, he jumped far, he killed it and solidified his No. 1 spot."
Working with Luck also helped solidify Gaines' status as an elite NFL trainer.
"I was kind of always known as the guy who trained players who had problems," he said. "When you're a trainer, you see these guys at their weakest and their strongest moments, so you know what motivates them, what drives them and what doesn't. You can't kiss their butts. Everybody's kissing their butts. I'm not gonna do that. You've got to do what's best for them."
Gaines opened his own facility, which was originally called Performance Gaines, in 2013.
His 17,000-square foot Las Vegas facility features indoor turf and a basketball court and comes complete with renowned physical therapist Scott Pensivy (sportstherapylv.com), who has treated Larry Bird, Wayne Gretzky and countless other athletes over the past 25 years.
"What happens is every athlete that comes in, we evaluate them and see if there's any problems with them and we build a sports performance program specifically for them," Gaines said. "We don't do bodybuilder workouts. Everything's functional strength and functional movement that correlates over to the playing surface."
As for the secret to his success, Gaines — whose star-studded cache of clients includes rapper Sean Combs and boxer Manny Pacquiao — said people simply enjoy spending time at Athletic Gaines.
"We go above and beyond to create a very positive environment," he said. "We just welcome everybody and treat everybody like gold, whether you're LeSean McCoy or an eighth-grader from the local middle school."
Contact reporter Todd Dewey at tdewey@reviewjournal.com or 702-383-0354. Follow him on Twitter: @tdewey33.