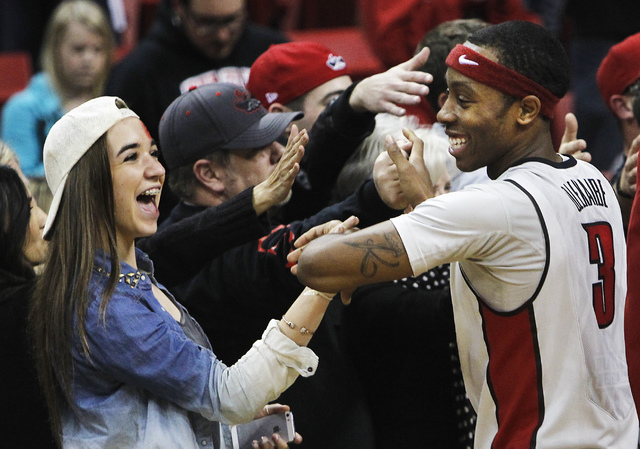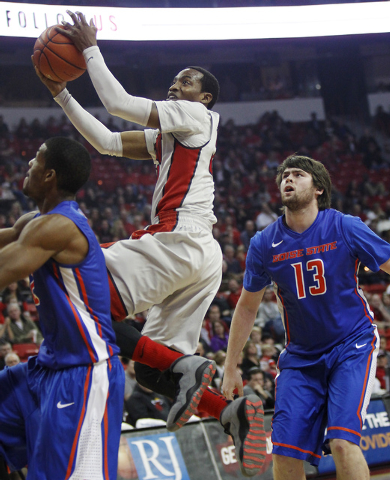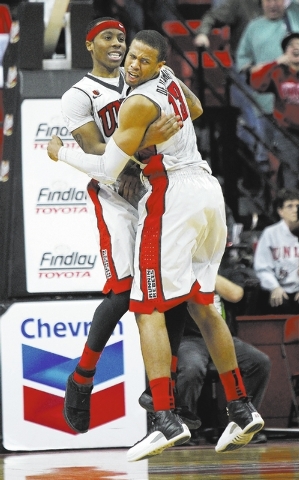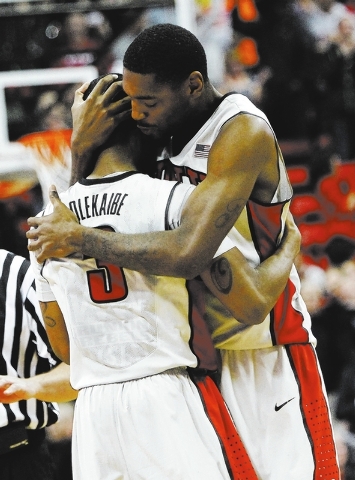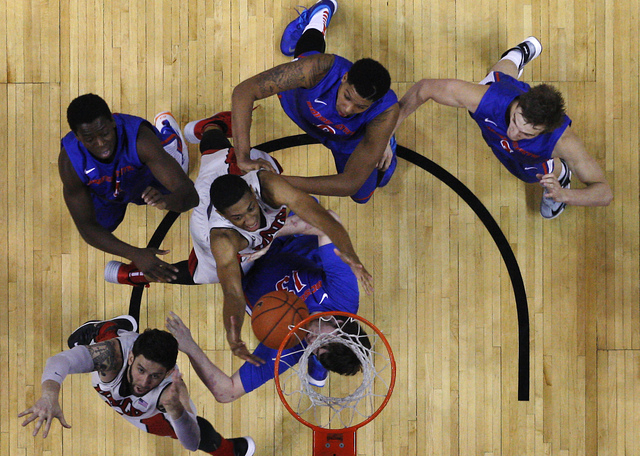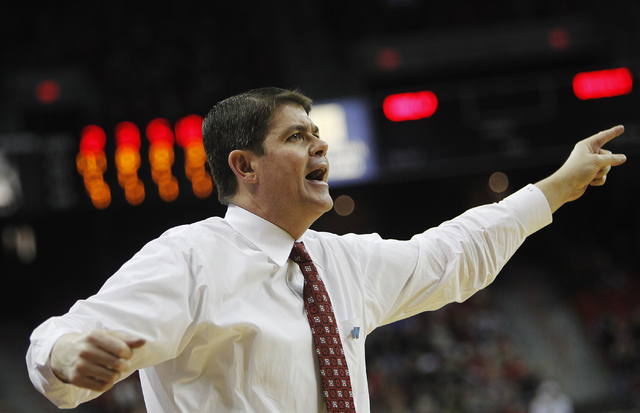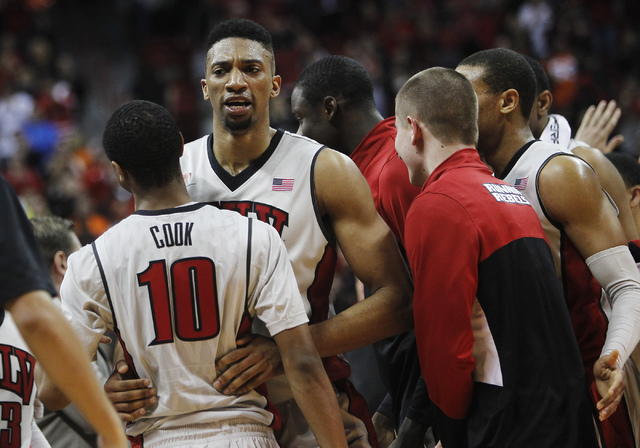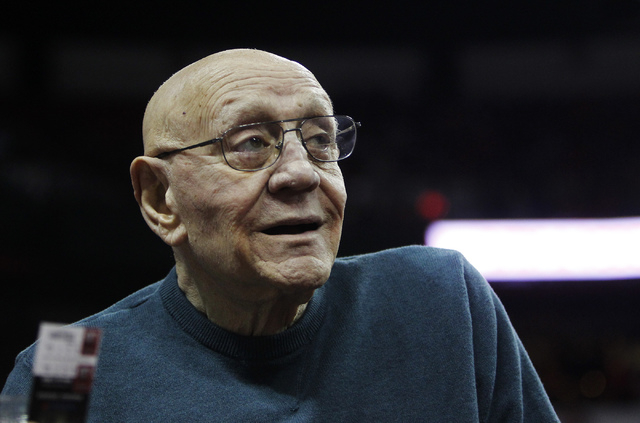 It was bad, it got ugly for UNLV, and then Kevin Olekaibe let a shot fly that looked good all the way.
Down and all but counted out, especially by the fans who prematurely fled from the Thomas &Mack Center, the Rebels rallied just when it seemed their cause was lost. Even the players who made it happen could not believe it.
Olekaibe's 3-pointer with 19 seconds remaining capped a wild comeback by UNLV, which emerged from an 11-point hole with 3½ minutes to go to stun Boise State 73-69 on Saturday night.
"As soon as I let it go, I knew it was good," Olekaibe, a senior guard from Cimarron-Memorial High School, said of his go-ahead shot. "I grew up here, so I dreamed of something like this."
Junior forward Khem Birch, who totaled 15 points, 15 rebounds and six blocks, admitted he thought the Rebels might be finished when facing a double-digit deficit with time running out.
"I can't lie," Birch said with a smile. "I'm surprised we won."
Olekaibe finished with 18 points, and he and Birch combined for 11 points during UNLV's 17-2 run that closed the game and upstaged the star to that point, Broncos guard Derrick Marks.
Soon after Dezmyn Trent drilled a 3 to put Boise State up 67-56 with 3:36 to play, there was a timeout on the floor, and several hundred fans in the crowd of 13,982 headed for the exits and into the darkness.
"Hopefully, next time they stay and see a finish like that," Olekaibe said. "We know no game is out of reach. It feels really good to do it in front of the home crowd."
Those who stuck around eventually left with a story to tell as the Rebels (15-7, 6-3 Mountain West) extended their win streak to four in unlikely fashion.
In a huddle during the timeout, coach Dave Rice mapped out a plan for how UNLV would make a great escape. It started with Birch hitting two free throws, then coming up with a steal, getting fouled and hitting two more.
"The fact Coach predicted the whole thing is crazy," Birch said.
Olekaibe's 3-pointer narrowed the gap to 67-63 with with 2:28 remaining, and he added a free throw to cut the Rebels' deficit to three with 1:45 to go.
After Marks, an 81 percent free-throw shooter, missed two at the line, Deville Smith darted down the baseline for a layup. Smith then stole the ball from the Broncos' Mikey Thompson near midcourt and raced in for the go-ahead lay-in with 1:26 left.
Marks fed a bounce pass to Thompson, who beat Smith on a backdoor cut, for a layup with 38 seconds to play.
UNLV trailed 69-68 when Smith penetrated on the left side, drew the defense and kicked the ball out to Olekaibe, who pulled a quick trigger from the top of the key.
"Deville made a great pass," said Olekaibe, who made four of the Rebels' five 3-pointers.
Marks, who scored 22 points for Boise State (15-7, 5-4), missed an open 10-foot jumper in the lane with eight seconds to go. Bryce Dejean-Jones rebounded for the Rebels, sank two free throws with 6.1 seconds left, and Daquan Cook's steal of Thompson's pass on the wing sealed it.
"We were fortunate. Marks is a good player," Rice said. "Sometimes, really good players just miss shots."
Dejean-Jones hit 7 of 10 free throws and had 11 points. Smith scored nine and recorded one assist. As Rice said, "There was probably no bigger assist in the game."
The Broncos' guards used dribble penetration to dissect UNLV's defense early, and Boise State stormed to a 37-27 halftime lead. Rice said he walked into the locker room, calmly sat in a chair and talked about the team's "unacceptable" lack of energy and focus for the first 20 minutes.
"I was disappointed with our defensive execution in the first half," Rice said. "I can't say enough about Kevin's leadership. Kevin was one of the first guys to speak up. When he speaks up in the locker room, it's way more important than what I have to say."
The Rebels roared back to tie the score at 46 on Carlos Lopez-Sosa's fast-break dunk with 12 minutes remaining, only to watch the Broncos reel off the next 11 points.
UNLV pulled to within seven before Marks made back-to-back baskets, first driving to his right and banking in a high-arcing shot over Birch, and then spinning to his left around Dejean-Jones for a layin.
But it was a night of comebacks for the Rebels, and even the stars most instrumental in the drama were in disbelief.
"Six weeks ago," Birch said, "we would have lost that game by probably 20."
Rice grinned and said, "It was a huge, huge win. We never gave up. There have been a lot of improbable things that have taken place during the course of this season."
Contact reporter Matt Youmans at myoumans@reviewjournal.com or 702-387-2907. Follow him on Twitter: @mattyoumans247.