Late score gives Sundevils road win over rival Cowboys in 'Cleat Game'
August 30, 2014 - 10:48 am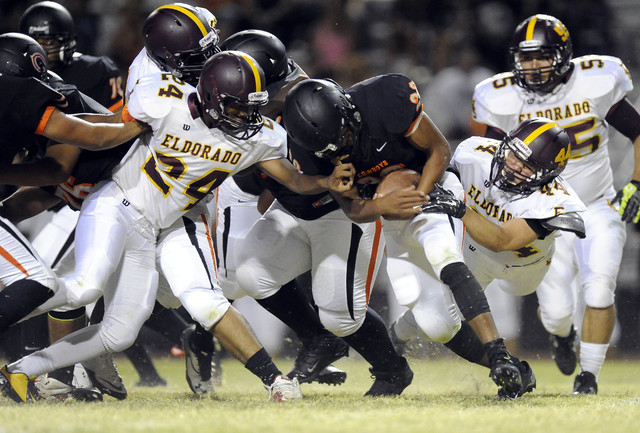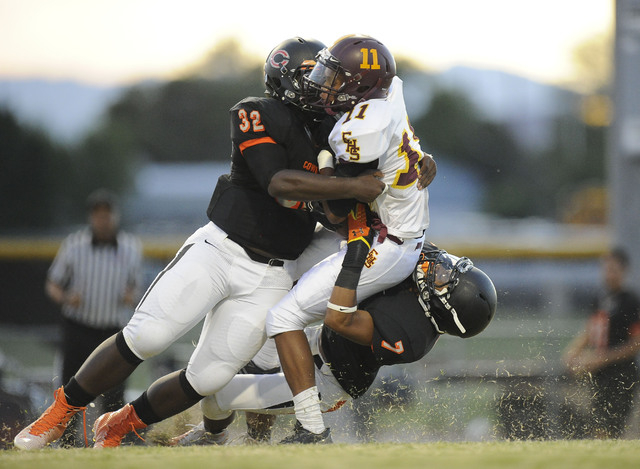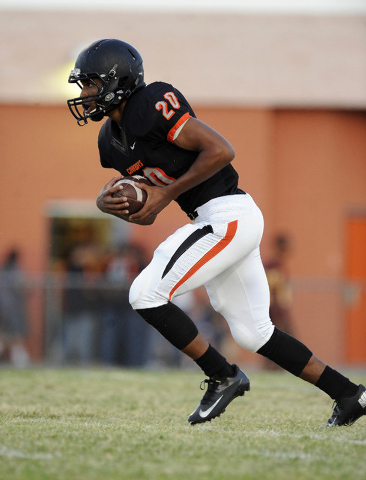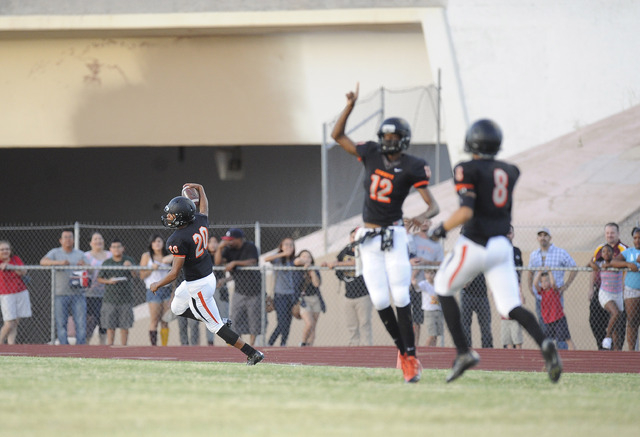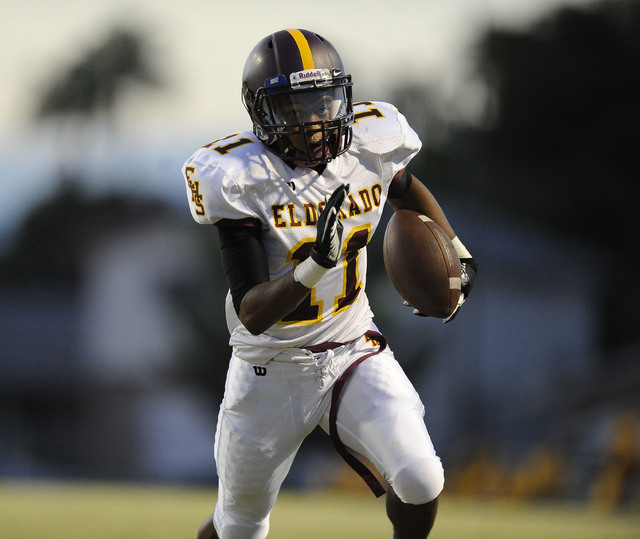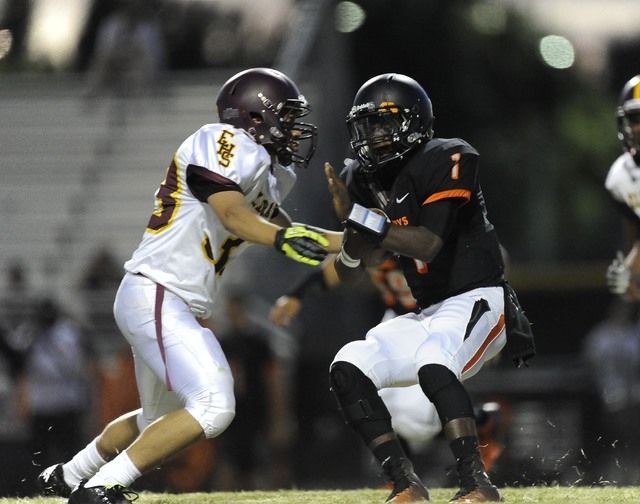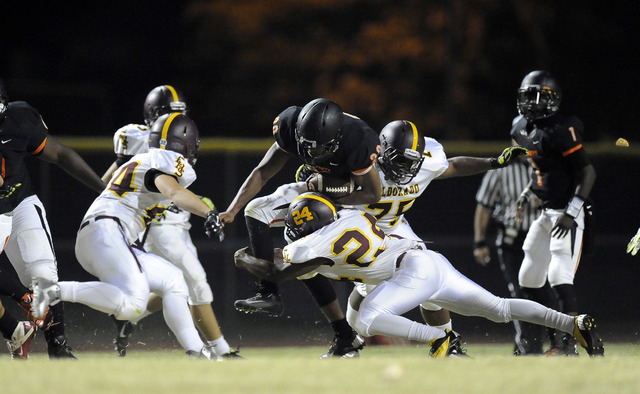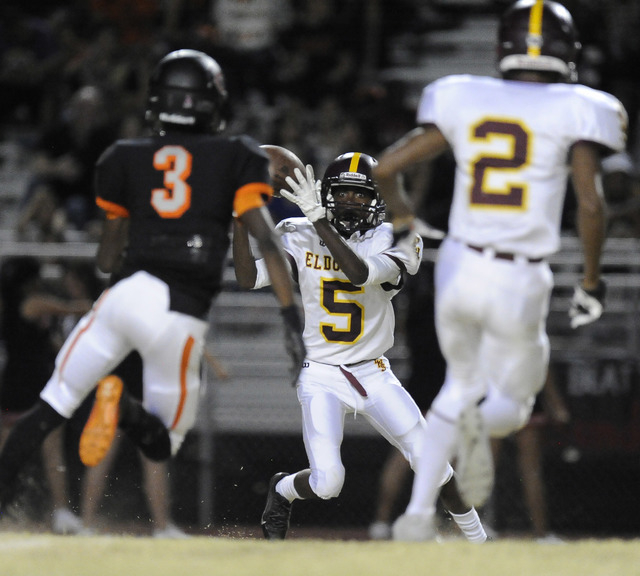 For Eldorado's football team, Friday night's contest against rival Chaparral wasn't just a game.
It was the game.
And the Sundevils put together a strong closing drive, capped by a 26-yard touchdown pass from Deven Dabbs to Tyler Spivey with 1:43 to play to earn a 28-21 road win in the annual "Cleat Game."
"They kids, they were ready all week," Eldorado coach Vernon Brown said. "They said 'if we don't win another game this year, we've got to win this game.' The thing we want to do, man, is just hopefully it snowballs and we go into next week and just build the momentum."
Eldorado led 21-7 going into the fourth quarter, but Chaparral was able to tie the game on a 6-yard TD run by Richard Hernandez with 4:43 to go.
Chaparral then chose to squib kick, giving the Sundevils good field position at their own 42.
Eldorado had been mostly screens and scrambles until that point but chose to give the ball to 220-pound running back Ray'Shaun Gamble to start the key drive.
After four carries by Gamble helped move the ball to the Chaparral 26, Brown put the ball in the air and junior quarterback Dabbs found Spivey wide open over the middle on a slant.
He caught the ball inside the 15, and turned it up field for the touchdown.
"I just saw open field," Spivey said. "I caught it and went and got into the end zone."
Spivey said the team remained confident even after Chaparral rallied for the two fourth-quarter touchdowns.
"We were 100 percent confident that we could score and close out the game," Spivey said.
Dabbs, making his first start at quarterback, completed 10 of 12 passes for 105 yards. His presence also allowed the team to move senior Joshua Brown all over the field. Joshua Brown was 4-for-4 passing for 57 yards, had 10 carries for 29 yards and a touchdown and caught three passes for 16 yards.
"Deven Dabbs played a hell of a game at quarterback," Vernon Brown said. "He's a first-year starter, so with Josh we wanted to give some different looks and move him all over the field. It worked out, and he'll only get better."
Joshua Brown got Eldorado off to a fast start, returning the opening kickoff 96 yards for a touchdown.
But the lead lasted just 20 seconds, as Chaparral's Richard Nelson returned the ensuing kick 92 yards for a score.
Eldorado had the only sustained offensive drive of the first half, going 80 yards on 10 plays capped by a 1-yard TD run by Gamble with 11:54 to go in the second quarter.
Joshua Brown shifted to quarterback to start the second half and guided the Sundevils on a 12-play, 76-yard drive that ate up 6 minutes and 50 seconds. Joshua Brown capped the drive with a 1-yard quarterback sneak to make it 21-7.
Chaparral quarterback Jerome Williamson guided the Cowboys on a fourth-quarter comeback, using both his arms and legs to key drives.
Williamson finished with 73 yards on 14 carries, and often extended plays by eluding the pass rush.
He also completed 9 of 18 passes for 122 yards, including a 10-yard scoring strike to Torin Owolabi that cut the lead to 21-14 with 9:50 to go.
"Give them credit, because they were down 21-7, and we knew it wasn't over," Vernon Brown said.
Spivey finished with five catches for 80 yards to lead all receivers.
He hopes Eldorado, which was just 1-8 last season, can build off the season-opening win and the return of the bronzed cleat once worn by Merlin Olsen.
"This turns the corner for us," Spivey said. "It shows that we're a playoff-caliber team."
Contact prep sports editor Damon Seiters at dseiters@reviewjournal.com or 702-380-4587. Follow him on Twitter: @DamonSeiters.
Complete coverage of high school sports.