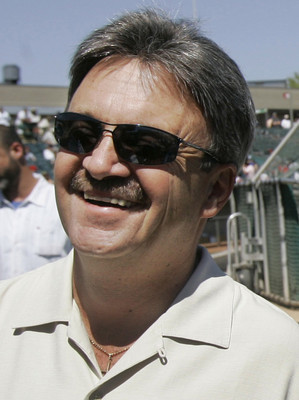 In recent days, Manny Ramirez became the definition of a disgruntled superstar. Before that, though, the former Boston Red Sox slugger had turned into something worse — a bully of the elderly.
The Red Sox soured on their "Mean Monster" in late June after Ramirez shoved the team's traveling secretary, 64-year-old Jack McCormick, to the ground over an argument about free tickets.
Ramirez also got into a dugout scuffle with teammate Kevin Youkilis, took himself out of the lineup while claiming to be injured, displayed lackluster play in left field, ran the bases recklessly and demanded a trade while ripping Red Sox ownership.
He did everything possible to get traded, short of feeding spoiled milk to general manager Theo Epstein's cat.
ESPN's Peter Gammons said it would be "impossible" for Boston to keep Ramirez, who was dealt Thursday to the Los Angeles Dodgers.
Dan Shaughnessy, a columnist for the Boston Globe, said Ramirez obviously had worn out his welcome.
"It's a shame it had to come to this," Shaughnessy wrote early this week. "Ramirez put up Hall of Fame numbers in his seven-plus seasons in Boston, and for most of that time he's been a fan favorite. But it's ending badly. … The nonsense has reached a point where it's just not worth it anymore.
"It looks like these are the final days of Ramirez in a Red Sox uniform. He said it himself. Enough is enough. He's tired of us, and we're tired of him. But the best bet is that Manny is going to finish the season in Boston."
In reality, the Red Sox were done with Ramirez after he decked an old man.
• NEW L.A. STORIES — The Los Angeles Angels made a bold move this week by dealing for first baseman Mark Teixeira. The Angels own baseball's best record and just swept the Red Sox at Fenway Park.
All of that provided fodder for the Los Angeles Times' T.J. Simers, who relishes in mocking the Dodgers and general manager Ned Colletti.
"The joke, of course, is on Dodgers fans who continue to believe management's promise of better times ahead," Simers wrote. "The Dodgers are a joke, all right, lapped by the Angels and left behind as baseball's version of the Clippers — the Clippers understandably upset with such a comparison after piling up 10 more playoff wins than the Dodgers the last 20 years.
"The Angels might be going to the World Series, but the Dodgers appear headed back to the drawing board."
The Dodgers became contenders by drawing up a trade for Ramirez, who surely will become a target of Simers' sarcasm.
• CUBS' TOP TEN LIST — A story on the Chicago Sun-Times' Web site took a look at the Cubs and their 100-year World Series drought. Some of the Top Ten Facts About Life When the Cubs Won the 1908 World Series:
10. Henry Ford introduces the Ford Model "T" and sells it for $850.
6. Eight percent of homes had a telephone.
4. Population of Las Vegas, Nevada — 30.
1. Ninety percent of doctors didn't have a college education.
COMPILED BY MATT YOUMANS REVIEW-JOURNAL