LEFTOVERS: Bullpen cop puts duty on hold for Red Sox
October 15, 2013 - 10:49 pm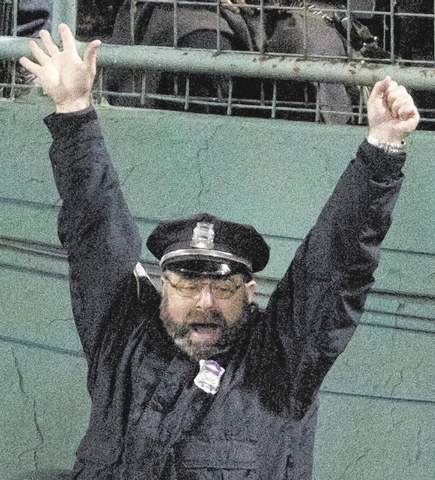 Less than three seconds of camera time was enough for Steve Horgan to become a social media sensation.
The Boston cop became Internet famous almost instantaneously Sunday night when he was spotted raising both arms in celebration when David Ortiz hit his dramatic game-tying grand slam in the eighth inning at Fenway Park as Detroit right fielder Torii Hunter went tumbling into the bullpen.
Never mind that Hunter was writhing in pain and potentially in need of medical attention. This cop, who was on duty, by the way, stood by with a dumb smile on his face celebrating the home run.
If you watch the replay of the home run, you'll see members of the Red Sox in the bullpen scrambling to help Hunter.
Then there's Horgan with his arms still raised celebrating as if he had hit the home run.
His grasp at fame didn't end when the game was over, either. Horgan posed for photos with just about everyone in the ballpark, including players and team executives.
There's even a photo of Horgan on the Boston streets in his uniform and a standard-issue yellow vest posed in the same idiotic pose with his arms raised as they were after the home run.
We get it, dude. You cheered for the home run instead of doing your job. Shouldn't he have been watching the crowd to make sure everything was staying orderly? Isn't that what he's getting paid for?
Get it together, Officer Horgan.
As for Hunter, long known as one of baseball's true gentlemen, he expressed irritation at Horgan's actions.
"He's supposed to protect and serve. This son of a gun's got his hands up! Help me, then cheer, fool! I wish I would have kicked him in his face," Hunter said, according to tweets from MLB.com's Anthony Castrovince.
To be fair, Hunter apparently was joking. He thanked the Boston relievers who did help: "They tried to take care of human life. Unlike the cop."
The lesson to be learned here is that anyone who wants to commit a crime in Boston and get away with it probably should do so when the Red Sox are hitting.
■ SHAFTED — Tennis star Caroline Wozniacki thought it would be adorable to post a picture to social media of boyfriend Rory McIlroy sleeping last month.
The young golf sensation was passed out with his glasses on and mouth wide open.
Apparently, he didn't think it was so cute.
Though Wozniacki has disputed the reports, several English media outlets are claiming the "it" couple of country club sports has called it quits.
Friends of the couple have claimed the photo was the final straw.
"There were a lot of tears," a source told The Irish Independent. "She still has her profile picture on her social-networking site set as the two of them in happier times, but I can tell you the pair are no longer an item."
Imagine how embarrassed he would have been if she would have tweeted a picture of the leaderboard from one of McIlroy's awful tournament performances this year.
COMPILED BY ADAM HILL LAS VEGAS REVIEW-JOURNAL