LEFTOVERS: Las Vegan pays off bet in beaver suit
August 6, 2013 - 10:57 pm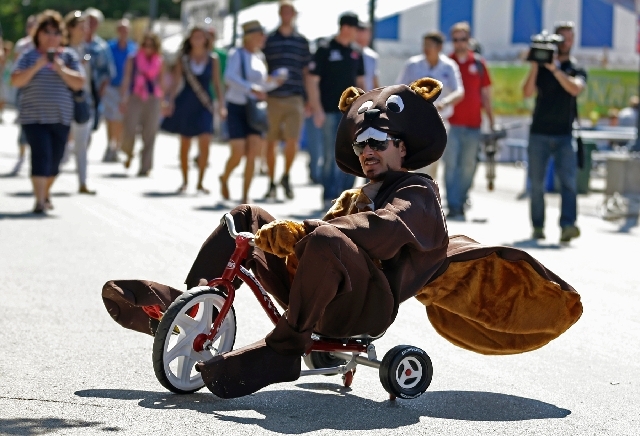 Las Vegas resident Alex Tagliani at least should consider wearing a beaver suit to next year's Indianapolis 500.
The IndyCar driver on Monday paid off a bet with fellow driver Scott Dixon by wearing a beaver suit, riding a tricycle and milking a cow at the Indiana State Fair.
While continuing to wear the suit, Tagliani beat Dixon in a five-lap go-kart race.
Dixon and Tagliani made a bet regarding who could raise more money for charities. They raised more than $13,000, with Dixon raising $1,130 more than Tagliani.
Tagliani, apparently not a Biogenesis client, failed to ring the bell in a test of strength on the midway but posed for photos with the world's largest male hog and the world's largest popcorn ball.
Bacon, popcorn and beavers, all you could want at a state fair.
■ LIVING IT UP — Prospective college students take note: There really is a reason to go to Iowa.
No, really.
The Princeton Review named the University of Iowa the nation's top party school.
The school also is ranked in the top spot on a list called "Lots of Hard Liquor," which apparently is needed to survive long, lonely winters and six-game losing streaks to end football seasons.
Looking for a school closer to home? UC Santa Barbara ranks second on the party school list.
The University of Illinois is third, making one wonder about the Big Ten, which also has Wisconsin eighth and Penn State ninth. West Virginia — insert your own joke — is fourth, and Syracuse takes — and possibly drinks a — fifth.
■ TOP OF THE HILL — It won't be long before all the preseason college football polls will be released, and while Western Kentucky shouldn't be expected to be ranked near the top, the Hilltoppers are building a dubious resume elsewhere.
Sophomore running back Leon Allen was arrested Sunday for disorderly conduct. He's the fifth Hilltopper to be arrested since April, joining former teammate Kene Anyigbo, who transferred after being nabbed for marijuana possession, and teammates Hendrix Brakefield, Mike Mugler and Kadeem Jones.
Brakefield is a punter, and Mugler is a kicker, giving Western Kentucky "special" teams, indeed.
Maybe they should consider loosening up by transferring to a Big Ten school.
■ HIDDEN MESSAGE? — Dave Wojtecki likely was just trying to inspire his high school football team.
But the coach at J.H. Rose High School in Greenville, N.C., was suspended without pay for five days after painting the team motto in block letters on a wall outside the school's weight room.
The motto is "Family, Unity, Discipline, Heart, Commitment."
Nothing wrong with that, until one realizes that the words were one per line with the first letter of each word in a line. Then consider that the team's biggest rival is D.H. Conley High. That's D.H.C.
We'll give you a minute to put the puzzle together.
The motto has been painted over.
COMPILED BY BARTT DAVIS
LAS VEGAS REVIEW-JOURNAL