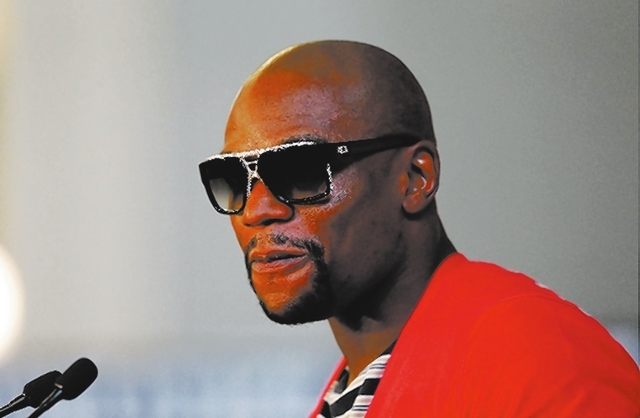 Floyd Mayweather Jr. nicknamed himself "Money" for a good reason: He makes a ton of it.
Spends a ton of it, too. But even with his lavish lifestyle, Mayweather would be hard- pressed to burn through the $41.5 million he is expected to make when he fights Saul "Canelo" Alvarez next Saturday at the MGM Grand Garden.
Richard Schaefer, the CEO of Golden Boy Promotions, which is co-promoting the megafight, confirmed the figure to Yahoo! Sports. And when factoring in Mayweather's percentage of the Showtime pay-per-view telecast, it could be considerably more.
Yahoo! boxing writer Kevin Iole wrote that the $41.5 million, a record for an individual fighter (Evander Holyfield received $33 million for his rematch with Mike Tyson in 1997), could buy Mayweather a lot of fancy automobiles. Based on the sticker price of $398,000 per car, Mayweather, if he wanted to, could buy 100 Rolls-Royce Phantoms with the money he'll earn next Saturday.
He probably won't splurge for 100, but it's likely Mayweather will buy a couple of new toys to add to his burgeoning garage at his Southern Highlands home, aka "The Big Boy Mansion."
Schaefer told Yahoo! that Alvarez will make "substantially less" than $12.5 million. But he probably could buy a couple of Rolls. Or at least a couple of Rolex watches.
■ MORE DENVER SIGNAGE — Those Joe Flacco banners might not be safe in Denver, but one billboard the NFL steered clear of Thursday was located near Sports Authority Field at Mile High. The billboard, advocating the legal use of marijuana, was put up a block from the stadium, in full view of fans attending the Ravens-Broncos game.
The proprietors? The Washington, D.C.-based MarijuanaPolicy.org, the same group that erected a billboard in Las Vegas when boxer Julio Cesar Chavez Jr. was battling his suspension with the Nevada Athletic Commission earlier this year for smoking a joint prior to his fight with Sergio Martinez last Sept. 15.
The billboard advocates using pot over alcohol, stating: "A safer choice is now legal here."
Apparently, Denver sportscaster Vic Lombardi, who defaced one of the Flacco banners last weekend, left the pro-pot billboard alone.
■ PLAYING CHICKEN — Remember in the movie "Bull Durham" when Jose the first baseman needed a live chicken to remove the hex his girlfriend put on his glove? Well, the Cleveland Indians took a cue from the movie by having a live rooster on the field Wednesday during batting practice prior to their game with the Baltimore Orioles.
The chicken, which was brought to the ballpark by pitcher Justin Masterson, also spent the game in the bullpen. And when the Indians rallied for a 6-4 win, well, you know what was coming next.
"If we get on a roll, that's going to be our mascot," outfielder Ryan Raburn said. "Whoever is the owner of it, we're going to have to keep that sucker if we keep winning. We're going to have to get him his own locker."
Not one to jerk with karma, Indians manager Terry Francona said: "I'm pretty OK with it as long as we win. But I don't know about farm animals."
A chicken shouldn't be too much of a burden in the clubhouse. Now a cow? That could be a bit intrusive.
COMPILED BY STEVE CARP LAS VEGAS REVIEW-JOURNAL