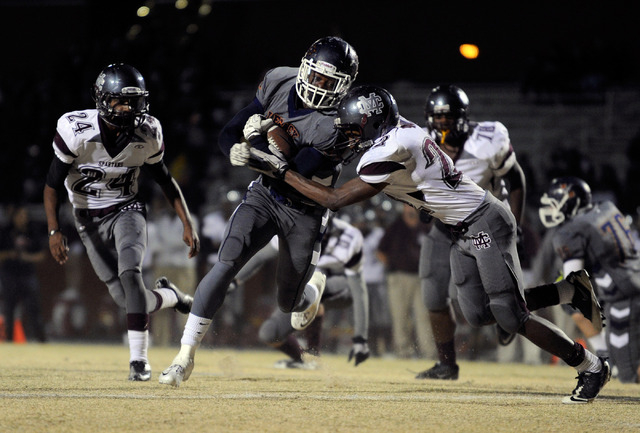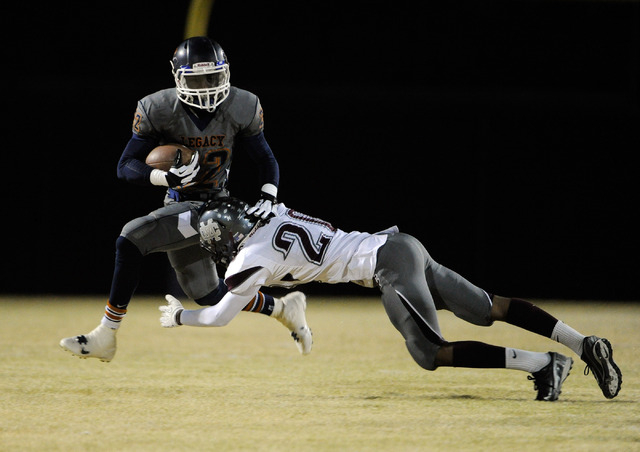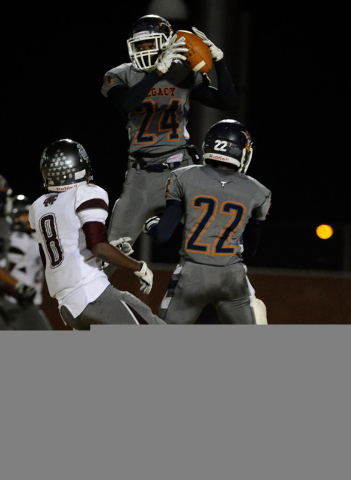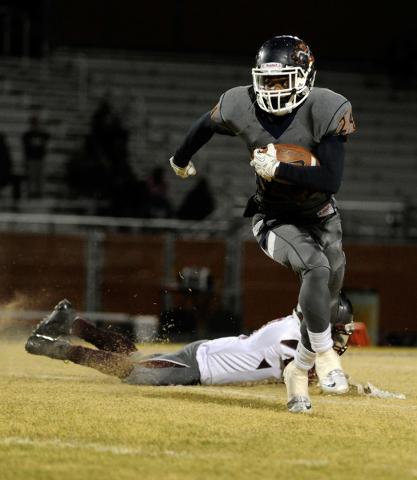 Sometimes football games are about more than just wins and losses. On Friday night, Legacy's defense came out and made a statement.
The Longhorns limited Cimarron-Memorial to 84 yards of offense on the way to a 42-6 home victory. The effort came a week after allowing 255 yards and 21 points to Desert Oasis.
"We had a meeting this week," Legacy coach Dave Snyder said. "We had to get these guys ready to go. What I said last week kind of sums it up. We just need to get our heads right. I think they came out tonight and proved that they're one of the better defenses in town."
The Spartans ran 47 offensive plays; Legacy stopped them for no gain or a loss on 11 of those. Nine other plays went for either 1 or 2 yards.
"Defensively we trained hard in practice," senior linebacker Nieamiah Lane said. "We meant for this to happen, and we came out and did what we sought."
The third-ranked Longhorns (6-2, 3-1 Southwest League) jumped to a 13-0 lead before No. 10 Cimarron (5-3, 1-3) had run an offensive play.
Casey Hughes capped the opening drive with a 4-yard touchdown run 50 seconds into the game. Hughes' run came one play after a spectacular dash by DeMichael Walker. Walker took an option pitch on the left sideline, reversed all the way across the field and sprinted 50 yards to the 4.
Legacy's Julian Castro chipped the ensuing kickoff over the heads Cimarron's front line, and the ball bounced in front of the deep receivers. Cimarron's Maurice Bennett tried to dive on the ball but couldn't control it, and the Longhorns' La'marious Nichols recovered at the Cimarron 18. Three plays later, Hughes scored on a 9-yard run for a 13-0 lead with 9:44 to go in the first quarter.
"That's always a big deal when you get out 13-0 in a hurry," Snyder said. "It kind of breaks you a little bit, and it's tough to recover."
From there it was all Legacy's defense. The Longhorns' next two scoring drives covered a total of 37 yards after their defense put their offense in good field position.
"We came out with a lot of intensity," Lane said. "We all had to step up from the Desert Oasis game last week. And we came out here and put it on them."
Of Cimarron's 83 yards, 49 came on its lone scoring drive, which came against Legacy's reserves. Cimarron quarterback Derek Morefield hit tight end Davon Pearson with a 17-yard touchdown pass with 40 seconds to play to cap the drive.
"I think that's very impressive," Lane said of holding Cimarron to fewer than 100 yards. "I wasn't expecting it, but we came out and performed and did what we were supposed to do."
Hughes added a 20-yard touchdown run with 12 seconds to go in the first half, and Walker finished with 140 yards on 19 carries, including a 4-yard touchdown run with 11:18 left.
Legacy quarterback Devin Williams was just 4-for-7 passing but connected with wide receiver Jermaine Allen on touchdown passes of 14 and 35 yards.
Lane had two sacks to key the Longhorns' defense, which dropped Morefield behind the line five times.
"We got a lot of pressure," Lane said. "We stepped it up, and I just did what my coaches told me to do, and it came out with great success."
The win set up a showdown with Centennial next week for second place in the Southwest and a first-round home game in the playoffs.
"That's a big deal," Snyder said. "That's our goal. Centennial's a good football team, so we need to come ready to go next week. Obviously that No. 2 spot is important for us, and we want to do everything we can to make that happen."
Contact prep sports editor Damon Seiters at 702-380-4587 or dseiters@reviewjournal.com. Follow @DamonSeiters on Twitter.