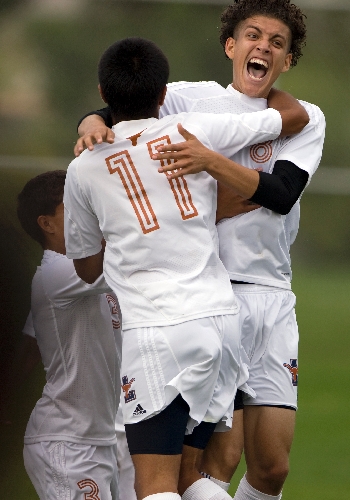 Legacy wasted little time taking control of Saturday's Sunset Region boys soccer final against Bishop Gorman.
And the Longhorns never relinquished it.
Legacy's Saul Aguirre scored in the game's fourth minute, and the Longhorns went on to beat Gorman 3-0 at Bettye Wilson Park for the school's first region title in any sport.
"To get the first goal, it gives you an edge and it just kind of relaxes your players," Legacy coach Jose Gomez said. "We just kept going at it. The kids didn't give up. That's the thing I love about my team. They're just hard-working kids."
The Longhorns (18-1-1) advance to the state semifinals Friday at Bettye Wilson. Gorman (17-1-1), which had won the previous five Sunset titles, will play Sunrise runner-up Del Sol at 4 p.m. Tuesday at Bettye Wilson, with the winner earning the final state berth.
Legacy's Miguel Herrera passed the ball ahead to Aguirre, who ran onto it in the box and knocked it past Gorman goalkeeper Thomas Olsen, who had left his line to challenge the play.
"Once we scored that goal, we had a big relief," Legacy goalkeeper Ramon Carvajal said. "But we knew we had to keep coming out strong. We couldn't let our guard down or anything."
The Longhorns came out quickly in the second half, with Herrera beating Olsen to a pass from Luis Chaidez and tapping it into the open goal just three minutes in.
Chaidez scored on an assist from Aguirre with 11 minutes to play for the final margin.
"This is the best thing ever," Chaidez said. "This is what we wanted from the beginning. This is what we worked for. Now we've got to win state."
Legacy defenders Ricky Acero, Julio Uribe, Skyler Ibarra and David Sanchez made life easier for Carvajal, consistently challenging Gorman's offensive players and giving few uncontested shots.
"My defense was solid today," Carvajal said. "Just like every other game, they always are solid. But today we just played with heart and everything we had. We really didn't give them opportunities to get shots."
When the Gaels did get off a clean shot, Carvajal was there to turn it away.
"You ask your players to make big plays when they need to, and today was a good day for him," Gomez said of his junior goalie.
Not only was the region title the school's first, but the program now has come full circle since going 0-19 when the school opened in 2006.
"For kids that have been around the program, they know where this program has been," Gomez said. "To win a division and a Sunset Region in the same season and still be in it, that's huge."
SUNRISE REGION
Desert Pines easily could have been overcome with frustration in the first half.
Just two minutes before halftime, the Jaguars' all-out attacking offense had produced seven offsides and a handful of other missed opportunities.
And suddenly, it all clicked.
The Jaguars scored three goals in the span of 14 minutes, turning a 1-0 deficit into a 3-1 win over Del Sol and the school's first Sunrise Region soccer title.
Desert Pines (14-3-3) advances to the state semifinals Friday at Bettye Wilson Park.
"We never stay back," Desert Pines coach Judas Perez said. "We hate surprises. Our thing is to attack."
The Jaguars spent most of the match attacking in waves, but had nothing to show for it until the 39th minute.
With Del Sol (13-5-2) leading 1-0, Desert Pines' Cruz Cortes took possession near midfield and worked the ball up the left side. A quick touch pass from Randal Valazquez set up Victor Favela for a tap-in on the right side, squaring the match and giving the Jaguars momentum heading into halftime.
It didn't take long for Desert Pines to go for the jugular.
Seven minutes into the second half, Valazquez grabbed a loose ball, worked through traffic on the right side and blistered a low shot inside the left post.
Five minutes later, Ruben Arzola headed in a corner kick by Francisco Lopez to make it 3-1.
"We have a lot of speed," Favela said. "Our forwards, our midfield just has true speed. We wanted to attack with speed, and it all worked out."
The Jaguars had chances to widen the lead but were called for another six offsides and had three shots go over the crossbar in the second half.
Limited to an occasional counterattack until falling into the two-goal deficit, Del Sol had a great chance to score midway through the second half. Jesse Romero's free kick hit the underside of the crossbar, and a quick rebound was stoned by Desert Pines goalie Angel Guzman.
The Dragons' lone goal came on Yefri Rodriguez's 40-yard shot that curled under the crossbar midway through the first half.
Contact prep sports editor Damon Seiters at dseiters@reviewjournal.com or 702-380-4587.
In-depth high school sports coverage