Legacy's Jamaal Britt hopes to rewrite record books at state track meet
Updated May 18, 2017 - 9:09 pm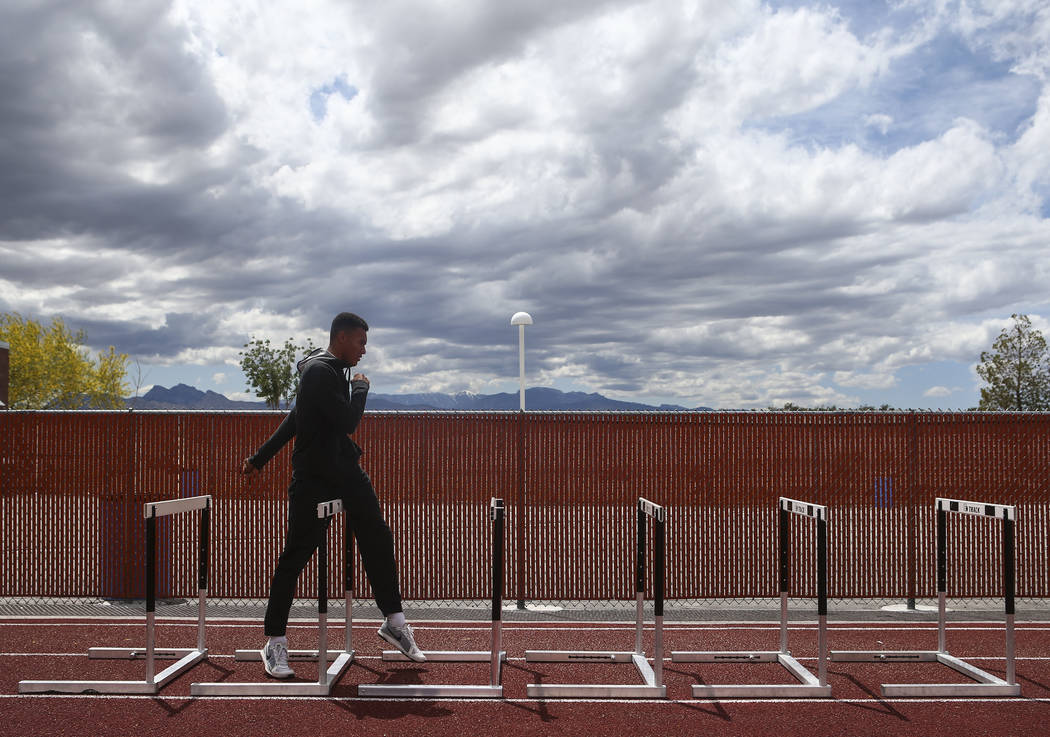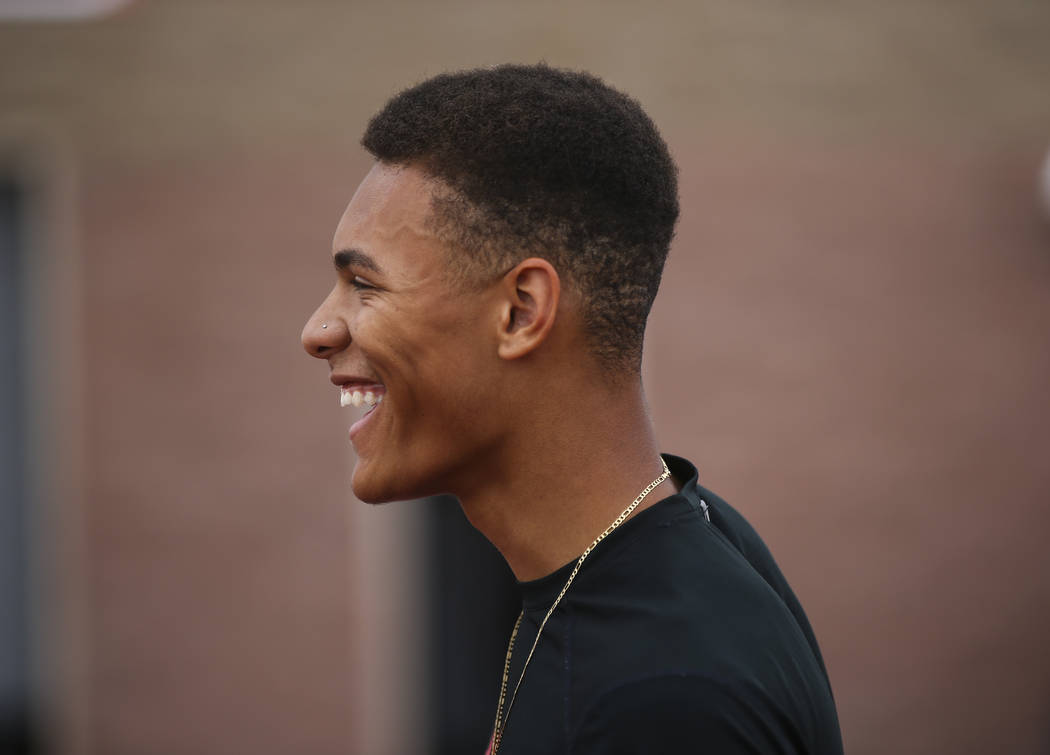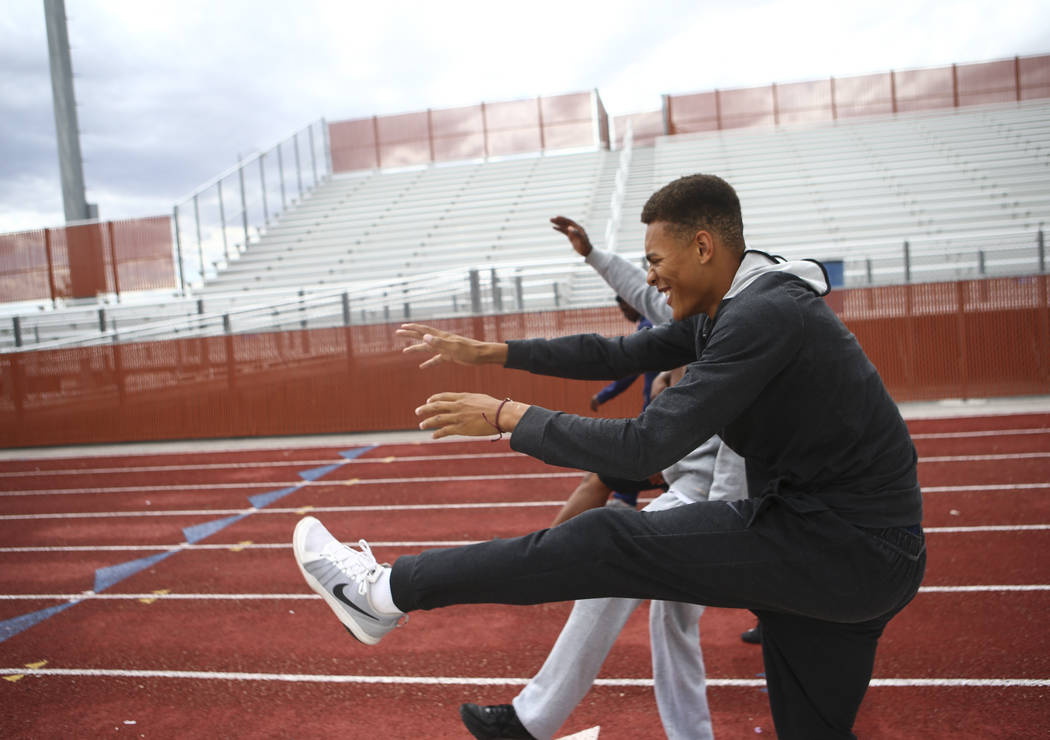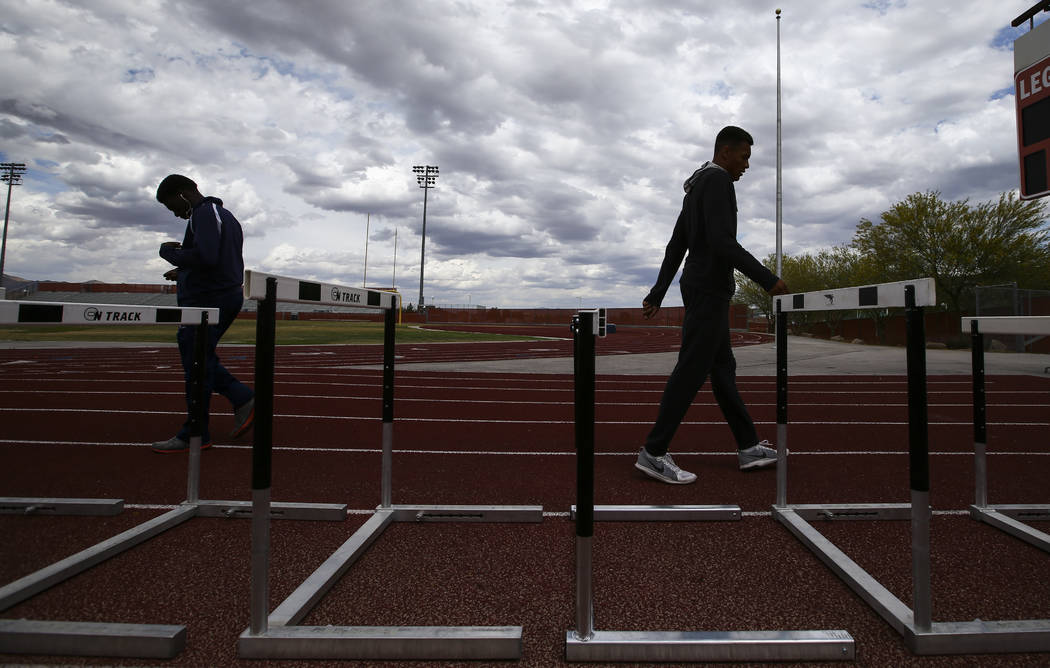 Competing for state titles isn't new to Jamaal Britt. The senior on Legacy's boys track team won the long jump title last season, but it's a new challenge that drives him in 2017.
Britt finished second in the 300-meter hurdles last season, and it took a state-record performance to keep him from the gold. He came into this season with a new determination and will have a chance to end his career in style at the state meet, which begins Friday at Foothill.
"I was just focused on next season and having a chip on my shoulder coming in," Britt said of last year's second-place finish. "I just thought of that every time I raced. I'm not trying to get second, I'm trying to win first at state."
Britt won championships in the 110 hurdles and 300 hurdles at the Sunset Region meet last weekend. He is the top seed in both, and in the 300 hurdles, his seeding is almost two seconds better than the No. 2 seed.
He is also the No. 2 seed in the long jump, and while retaining his crown would be a nice feather in his cap, Britt said the hurdles were his focus, and the 300 hurdles is his "main event."
"I'm ready right now (for state)," Britt said after he won the region title in the 300 hurdles. "If it was today, I would have done it all over again."
The 300 hurdles are scheduled for 7:10 p.m. Friday. On Saturday, Britt will compete in the 110 hurdles at 9:20 a.m., and the Class 4A long jump is scheduled for immediately after the other three classes, beginning at 9 a.m.
Legacy coach Terrance Pitts has seen a new Jamaal Britt this season. Britt always has been one of Legacy's top athletes, but this year his hurdles have improved, not just from last year but even from the beginning of the season.
"You've gradually seen him improve over every race, over each hurdle," Pitts said. "He's definitely put in a lot of work in the conditioning phase and throughout the season, and taken stuff away from every meet to come out better the following week."
The state record for the 110 hurdles was set in 1986 by Western's Mark McKinney with a time of 14.12 seconds, according to the NIAA. The 300 hurdles mark is 37.83, set last year by Centennial's Savon Scarver, who beat Britt at state but finished second to him in both hurdles at the Sunset Region meet.
Pitt said both records are within reach. Britt set a personal record in the 110 hurdles of 14.24 at the Richard Lewis Invitational on April 21, and his personal best of 37.51 in the 300 hurdles would have set the state record had he done it at the state meet.
Obviously, expectations are high for Britt. He said he was confident, but he was humble in discussing it. His coach was willing to speak for him, and if Pitts' prediction becomes prophecy, Britt will rewrite the record books.
"I'm looking for him to probably set a state record and also a personal best," Pitts said.
More Preps: Follow all of our Nevada Preps coverage online at nevadapreps.com and @NevadaPreps on Twitter.
Contact Justin Emerson at jemerson@reviewjournal.com or (702) 387-2944. Follow @J15Emerson on Twitter.