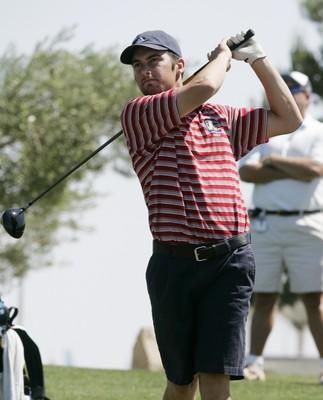 As he began to drain putt after putt, Scott Lewis knew he was on his way to a special day.
He had shot 67 before. And as he made the turn for the back nine Monday in the Class 4A Sunrise Regional boys golf tournament, he was already at 4 under par.
But with the winds whipping through the Aliante Golf Club and the greens lightning-quick, the Coronado High School senior wasn't sure he could keep it going and have the big round most amateur golfers only dream about.
Yet Lewis managed to overcome the elements, post a 68 and earn a spot in next week's state tournament at Somersett Country Club in Reno.
How impressive was Lewis' victory? Consider that nobody else broke par, which was 72, and the player closest to Lewis, Foothill's Matt Nolasco, was seven shots back at 3-over 75.
Lewis' round also ensured that he will have company in Reno next Monday as Coronado will be going as one of two teams after finishing second to Green Valley, 400-404.
The Gators, despite playing without Joseph Harrison, one of their top golfers, won the team title thanks to Ben Ross' 76, which included a 1-under 35 on the back nine, and a 78 from freshman Ryan Green.
Foothill finished third at 412, but the Falcons will have two players in Reno as Nolasco and Cameron Alford were in the group of five individuals that advanced. Joining them are Las Vegas' Raymond Gillip, Del Sol's Jason Holley and Liberty's Aaron Aceret.
"I'm very pleased," said Lewis, who will attend UC Santa Barbara in the fall and hopes to walk on the Gauchos' golf program. "I was striking the ball well, and I was chipping and putting well."
He made several sizeable putts, including a 33-footer for eagle on the par-5 eighth that put him at 4 under. He went to 5 under after making a birdie on No. 11, and said afterward he was struggling to stay focused.
"I got more conservative because I didn't want to wear myself out," Lewis said. "I wanted to stay in the moment, but it's hard when you're playing so well. Things start creeping into your head that this could be the greatest round of your life."
Lewis previously played for The Meadows and shot a 67 in the second round of the 2005 Class 2A state tournament as a sophomore. He was on track to repeat that score Monday, but after playing par golf from No. 12 through the 17th, he wound up bogeying No. 18 when his par putt ran past the hole.
"It would have been nice to finish 5 under, but I'm very happy with what I did out there," Lewis said.
So was Coronado coach Joe Sawaia.
"It doesn't surprise me," he said of Lewis' performance. "He's played well all season. He was mentally in tune, especially for a big tournament like this one."
In high school golf, six players compete per team with the best five scores counting. Lewis' 68 was critical given the rest of the Cougars were having a tough time on the course. The next best Coronado score was Zak Carroll's 82.
Green Valley, which was fortunate to have most of its players tee off later in the day when the winds began to decrease, managed to overcome the loss of Harrison, who has been having academic issues and hasn't been with the team the last three weeks.
"We've shot consistent all year," Gators coach Greg Murphy said. "It just hasn't been consistently good. But to step up and do it in this tournament is big.
"This is Ben's first regional and he shoots a 76. That's huge. Ryan's a freshman and he shoots 78. It shows we have talent. It's just a matter of coming together at the same time and we showed some of that today."
Preps Central