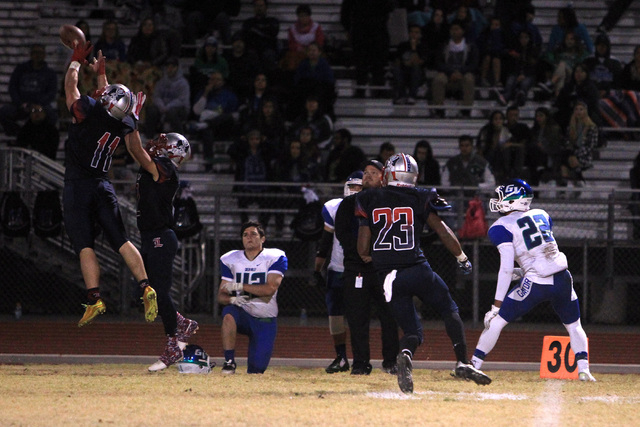 Liberty's football team hasn't had a consistent offensive identity this season.
At times, the Patriots have changed that identity from quarter to quarter, or even series to series. Sometimes, Liberty is a spread team, sometimes a power team, and other times it's defined by inefficiency.
If the offense has been schizophrenic, the defense has been a constant. Liberty (10-2) has allowed an average of 14.3 points, and faces its biggest challenge when it plays Bishop Gorman (13-0) in a Division I state semifinal at 1:05 p.m. today at Rancho High School.
"Defense is a strong part of our team; it's almost the heart of our team," senior Josh Bernard-Lee said. "That's what we pride ourselves on. Especially with this group of guys. We play sound. We play together. We play team defense."
Excluding points scored by opposing defenses and special teams, Liberty has allowed 125 points this season, and the Patriots have yielded an average of 211.2 yards of offense. Only two teams have topped 300 yards in a game against Liberty this season.
"They're a physical team," Bishop Gorman running back Russell Booze said. "They rally to the ball, and it seems like they play disciplined, so that would probably be the biggest challenge."
The biggest challenge for Liberty will be containing an offense the likes of which it hasn't seen this season.
The Gaels, ranked No. 1 in the nation by USA Today, average 50.5 points and 451.2 yards of offense, even though its games against in-state competition have routinely ended with a running clock.
Booze has led the ground game with 1,440 yards and 20 touchdowns. He has averaged 10.1 yards per carry. Quarterback Tate Martell has completed 62.8 percent of his passes for 2,145 yards and 33 TDs with just two interceptions.
His choice of targets is special, starting with UCLA-bound tight end Alize Jones, who has 41 catches for 930 yards and 13 TDs. The receiving corps is so strong that senior Cordell Broadus (31 catches, 511 yards), who is ranked as the No. 13 senior receiver in the nation by Rivals.com, is third on the team in receiving yardage behind Jones and sophomore big-play threat Tyjon Lindsey (26 catches, 702 yards, 12 TDs).
"It's a challenge, but I can't stop fighting with this group of guys," Bernard-Lee said. "They're fighting for the challenge. We're hungry. We can't wait. We're a hungry defense."
Gorman coach Tony Sanchez said he expects the Patriots to try to pressure Martell, and that his team must take advantage of the openings that could bring.
"We've got to be real aggressive on offense," Sanchez said. "We're pretty balanced in our attack, and we've got to take advantage. If they're going to come up and get in our face and challenge our guys, we've got to do a good job of stretching the football field."
Liberty's players harbor no illusions about shutting out the Gaels. But senior safety Preston Pavlica said the Patriots must make sure not to let the inevitable Gorman touchdown bury them.
"You've got to be positive," said Pavlica, who leads the Patriots with 74 tackles and six interceptions. "They're probably going to score a few times. We can't hold our heads down. We've got to keep our heads up and stay positive, for sure."
Pavlica said there are a few keys for his team to stay with the high-powered Gaels.
"Defensively, we're going to have to have a couple turnovers to get a chance to win," Pavlica said. "We've got to stop their fast receivers. We've got to keep Tate Martell in the pocket, make sure he doesn't scramble, because that's when they score a lot of points."
Gorman handled Liberty easily the last time the teams met, beating the Patriots 63-10 in the 2012 state final. The Gaels topped Liberty 56-34 in the 2011 state semifinals.
But Liberty coach Rich Muraco said his team still believes it can pull off an upset.
"The kids understand, the coaches understand, everybody understands that, No. 1, you've got to believe that you have a chance," Muraco said. "And I think our team does. They're not going in defeated before the game starts.
"Obviously Gorman's going to be a different kind of challenge because they're so loaded and well coached, but I also feel like this is three years worth of kids with their eye on Gorman. Everything we talk about is beating Gorman. Hopefully we get our 'A' game on Saturday."
Contact reporter Damon Seiters at dseiters@reviewjournal.com or 702-380-4587. Follow him on Twitter: @DamonSeiters.