Liberty finishes climb to mountaintop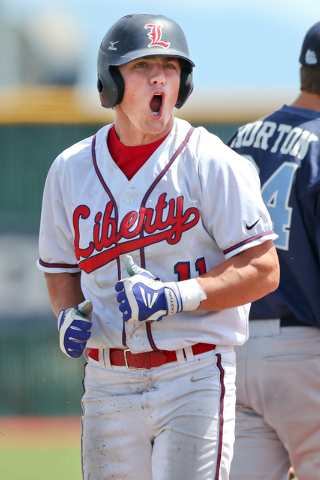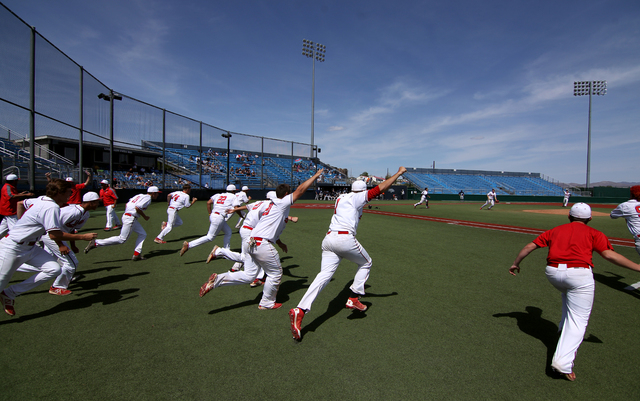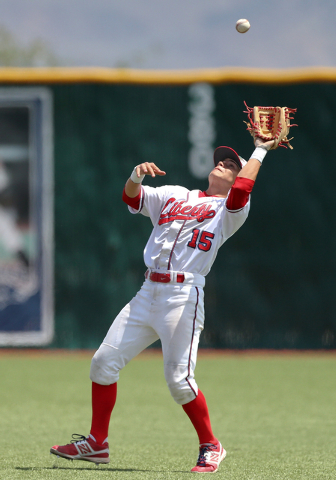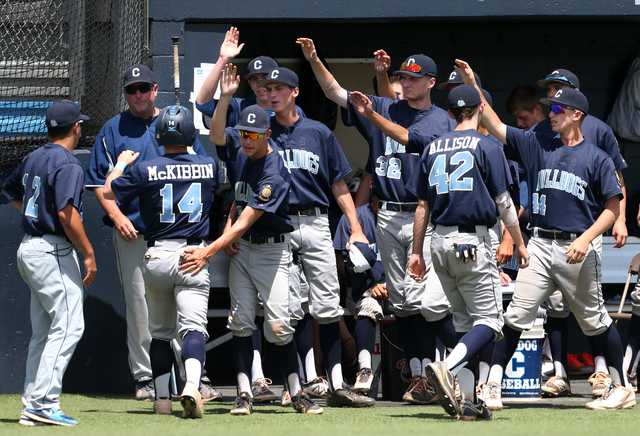 RENO — Liberty baseball coach Nick Didier couldn't quite choke back the tears as his team celebrated on the field at UNR's Peccole Park on Saturday.
"It's emotional because I remember when we won four games in a year," Didier said. "And I remember just thinking about one day maybe we can reach the top of the mountain. And I didn't know when it was going to be. And it just so happened to be today.
"I'm proud to be a Patriot today."
Liberty got a strong outing from No. 3 starter Trevor Mullaney, and Preston Pavilca provided the offensive punch with two RBI triples as the Patriots held off Centennial for a 5-3 win in the Division I state championship game.
It was the first state title for Liberty, which was making its first state tournament appearance. The Patriots had made the postseason twice in school history before this season.
"When I came here my freshman year, I knew Liberty was down and they've always been down," senior right fielder Jesse Keiser said. "I think my class came in and we pretty much took over (along with) the class that graduated last year. Our two classes took over, and we just went up from there."
Mullaney, a junior right-hander, spent most of the season in the bullpen, but gave the Patriots (31-5) a quality start.
"It's just a once-in-a-lifetime chance," Mullaney said. "My coaches trusted me, and I went out there and just gave it everything I had."
Mullaney allowed two runs on six hits with two strikeouts and one walk.
"I was waiting for Trevor to have a big day like that today," senior left fielder Dan Skelly said. "He's just a dog."
The game was tied 1-1 when junior center fielder Pavlica came up with his first big hit in the third inning. Keiser walked with one out and scored on Pavlica's two-out triple to right-center, giving Liberty a 2-1 lead.
"It just gave me a little cushion," Mullaney said. "Just a big relief. After that, I was like, 'Oh, we're in this.' "
Pavlica was in the middle of things again during Liberty's three-run fifth inning. Jay Martz had a sacrifice fly to make the score 3-1, and Pavlica followed that with a shot high off the wall in dead center for his second RBI triple. Skelly then grounded the ball to short, but Pavlica beat the throw to the plate for a 5-1 lead.
"Preston Pavlica coming through in the clutch with two big triples … the kid's the hardest worker and I think the best center fielder in the state of Nevada," Didier said. "He's just a pure gamer. God, what a great win for the team and a great win to send the seniors off."
Centennial threatened in the sixth when Kyle Horton singled and Mullaney hit Jake Portaro with one out. Cooper Powell then stung a line drive that looked destined for the gap, but second baseman Ethan Ibarra snagged the ball for the second out.
Mullaney then blew a high fastball past Travis Stevens for a strikeout to get out of the inning.
The Bulldogs (27-13) made things interesting in the seventh. Will Loucks doubled to lead off the inning, and Didier pulled Mullaney in favor of Justin Lutes.
Lutes retired the first two batters he faced, but pinch runner Alex Nicoll scored on a wild pitch, and Ricky Koplow blooped a single to left.
Koplow took second on defensive indifference, and Tanner Wright then tripled past a diving Keiser in right field to make the score 5-3 and bring the tying run to the plate.
But Lutes got Horton to fly out to Keiser in right to end the game.
"I knew it was going to be hard, either way," Keiser said. "Centennial's a great team over there. This game's never going to be easy, it's always going to be hard, and I knew it was going to come down to the last play of the game."
Koplow and Wright each went 2-for-4 for Centennial.
"We have talent, but we're probably not the most talented," Centennial coach Charlie Cerrone said. "And we battle with what we have. I love our guys."
Pavlica went 2-for-3, Martz drove in two runs and Keiser scored twice for Liberty.
"There's nothing better," Skelly said of the title. "I just couldn't imagine being here today without this group of guys behind me."
DIVISION I-A
Erich Uelmen knew he needed to find a way out of a second-inning jam. So the senior did it with his slider.
Churchill County had loaded the bases with no outs, but Uelmen struck out the next three batters, all on breaking balls, and Faith Lutheran went on to beat the Greenwave 9-2 for the Division I-A state baseball title at Peccole Park.
"I just knew I had to get through that, because if they would have got anything, they would have the momentum," Uelmen said. "And by getting out of it, we took the momentum on our side, and it basically took them out of the game."
The Crusaders (30-6) led 2-1 at the time, but Uelmen gave up a leadoff double to Riley Williams to start the second. He then struck out Trae Workman on a breaking ball in the dirt. But catcher Greg Sylvester's throw to first to complete the out short-hopped the first baseman, putting two on with no outs. Uelmen then hit Jack Swisher with a pitch to load the bases for the top of the order.
But Uelmen, who has signed with Cal Poly, found his way out of the jam to preserve the lead.
"That was huge," Faith Lutheran coach Blair Neagle said. "He established his breaking ball there, and it kind of gave us a lift. It took us awhile to get going, so he was kind of the catalyst."
Churchill County (24-10-1) had no answer for Uelmen's slider all day. The senior right-hander finished with 12 strikeouts, 10 on breaking balls.
He allowed one earned run on three hits and walked one.
"He's got a good fastball, so they've got to be ready for that," Neagle said. "But he throws that breaking pitch from the same arm slot, so it's tough. He's pretty nasty, and he gets a lot of movement."
Uelmen helped his own cause, leading off the fourth with a double and scoring on an error to make it 3-1.
After the Greenwave scored a run in the fifth on Tyler Bagby's RBI double to cut the lead to 3-2, Uelmen again helped his own cause with an RBI single in the bottom of the inning. The Crusaders added RBI singles from Justin Daraban and Bobby Frank, and Sylvester drove in a run with a safety squeeze to make it 7-2 after five innings.
That was more than enough for Uelmen, who got a strikeout and a game-ending double play in the seventh. Uelmen struck out at least one batter in every inning.
Uelmen is one of three college-bound pitchers for the Crusaders, joining Brandon Johnson (Kansas) and Jordan Dreibelbis (Dixie State) in helping the team to a second consecutive title.
"He got tired at the end, but he's just got such a heart and he's such a competitor," Neagle said. "There's nobody we'd rather have. It's a three-headed monster, and they support each other. He just did a great job swinging the bat and competing for us."
Churchill County scored an unearned run after two first-inning errors by Faith Lutheran. But the Crusaders took the lead back in the bottom of the inning and kept it for the rest of the game.
Logan Etherington started the first-inning rally with a two-out single to right. Dakota Greenawalt then doubled off the right-field fence to tie the game. Cameron Sepede brought home Greenawalt with a triple to right-center field.
Sepede was 3-for-3 with two runs, and Uelmen went 2-for-3 with two runs to lead Faith Lutheran's 10-hit attack.