Liberty girls rolls into 4-A basketball final
February 25, 2011 - 2:08 am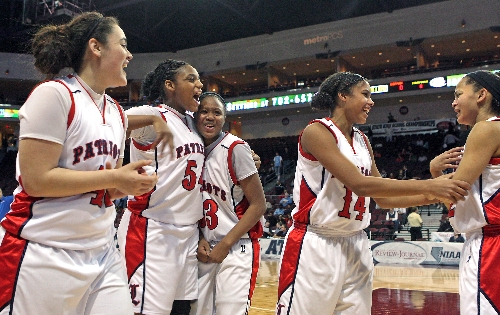 Liberty coach Quintin Lester loves to see his team run.
But in the first half of the Class 4A state semifinal against Bishop Gorman, Lester watched his team run itself out of some scoring opportunities. The Patriots were playing like a sped-up record, moving too quickly for their own good.
A halftime chat and an 8-0 run later, and the Patriots were golden.
Liberty used a good second-half transition game and quality free-throw shooting to post the biggest victory in program history, ousting the Gaels 58-53 on Thursday at Orleans Arena.
The Patriots (27-2) will play Centennial (31-1) for the title at 6 p.m. today. It's Liberty's first trip to the state final.
"It was a point of emphasis at halftime," Lester said of the transition game. "It might have been a little jitters, but once we settled down, we were good."
Liberty committed 12 first-half turnovers, many as a result of trying to play too quickly. Passes sailed over heads or too far ahead of intended recipients.
Finally in the third quarter, the Patriots' timing clicked. Consecutive baskets in transition by Alena Evans and Destiny Whitehead sparked an 8-0 run that turned a 35-29 deficit into a 37-35 lead.
The Patriots, who seemed on the ropes while trailing 20-12 early in the second quarter, suddenly had momentum.
"It's that year of experience," said Lester, whose team lost to Reed in the state semifinals last year. "Everyone got a year older, and they understood they have to withstand the runs."
Liberty stretched its lead to 50-44 midway through the fourth quarter, but Gorman (24-7) hung around and closed to within 55-53 on Zhane Dikes' jumper with 47 seconds to play. The Gaels had a chance to tie the game with 22 seconds to go but missed two free throws.
The Patriots' Jade Washington and Whitehead combined to hit 3 of 4 free throws, and Whitehead made a big steal in between to close out the game. Liberty finished 19-for-26 at the foul line.
"We practiced a lot lately with pressure free throws," Lester said.
Gorman was hurt by 12-for-25 shooting on free throws.
"Less than 50 percent," coach Sheryl Krmpotich said. "We talk about it. We work on it. It's a characteristic of being young."
Evans led Liberty with 18 points. Amanda Delgado scored 16 and Whitehead 15.
Dikes finished with 14 points and 17 rebounds for Gorman. April Rivers added 14 points — 13 in the first half — and Julia Ewalefo scored 10.
■ Centennial 84, Reed 57 — Jada Brown wasn't exactly a huge factor for Centennial in the Sunset Region tournament.
The sophomore didn't play in the quarterfinal and scored a combined 14 points in the semifinal and title game as the Bulldogs breezed to the championship.
It took Brown only eight minutes Thursday to match her regional scoring total. The post player had 14 points and five rebounds in the first quarter as Centennial built a 23-9 lead and cruised past previously unbeaten Reed.
"Jada was amazing," Centennial coach Karen Weitz said. "With these kids, we talk all the time about letting the game come to you. Jada did that tonight. It was her night. One night it's Ashley (Klemz), the next night it's Jada, the next night it's somebody else."
Brown, who finished with 26 points and 13 rebounds, did most of her work in the first half — totaling 20 points and 11 rebounds as the Bulldogs led 43-23 at the half and remained comfortably ahead.
Led by Brown, Centennial put on another rebounding clinic, outrebounding Reed 37-14 in the first half. The Bulldogs grabbed 20 offensive rebounds in the half, masking an iffy shooting effort.
Reed (26-1) had only one offensive rebound by halftime.
"Every coach tries to have the one-(shot)-and-done theory on defense," Weitz said. "We definitely came out soft and slow in the third quarter, but we picked it up in the fourth quarter."
Reed quietly crept within 49-36 midway through the third quarter, but a 9-0 run by the Bulldogs squelched the rally and left little doubt.
Centennial's defense consistently hopped into passing lanes and flustered Reed, forcing 37 turnovers.
Tamera Williams, in foul trouble most of the game, added 15 points and Breanna Workman 10 for Centennial, which wasn't great offensively but thrived on second and third efforts.
Gabby Williams led Reed with 14 points, and Nyasha Lesure (10 rebounds) and Micah Walker scored 12 apiece.
Contact reporter Bartt Davis at bdavis@reviewjournal.com or 702-387-5230.
In-depth high school sports coverage