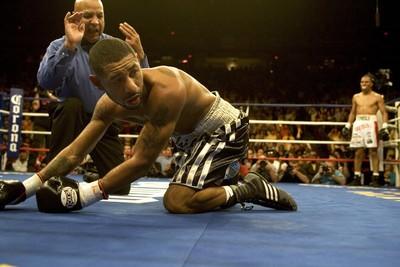 Diego Corrales' life was about going fast and tempting fate.
Whether it was in the boxing ring, swimming with sharks in the ocean, Bungee jumping, skiing down a mountain or riding a motorcycle, Corrales loved pushing the envelope.
That carefree attitude toward life ultimately led to the death of the former world boxing champion.
Around 7:15 p.m. Monday, Corrales was heading north on Fort Apache Road on a 2007 Suzuki GSX-R1000 motorcycle he had purchased two weeks earlier at Carter Powersports, a local motorcycle dealership, when he struck the back of a 1997 Honda Accord as he approached the Russell Road intersection.
Corrales, who was wearing a full face shield and helmet, was thrown from the motorcycle and flew into a 2004 Mercedes-Benz sedan. Corrales, 29, was pronounced dead at the scene.
Metropolitan Police indicated that any toxicology reports would not be available for several weeks.
Police blamed the accident on speed and rider inexperience. The state Department of Motor Vehicles said Corrales' vehicle and motorcycle licenses had been revoked in July 2006 for a drunken driving conviction on an October 2005 arrest.
A memorial service for Corrales is scheduled for 11 a.m. Thursday at Palm Mortuary, 7600 South Eastern Ave.
Those closest to Corrales feared his lust for the wild side of life eventually would cause harm.
"It was a concern to everyone," Joe Goossen, Corrales' trainer, said Tuesday from Southern California. "To be quite honest, that bothered me the most about Diego. He fancied himself as a clever motorcyclist, and I would literally cringe when I'd see him riding a bike."
Gary Shaw, Corrales' promoter, said he tried to convince his fighter to be careful with activities outside the ring.
"I would try to talk him out of the motorcycles and the skydiving, and he'd put his arm around me and with a smile say, 'Chill out. Relax. Don't worry. It's all good,' " Shaw said Tuesday from his New Jersey office. "He was going to go skiing once, and I said, 'Chico (Corrales' nickname), you don't know how to ski,' and he said, 'I can go very fast down a mountain.'
"We knew about the motorcycle. He lived his life the same way he fought, with reckless abandon."
Pat Lamparelli, a close friend of Corrales, said he got nervous whenever the boxer rode a motorcycle.
"It was always a concern," Lamparelli said. "I don't know how many times I told him to be careful. But the way Diego lived his life, so carefree, especially with motorcycles, you just hoped he'd be OK."
In a Review-Journal story published June 2, 2006, Corrales said he didn't fear putting himself at risk with his adventurous activities.
"I'm only young once and, unless someone hasn't told me something yet, I only get to live once," he said. "If I couldn't do this stuff now, stuff I always wanted to do, I would never get a chance to do it."
Corrales had his share of problems. He was separated from wife Michelle, who is six months' pregnant with their child. He had financial problems and owed the Internal Revenue Service for back taxes. He had tried to leave Shaw for Oscar De La Hoya's Golden Boy Promotions, only to have that plan go awry when Shaw proved in court he had a legitimate contract to promote Corrales. Corrales had been advanced $300,000 by Golden Boy but had spent the money and was unable to repay the company.
Antonio Leonard, Corrales' co-promoter, dismissed any idea that Corrales committed suicide.
"Yes, he had a lot of issues," Leonard said. "But if he wanted to kill himself, he could have taken a pistol to his head or taken a bunch of sleeping pills. The guy was wearing a helmet. Most motorcycle deaths are from head trauma, so if he wanted to kill himself, he wouldn't wear a helmet when he's going 100 mph."
Leonard said he never tried to counsel Corrales about his activities outside the ring.
"He liked doing those things," he said. "He was an outdoors kind of guy. He loved going fast.
"But we never know how we're going to leave here. Boxing can put so much pressure on a person. All I would tell him when he got on the motorcycles was to be careful."
Goossen said the thought that Corrales might have committed suicide crossed his mind briefly.
"But he was an A-type personality," Goossen said. "He never did anything that outrageous. His riding was a concern to everyone, including his wife, Michelle. But Diego had been riding motorcycles since he was a kid. If he was traveling 100 mph like they say he was, that's very disturbing. I wonder why he would be so reckless?"
The residential area Corrales was traveling through has a posted speed limit of 35 mph. A witness to the accident told police that Corrales was going considerably faster than the speed limit.
In the ring, the former super featherweight and lightweight world champion was coming off a unanimous decision loss to welterweight Joshua Clottey on April 7. Corrales was 40-5 with 33 knockouts in his professional career. The zenith was his first fight with Jose Luis Castillo on May 7, 2005.
That night, Corrales was knocked down twice in the 10th round of their lightweight title fight, only to get up and score a dramatic knockout late in the round for the victory in what was selected as the fight of the year by boxing writers.
The October 2005 rematch was controversial, as Castillo didn't make weight. But the fight went on, and Castillo knocked out Corrales in the fourth round. A third fight, scheduled for June 2006, never materialized after Castillo again failed to make weight and Corrales chose not to fight.
In a statement released by Top Rank Inc., Castillo, who is in Mexico training for his June 23 fight with Ricky Hatton at the Thomas & Mack Center, said: "I was very surprised and upset when I heard about Chico. It is really tragic when something like this happens. My heart goes out to his family, who I know he cared a lot about.
"I always liked Chico. We had what I would call a friendly rivalry when we got into the ring. We had two amazing fights, and our names will be linked forever."
Top Rank CEO Bob Arum, who promoted Corrales early in his career, said: "Like everyone else in boxing, we are stunned and saddened at the tragic death of Diego Corrales. Years ago, we helped launch Diego's boxing career and promoted many fights for him, including his first championship bout.
"Diego was a class person who we were very fond of. Our deepest sympathies go out to his wife, Michelle, and the rest of his family."
The Associated Press contributed to this report.
CORRALES' BIKE ONE OF MOST POWERFUL SOLD The motorcycle that former world boxing champion Diego Corrales was riding at the time of his fatal accident Monday is a powerful machine not meant for novices. Corrales, 29, was killed when he crashed his 2007 Suzuki GSX-R1000 into a 1997 Honda Accord while traveling north on Fort Apache Road at Russell Road and flew into a 2004 Mercedes-Benz. The motorcycle is one of the most powerful sport bikes on the market. The GSX-R1000, which retails for $11,399, has a top speed of 170 mph. On its Web site, Suzuki said the GSX-R1000 is engineered for experienced riders and strongly urges those purchasing the motorcycle to take a riding skills course. It is not known if Corrales, who had been riding motorcycles for years, took such a course. Corrales, a former super featherweight and lightweight world champion, purchased his new bike April 23 from Carter Powersports, a local motorcycle dealership. He had owned a similar model in 2006. Pat Lamparelli, one of Corrales' closest friends, said the boxer might not have been completely comfortable handling the new machine. "It was a new bike, and he was probably still getting used to it, just like when you buy a new car and you're trying to break it in," Lamparelli said. STEVE CARP/REVIEW-JOURNAL