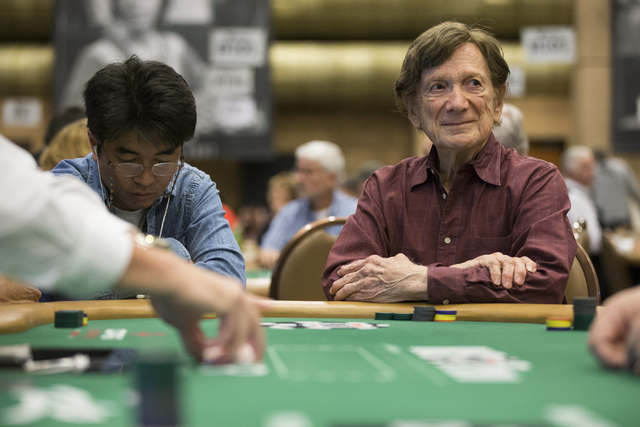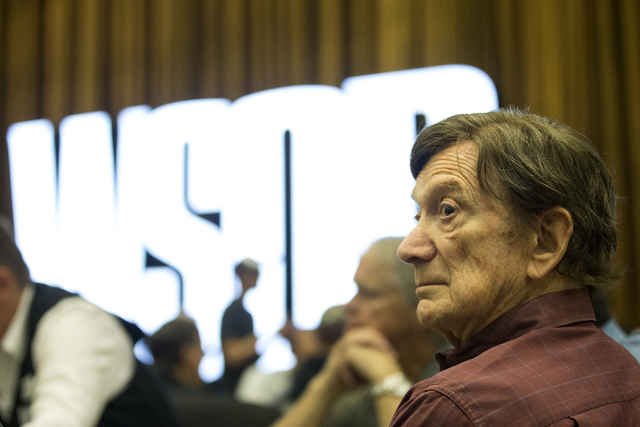 Norm Spivock describes himself as a wanderer. And an author. And a skier. And a businessman.
"I get tired of the same thing," he said. "I always have to find something new."
Since he was born April 13, 1924, Spivock's adventures include:
• Living on a 1970s hippie commune in San Francisco.
• Learning to play polo. At age 62.
• Studying Chinese at Xi'an University and attending film school in New York.
"Last year I was seriously thinking of becoming a sugar daddy," Spivock said. "I didn't follow through."
Spivock's latest passion is poker.
The resident of Santa Rosa, California, with a self-deprecating sense of humor and a stream of sarcastic one-liners will be one of the oldest players in the field when the World Series of Poker's $1,000 buy-in Seniors No-limit Hold 'em Championship opens Friday at the Rio Convention Center.
The three-day event, open to players 50 and older, drew 4,193 entrants last year. The $1,000 buy-in Super Seniors tournament for players 65 and older starts Sunday.
"Everything I do is out of the box," the introverted 92-year-old said. "The poker, you might say I'm still trying to figure out what the box is."
Spivock served in World War II and attended California-Berkeley and UCLA before going into the homebuilding business with his father in 1948. Their company built the first homes in what would eventually become Rohnert Park, California, a city approximately 50 miles north of San Francisco.
Spivock said he began his affiliation with the commune in San Francisco at age 45 near the end of his first marriage. After dating a woman from the commune for 11 years, Spivock married her older sister, and they've been together for more than 30 years.
"The younger one encouraged it. That's commune stuff, you know? If you're happy, be happy," Spivock said. "My theory is: There's not so much happiness in the world that you should deny somebody happiness because of your ego."
Ten years ago, Spivock published a book of short stories titled "Thorns of Cactus: 58 Tales Based on the Life Experiences of an Eccentric Wandering Millionaire." But Spivock had to change the title three years later to "Short Stories by Norm."
"The other book was classified as an agricultural book," Spivock said. "It was sort of a play on (Walt) Whitman's 'Leaves of Grass.' I said, 'If he has leaves of grass, I'll have thorns of cactus.' It didn't work."
Spivock became interested in poker after watching it on TV and said he got hooked in 2011 after taking a bad beat during a daily tournament at Wynn Las Vegas.
Spivock first attended the WSOP in 2013 and has been back every summer to play in the local tournaments. In April 2015, he made the final table of Aria's daily $125 buy-in tournament five times and racked up more than $8,000 in earnings, according to Global Poker Index's Hendon Mob Poker Database.
"I lost back about $3,500 in June as I got better, and the rest in July as I learned more," Spivock said. "You try out these things, and they don't work."
Spivock entered the inaugural $565 buy-in "Colossus" No-limit Hold 'em tournament last summer but didn't make the money. He earned his first career WSOP cash in the "Colossus II" two weeks ago when he finished in 1,118th place out of 21,613 entrants and collected $1,584 in prize money.
Spivock also was the oldest competitor in the 7,190-entrant field for the $1,500 "Millionaire Maker" event last weekend.
"Usually they don't peg me for as old as I am," Spivock said. "I mean, do I look a day over 89?"
Spivock said he plans to play in the Super Seniors tournament along with the Main Event that starts in July. After that, he'll hop in his blue Tesla — "I'm 92 and I have the hottest car on the road" — and go in search of his next experience.
He might even finish the autobiography he started writing in 2010 called "86 Years."
"I'm open to what happens to come. I'm not pushing it," Spivock said. "Sometimes a lot of fun is helping other people solve their problem by making them come up with the answer, or by leading them to come up with their own answer. That would be a fun thing to do. Stir it around and see what comes up."
Contact reporter David Schoen at dschoen@reviewjournal.com or 702-387-5203. Follow him on Twitter: @DavidSchoenLVRJ