Juan Carlos Garcia helps Lights FC from sidelines
Juan Carlos Garcia can look like a real life version of The Thinker at Lights FC practice, his hand resting on his bearded chin as he observes drills.
The forward has only been able to watch since injuring his knee May 5, but he's found another way to contribute as the Lights continue to reset their roster. Garcia often reaches out to his new teammates at practice with a word of advice or encouragement, functioning as a quasi-assistant coach for technical director Jose Luis Sanchez Sola and coach Isidro Sanchez.
It's a role with which he's familiar — and one that will keep him on the Cashman Field sideline when the Lights play Saint Louis FC at 8 p.m. Saturday.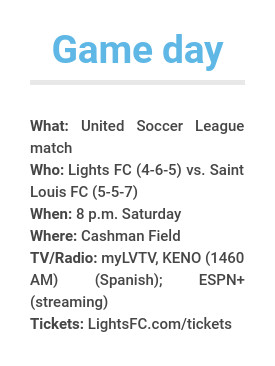 "It's cool but also I'm a little bit frustrated not to be in there helping," Garcia said. "Because by being there and being an example it's easier to get to them than by being on the outside and telling them things."
Garcia, 33, understands Sola's system as well as anyone, making it easy for him to provide a helping hand at training or during games. The two of them have been with each other since the beginning of their respective careers, starting as player and coach at Puebla FC's youth academy.
"His first team was my first team," Garcia said. "I was really young and I grew up with him."
Garcia followed Sola to two Liga MX clubs, Puebla FC and Estudiantes Tecos, but stopped playing after 2013. When he returned to professional soccer in 2016 it was with Sola again, this time as an assistant coach with second-division club Venados FC.
Garcia spent only one season on the sidelines before playing for Venados, and then followed his old coach again to Las Vegas to lend an experienced hand to the Lights. He didn't imagine so many of his contributions would come off the field, but he's been invaluable at communicating what the coaching staff wants to players.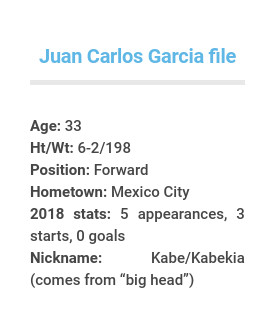 "He really knows (Sola). He knows what (Sola) wants," forward Samuel Ochoa said. "Maybe the messages that we get across from (Sola) might not be that clear and he gives it to us in a different way and we go: 'Oh, he wants us to do that.'"
Garica hopes to get back to showing, not telling, his teammates what to do on the field soon but for now he's content with continuing what is essentially a coaching internship. Sola and Sanchez have been willing to include him in meetings and get him prepared for what life might be like the second time he hangs up his cleats.
"I wasn't thinking of being a coach until Isidro and (Sola) carried me for the first time," Garcia said. "Now that I've tried it, I really like it. I think I'm good at it."
Mathers leaves Lights
Attacking midfielder Zach Mathers and the Lights parted ways, the team announced.
Mathers made five appearances (three starts) after signing with the club May 31, totaling one goal and one assist.
More Lights: Follow all of our Las Vegas Lights FC coverage online at reviewjournal.com/lights and @RJ_Sports on Twitter.
Contact Ben Gotz at bgotz@reviewjournal.com. Follow @BenSGotz on Twitter.