Las Vegas Lights FC start to find scoring stride
Updated July 4, 2018 - 4:33 pm
The Lights FC started looking like the team it wants to be in June.
The Lights got off to a pedestrian start but became more of the aggressive, attacking-minded team owner Brett Lashbrook and technical director Jose Luis Sanchez Sola promised fans last month. That yet hasn't affected their place in the standings, but it has led to more goals for the team and its opponents.
"I have a brave team," coach Isidro Sanchez said. "It is clear to me that (the players) are yelling to the world that they want to be seen, that they want to do important things."
The Lights (4-6-5) totaled 12 goals in their five June matches after scoring 11 in their first 10. The additions of attackers Raul Mendiola and Zach Mathers, as well as midfielder James Murphy, have injected some much-needed speed and playmaking into the team's lineup and made it more difficult to defend.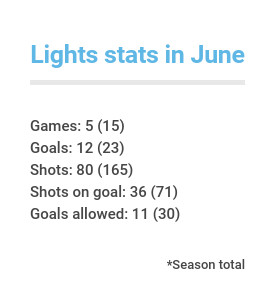 More help is on the way. Forwards Daniel Guzman Jr. and Omar Salgado are set to become eligible once the international transfer window opens July 10. Both should compete for playing time, and bring plenty of added competition to practice.
Before Guzman Jr. arrived, starting forward Samuel Ochoa had no points in nine games. In six matches since, Ochoa has four goals and three assists.
"The work we do during the week, the work I've been doing, I think it's finally paying off," Ochoa said.
The Lights are generating more chances, too; 36 of their 71 shots on goal this season came in June. They also averaged 16 shots per game last month, a figure that prorated over the season would rank third in the USL.
All that extra offense has come at the expense of defense though, which is why the team is still 12th in the Western Conference and seven points out of a playoff spot.
The Lights have allowed 11 goals in their last five games — 18 in their last six — to prevent any rise in the table. Injuries and suspensions have hit their depth on defense, but their willingness to push forward also leaves them exposed at times.
It's led to an exciting style, albeit one that still has the team searching for improvements after a 2-2-1 June record.
The month ended on a bad note with a draw against the Tulsa Roughnecks FC (1-8-8), a result Sola still wasn't over Monday.
"All the Mondays that (we) don't win (the weekend before), it's a bad (day)," Sola said.
Salute to service
The Lights will honor veterans, current members of the military and first responders before their game Saturday against Saint Louis FC. The planned tributes include photo opportunities with former U.S. Army Green Beret and NFL player Nate Boyer.
Injury updates
Forward Juan Carlos Garcia, midfielder Matt Thomas and defenders Miguel Garduno, Joel Huiqui and Christian Torres did not participate in drills Tuesday. All are nursing lower-body injuries.
Defender Marco Cesar Jaime Jr. will miss Saturday's game because of yellow card accumulation.
More Lights: Follow Las Vegas Lights FC coverage at reviewjournal.com/lights and @RJ_Sports on Twitter.
Contact Ben Gotz at bgotz@reviewjournal.com. Follow @BenSGotz on Twitter.