Lights FC goalkeeper Angel Alvarez smashes preseason expectations
Updated February 21, 2018 - 2:26 pm
When Angel Alvarez stepped into the Lights FC's goal Saturday at Cashman Field, he was only a mile from where he played high school soccer.
That made it easy for the Rancho High School alumnus' family and friends to gather for his first professional start against Major League Soccer's Vancouver Whitecaps FC and witness his continued rise this preseason. The 20-year-old was signed to be the Lights' third goalkeeper, but he's now firmly in the mix for the starting job and emerging as the team's biggest surprise.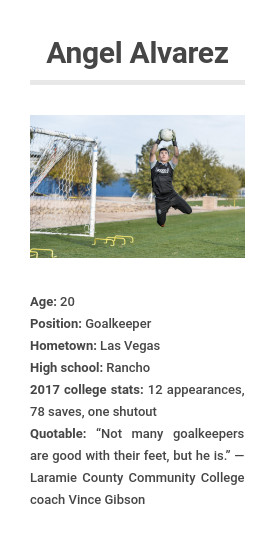 "It was the dream, you know? To play in front of my city, to play in front of my family, my friends," Alvarez said. "When I came out on the field, I heard the people cheering for me and I felt goosebumps. It was crazy."
Alvarez relieved starter Ricardo Ferrino in the Lights' first preseason game Feb. 10 after a red card, then replaced him in the starting lineup the following week. The former Southeast League Goalkeeper of the Year allowed three goals, one off a penalty kick, in his start against Vancouver, but Lights assistant coach Isidro Sanchez was impressed by his play.
"He played really, really maturely. He made good decisions," Sanchez said. "He has grown a lot as a footballer."
That growth has continued from the time Alvarez officially joined the Lights in January to now. Goalkeeper coach Romilio Gomez invited him to try out after he came home for winter break from Laramie County Community College in Wyoming, and Alvarez jumped at the opportunity.
"I didn't think about it twice," Alvarez said. "I came out, and luckily (coach Jose Luis Sanchez Sola) saw something in me that he liked."
Calderon's attitude stands out
Forward Juan Jose Calderon didn't let a demotion keep him from making an impact for the Lights on Saturday. Calderon, who started in the team's first preseason game, came off the bench against Vancouver in the 59th minute with his team trailing 2-0 and playing a man short because of a red card.
The 27-year-old erased the deficit single-handedly with goals in the 66th and 68th minute off a free and penalty kick, and Sanchez said he was impressed by the Liga MX veteran's approach.
"He's a very good kicker for set pieces, for everything," said Sanchez, who coached Calderon in Mexico's second division. "But the important part of this is having the personality to handle the pressure. For me as an assistant coach, that's what I like the most."
Chant control
A small group of fans used a chant considered a homophobic slur at the Lights' first preseason game, but the problem was eliminated Saturday. The team's in-arena DJ led the crowd of 6,049 in shouting "Go Lights!" when the opposing goalkeeper kicked the ball to drown out the unwanted cheers.
Fresh faces
The newest members of the Lights' preseason roster are midfielder Bryan de la Fuente and defender Rodrigo Inigo.
De la Fuente, 25, played under Sola for MLS' Chivas USA in 2013. Inigo, 32, has Liga MX experience and recently played in Mexico's second division with Calderon and Sanchez.
Contact Ben Gotz at bgotz@reviewjournal.com. Follow @BenSGotz on Twitter.