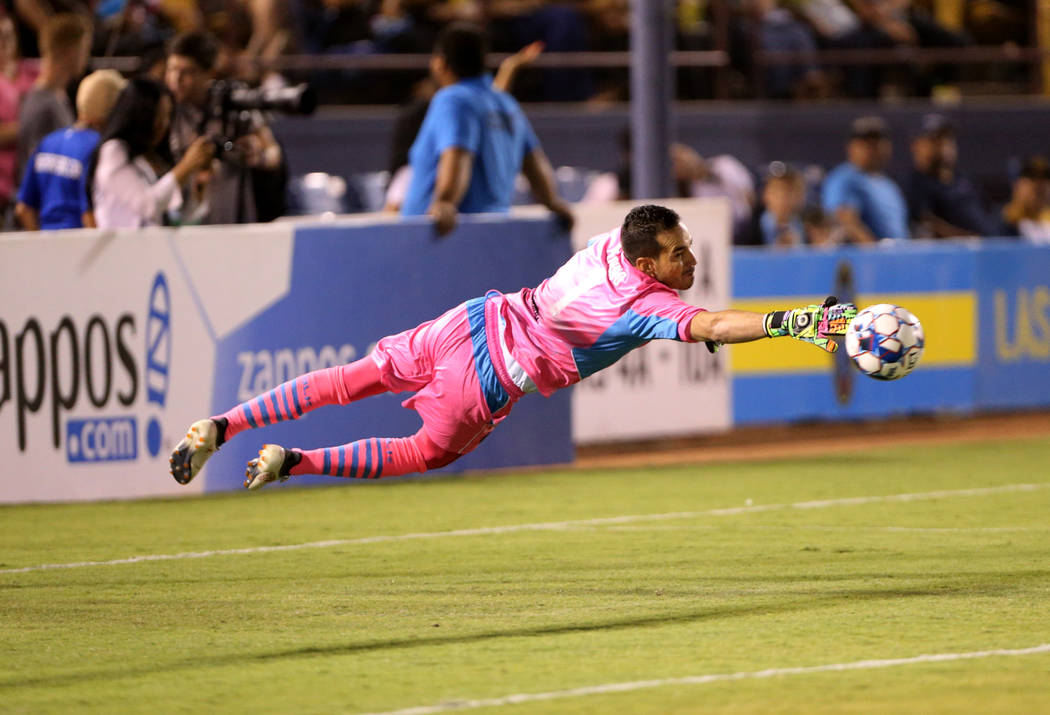 The Lights FC defeated Rio Grande Valley FC 1-0 on Saturday, but the shutout took a backseat to another zero.
The Lights had nobody on their pregame injury report, meaning for the first time technical director Jose Luis Sanchez Sola had a full roster. He used it to his advantage too, as forward Juan Carlos Garcia, midfielder Matt Thomas and defender Miguel Garduno all contributed to the win after lengthy absences.
"I'm sore and tired, but happy because we got the three points," Garduno said. "It was a long time out of the field, 11 weeks almost."
Garduno played all 90 minutes in his first game since May 23 because of a knee injury, though the Lights played with a five-man backline that limited the amount of ground he had to cover. He was out slightly longer than Thomas, who was hurt in the team's loss at Phoenix Rising FC on June 13.
The midfielder expected to be back on the field just two weeks after his lower-body injury, but it took until halftime Saturday for him to play again.
"It's tough, having to (rehab) every day, watching the team play every day. It's tough to not be out there," Thomas said. "I wanted to make sure I was fully back. I didn't want to jump back into it and still have a nagging injury."
Thomas jumped into the game as a halftime substitute for Garcia, who had the longest road back of the three players. The 33-year-old hadn't appeared since May 5 due to a right knee injury that was close to career-ending.
"I didn't know if I could play more soccer," Garcia said. "At first I thought it was over for me because I don't have an ACL in the knee actually. I have this mess all around it. It's difficult to know for sure if you can return or not. I feel like right now it is a pain I can handle, one I can play with."
Garcia, who became a quasi-assistant coach while he rehabbed, now can lead his team on and off the field. Like his other two teammates he's excited to be back in time for the Lights' push for the playoffs.
"This is a thing I want to do. I want to play," Garcia said. "I want to help the team and I want to make this team great."
Ferrino honored by USL
Lights goalkeeper Ricardo was named to the USL's Team of the Week on Tuesday.
Ferrino made seven saves in the team's victory Saturday for his third shutout of the season. The 26-year-old goalkeeper ranks third in the USL this season in saves with 61.
Who completes this #USL Team of the Week?

See the full squad → https://t.co/inNIbjN1aW pic.twitter.com/qvxDf2KO6R

— USL (@USL) August 7, 2018
"It's important for my teammates to feel like they have security with me in the back," Ferrino said.
Bolt heads to Australia
The world's fastest man ended up running away from the Lights.
Former Olympic track star Usain Bolt has negotiated an "indefinite training period" with the Central Coast Mariners in Australia's A-League, according to The Associated Press.
Lights owner Brett Lashbrook said the team was in contact with Bolt's agent and attempted to get him to Las Vegas, but the club's financial resources always made a deal unlikely.
More Lights: Follow all of our Las Vegas Lights FC coverage online at reviewjournal.com/lights and @RJ_Sports on Twitter.
Contact Ben Gotz at bgotz@reviewjournal.com. Follow @BenSGotz on Twitter.