Lights FC turn to Freddy Adu for offensive spark
Updated April 13, 2018 - 3:59 pm
The latest chapter in the story of Freddy Adu's seesaw career is about to be written.
The attacker, once dubbed "The Next Pele" by Time magazine, will make his debut for the Lights FC at 8 p.m. Saturday at Cashman Field against the Sacramento Republic FC in an attempt to get his once-promising career back on track. Lights technical director Jose Luis Sanchez Sola said his team needs a spark on offense, and he wants to see what Adu has.
"We need more offensive plays," Sola said. "And now I think that this is the hour for Freddy. … It's a good moment for Freddy to start. The offensive performance, I think that (he has) many qualities to (help it)."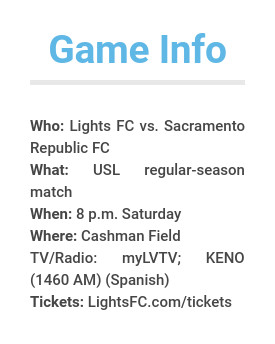 Adu has been with the Lights since Jan. 23, but it took him awhile to get back into match fitness after a year away from the sport. He made two appearances in the preseason, recording an assist, but after his first game, Sola said he was "very far from the Freddy Adu this team needs." He then did not dress for any of the team's first three regular-season games.
The 28-year-old began to stick out in training during the Lights' bye week and seemed to be playing with a renewed confidence this week. That was enough to convince Sola to put him in the lineup, possibly as a second forward, and see if he can help a team that's last in the United Soccer League in passing accuracy.
"This is the moment. Wait four months? I can't," Sola said. "Today is the opportunity to start Freddy, and Freddy by halftime I think he needs six (good) offensive plays."
Adu, who will not talk to the media, has seemingly kept up a good attitude in training despite making few appearances in games. He's one of the team's biggest talkers, and midfielder Daigo Kobayashi once jokingly asked while getting taped after practice if head trainer Kori Jeffries could tape Adu's mouth instead.
"It's been awesome (training with him). One of those surreal things," defender Zak Drake said. "Being able to play with him, but not only that, off of the field having a friendship. Having a little bit of his guidance because he, too, has traveled around the world and has all this knowledge. He's been somewhat of a mentor for me, helping me with my game. His friendship and encouragement is unmatched."
Adu was one of Drake's early soccer idols, as he was for many kids when he was starring on the U.S. national youth teams and reaching Major League Soccer at age 14. But Adu never lived up to the immense hype, and after playing for 13 teams in 11 years, he sat out the 2017 season.
Now he's back with a new club that's eager to see what he has left.
"Maybe don't have the good explosive moves, but the qualities he's born with (are still good)," Sola said. "The team needs more offensive players."
More Lights: Follow all of our Las Vegas Lights FC coverage online at reviewjournal.com/lights and @RJ_Sports on Twitter.
Contact Ben Gotz at bgotz@reviewjournal.com. Follow @BenSGotz on Twitter.