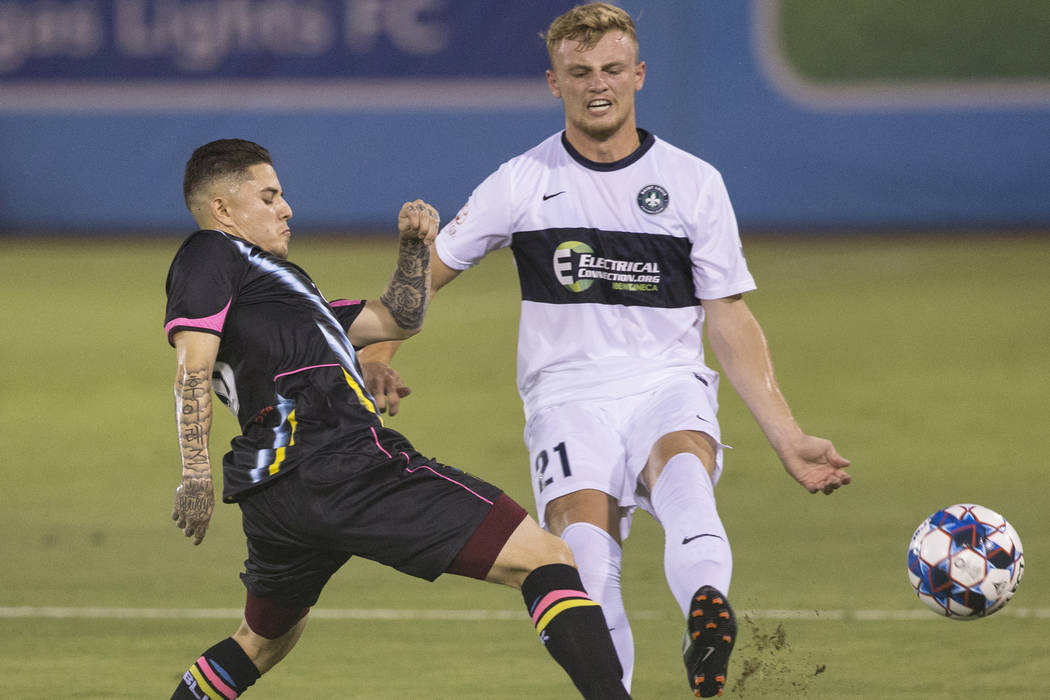 Raul Mendiola was once one of the U.S.'s best young players.
Former U.S. national team coach Bruce Arena praised him. European clubs Manchester City and Sevilla tried him out. So much promise was packed into his 5-foot-8-inch frame.
But his breakthrough never came. He spent four years with the LA Galaxy, but was cut last fall by the Major League Soccer club. He had to wait until May for his second chance, when Lights FC coach Isidro Sanchez called and asked him to be at practice the next day.
Mendiola has taken advantage of the opportunity, scoring five goals in seven games and morphing into one of the team's deadliest attackers. It's been a chance for the forward/midfielder to flash his potential.
"I've been hungry lately," Mendiola said. "I just want to help us win, whether that takes one goal, two goals, an assist. I've been hungry for goals."
San Bernardino beginnings
Mendiola, 24, was born in Ciudad Juarez, Mexico, but grew up in San Bernardino, California, after moving there at age "7 or 8." His affection for the city is commemorated by a tattoo on his left arm, but it was a tough environment.
Twenty-nine percent of San Bernardino's residents live below the poverty line, according to the city's website.
"I made some bad decisions back then, but it's all a part of growing up," Mendiola said. "If it wasn't for soccer, I'd probably be out there somewhere."
The sport became his escape, and soon his star began to rise. He turned heads with the Californian club Arsenal FC and was named the U-16 Development Academy Player of the Year after the 2009-10 and 2010-11 seasons.
Eventually the Galaxy took notice. Mendiola joined the team's academy in 2011 and three years later signed his first contract.
"Raul was always one of the most talented young players coming up in the country," LA Galaxy II coach Mike Munoz said. "Exciting, unpredictable. The defenders never knew what he was going to do."
Getting out of San Bernardino
Mendiola made the hourlong commute from San Bernardino to the Galaxy's training grounds every day during his early time at the academy, but that changed when he met assistant athletic trainer Kurt Andrews in 2012.
Andrews offered Mendiola a spot on his couch at his one-bedroom apartment in Irvine, California, beginning a yearslong living arrangement that got him out of his troubled hometown.
"For me and my wife, it was very rewarding," Andrews said. "To teach him everything you need to know to be a man."
While moving from his hometown helped Mendiola develop off the field, things became tougher on it. His career with the Galaxy was largely spent bouncing between the first and second team, and consistency was hard to come by.
U.S. national team star Landon Donovan stumped for Mendiola to get more playing time after coaching him in an exhibition game in 2016, but little changed. It didn't help that the Galaxy went through a period of instability when Mendiola was there, going through three head coaches.
"It's tough, man," Mendiola said. "I would love to be in the first team all the time. Not to be dropped back down. It's a roller coaster, and it's tough on players."
Second chance
The Galaxy's latest overhaul left Mendiola adrift in November, without a team for the first time since he was a kid. He spent a lot of time reflecting before Sanchez called, deciding to try a steadier approach when his next opportunity came.
"I wouldn't recommend it to anybody to stop playing, but it helped me a lot," Mendiola said. "Now I have a little different mentality and mindset for sure."
His impact on the Lights was instant, as he recorded an assist off the bench during his June 2 debut in the United Soccer League. His speed on the outside breaks down defenses, and his small frame disguises a feistiness that has caught plenty of teams off guard.
"He can be a nasty little guy," Munoz said. "He has no problem mixing it up. He has no problem getting in your face. He has no problem talking trash."
Mendiola has made five starts for the Lights, scoring or drawing a penalty kick in four of them. He also had the first hat trick in club history July 11 at OKC Energy FC, the first of his career.
Reaching new heights after a career low hasn't surprised those around Mendiola. He's always had the talent and desire.
"He has a big fire inside him," Sanchez said. "I love these stories of having second opportunities in life. It's a good example for all of us."
More Lights: Follow Las Vegas Lights FC coverage at reviewjournal.com/lights and @RJ_Sports on Twitter.
Contact Ben Gotz at bgotz@reviewjournal.com. Follow @BenSGotz on Twitter.
Game day
Who: Lights FC at Portland Timbers 2
When: 2 p.m. Sunday
Where: Portland, Ore.
TV/Radio: KENO (1460 AM) (Spanish), ESPN+ (streaming)
———
Raul Mendiola file
Age: 24
Height/weight: 5-8/152
Hometown: Ciudad Juarez, Mexico
Position: Attacking midfielder/forward
MLS stats: 13 games, 0 goals
USL stats: 80 games, 14 goals