Limpright thrives as irritant
January 6, 2008 - 10:00 pm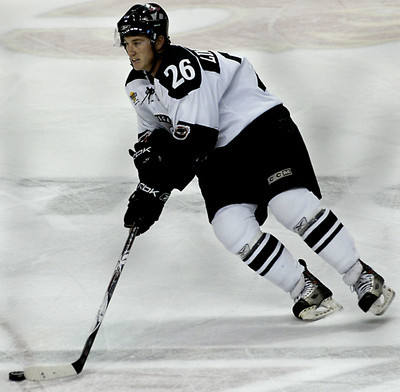 Whenever an altercation breaks out during a Wranglers game, Las Vegas left wing Shawn Limpright is usually the first player on the scene to support a teammate or settle a score.
Then again, there's a good chance the savvy six-year ECHL veteran instigated the incident in the first place.
Limpright, 26, enjoys being an agitator on the ice and said engaging in psychological warfare helps get him into his game.
"I like to get under a few guys' skin. It's always fun just to see their reaction," he said. "It kind of gets me fired up in the game. To have a guy running at me all game, that's fun. I like that."
Limpright, in his fourth season in Las Vegas, is the longest-tenured player on the Wranglers. Coach Glen Gulutzan said he relies on him to help keep the team headed in the right direction — that is, when he's not busy agitating opponents.
"He's always needling somebody, with little subtle jabs or chats, just bugging people, and obviously he's got some skill," Gulutzan said. "He can hit and he can fight. For an agitator, he can back it up for himself, which is a good quality to have."
Limpright, the Wranglers' franchise leader in penalty minutes (418), assists (80) and game-winning goals (9) — and six points from being their career points leader — isn't especially imposing at 5 feet 11 inches and 185 pounds, but he's not afraid to mix it up.
"I'm not the biggest guy or considered the toughest guy, but I enjoy the fighting part of the game," Limpright said. "Scores need to be settled at times. If some guy takes a run at one of our guys or attempts to hurt him, I'm going to help him out and jump in and drop the gloves if I have to."
This season Limpright is second on the team with 60 penalty minutes, trailing Tyson Strachan (68), who last week was called up to Peoria of the American Hockey League.
Limpright, who has 113 points in 166 games with Las Vegas, began his pro career in 2003 with Roanoke of the ECHL and earned All-Star honors in his second season, scoring 35 points in 27 games.
He also earned a promotion that season to Syracuse of the AHL and played well, scoring 18 points in 45 games and adding a goal in the playoffs.
The NHL lockout in 2004-05 dealt a blow to Limpright's career, though, when he was sent down to Dayton of the ECHL before being dealt to Las Vegas midway through the season.
"It was bad timing for me," Limpright said. "Guys like me kind of got pushed down."
Last season was Limpright's best with the Wranglers — he had 40 points in 50 games, plus eight points in eight playoff games — but injuries have kept him from getting another call to the AHL.
Though Limpright said he has enjoyed his stay in Las Vegas, his lack of advancement has him leaning toward playing in Europe next year.
"The year I played in the (AHL) was one of the best years of my life, but it hasn't come calling again since then," he said. "I'm still only 26 and guys go up at all ages, but I just think it's time, if I don't get called up, to go over there and get some life experience and obviously a little more money."
Limpright will be sorely missed by his teammates, especially on the road where celebrating his "birthday" in restaurants and on airplanes has become a long-running tradition.
A few years ago, a teammate falsely said it was Limpright's birthday to scam free cake for the team, but the ruse turned into a road ritual after Limpright was forced to stand on his chair in a restaurant while being serenaded with "Happy Birthday."
Just try to picture the agitator in a state of agitation.
"It's one of those situations that gets funnier every time, because he gets more angry every time," defenseman Jason Jozsa said. "It's probably been done about 30 or 40 times and every time is funnier than the last one."
A true team player, Limpright said he tries to take the prank in stride.
"I kind of get annoyed by it after a while. It seems I can't go to dinner without getting sung 'Happy Birthday,' " he said. "(But) I guess the guys have fun with it, so I'll take the brunt of it for the free cake."
Contact reporter Todd Dewey at tdewey@reviewjournal.com or (702) 383-0354.
Las Vegas Wranglers
FRESNO — 3
LAS VEGAS — 2
KEY: The Falcons tied the game on Jarrett Konkle's power-play goal with 2:22 to go, then won it on Matt Stephanishon's power-play goal 1:04 into overtime.
NEXT: Fresno at Las Vegas, 7:05 p.m. Tuesday, Orleans Arena