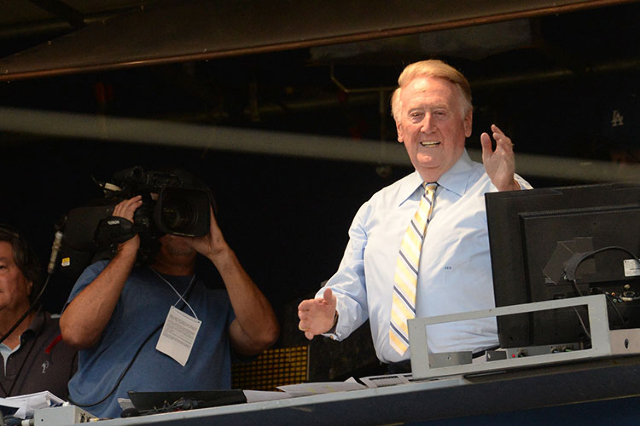 At age 87 and in his 66th season of calling Dodgers baseball games, we're happy to report that Vin Scully still has plenty of life on his fastball.
Scully, who it was announced by the team Friday will return for one more season, proved once again why he's a national treasure during Tuesday night's Giants-Dodgers game.
As the camera showed two young boys — one wearing a Giants shirt and hat sitting calmly and the other in a Dodgers shirt and hat dancing around — Scully said, "A great contrast, two youngsters maybe 10 years old, 9 years old. One is a Dodger fan, just jumping up and down, he's as happy as can be. The little Giant fan, they've already won three World Series, so he's calm and cool and he is eating his nachos. So what a contrast in those two, wonderful to see them. And the thought is of course they will stay that way probably all their lives, one rooting for the Dodgers and the other for the Giants."
Long live Scully, the soundtrack to summer.
Check out the video below.