Listless Rebels avoid upset, slip past Air Force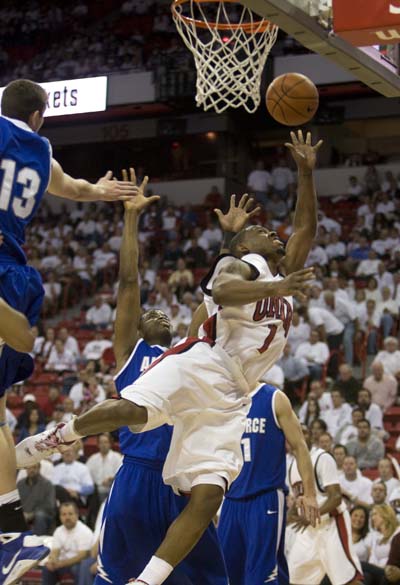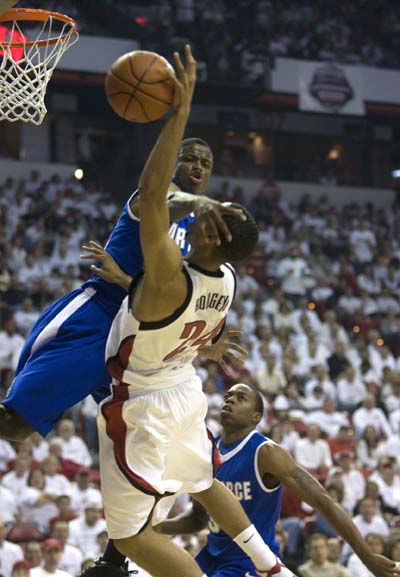 In the final regular-season home game of his career, Wink Adams made certain UNLV avoided what could have been one of its most embarrassing losses in several years.
It was Senior Night for five Rebels, and there must have been senior citizens in attendance who were trying to recall an uglier game.
But most importantly — and ironically — it was a beautiful play by Adams that essentially clinched UNLV's 46-43 victory over Air Force on Wednesday at the Thomas & Mack Center.
The Rebels led by two points and the shot clock was down to two seconds when Adams dribbled to his right, sliced between two defenders and made a left-handed layup with 24 seconds remaining.
"I had to hit that shot. I had to get the win," Adams said. "I had been through three Senior Nights and nobody lost. I didn't want us to be the first to lose."
Air Force fell to 9-19 overall and 0-15 in the Mountain West Conference. The Falcons had lost their previous six conference road games by an average of 19.5 points.
But UNLV (21-8, 9-6) again played to the level of its opponent and exhibited rare offensive ineptitude in doing so.
The Rebels scored their fewest points in a win since a 43-42 victory over Grand Canyon College on Jan. 6, 1962, when UNLV coach Lon Kruger was in fourth grade.
"It was pretty obvious we didn't shoot it very well," Kruger said.
Adams shot 5-for-12 and finished with a team-leading 11 points. But the Rebels shot 15-for-50 total, including 6-for-23 on 3-pointers, against Air Force's air-tight zone defense.
UNLV suffered two long droughts: 11 minutes without a field goal in the first half and seven minutes without a point late in the second.
After Adams' layup put the Rebels ahead 41-29 with 8:17 remaining, the Falcons answered with a 10-0 run and trailed by two after Andrew Henke's second consecutive 3-pointer with 1:46 to play.
UNLV senior Rene Rougeau was fouled after an offensive rebound and hit two free throws with 1:16 to go. Henke responded by sinking a baseline jumper with 56 seconds to play.
With the crowd of 14,943 on edge, Adams said he was feeling the pressure before he drove for the layup that made the score 45-41.
"Wink made a big play," Kruger said. "That's something he's done a lot during his career."
Air Force's Matt Holland missed two 3-point attempts, and Rebels senior Joe Darger rebounded the second miss and hit 1 of 2 free throws to wrap up the victory.
"It was more interesting than we hoped for at the end," said Darger, who shot 2-for-10 and had nine points, seven rebounds and three blocked shots. "We've got to figure out how to close out games.
"I'm not too concerned about it. We made a lot of great plays for each other, but we just didn't knock down shots."
Rougeau had nine points and eight rebounds, and freshman guard Oscar Bellfield added seven points for UNLV.
Adams, Darger, Rougeau, Mareceo Rutledge and walk-on Rob Ketchum were honored in a seniors ceremony before the game. What was expected to be a light night for the Rebels turned scary until Adams stepped up at the finish.
"I was so happy to see Wink make that shot … a lot of relief," Rougeau said.
"You just can't take (opponents) for granted, but it definitely looked like we did. That game shouldn't have been close. We should have won that game by double digits."
Henke made three 3-pointers and led Air Force with 19 points.
Contact reporter Matt Youmans at myoumans@reviewjournal.com or 702-387-2907.
View the slide show