Livengood pitches Las Vegas as NCAA tourney host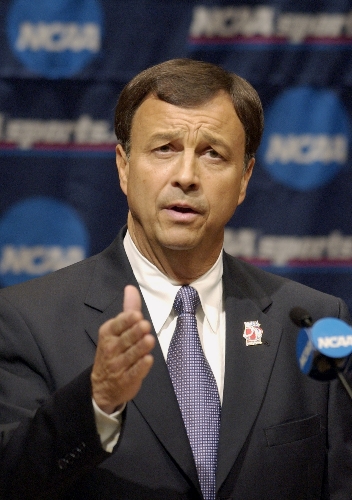 NEW ORLEANS — Jim Livengood isn't as antsy this year.
He isn't as apt to look at his cellphone every few seconds.
"I told my wife that if we could get to New Orleans and there wasn't a call in regards to a coaching emergency, all would be OK," Livengood said. "This is a totally different trip this time."
It was at the Final Four last year in Houston when Livengood began his search for a men's basketball coach to replace the departed Lon Kruger, a journey that would end with Dave Rice assuming control of UNLV's program.
Livengood's agenda as the Rebels' athletic director will take another route at the Final Four this weekend, specifically his desire to convince the NCAA that Las Vegas and the Thomas & Mack Center are ready, willing and more than able to host NCAA Tournament games.
Assuming existing contracts are renewed, Las Vegas soon could play host to four conference tournaments in March — the Mountain West, Western Athletic, West Coast and now Pac-12 — and it's this sort of annual hoops interest Livengood hopes can sway NCAA officials away from archaic views about sports gaming.
"I think the Pac-12 bringing its tournament to the MGM (beginning next year) has sent a message across the country that it's acceptable to have such events in Las Vegas," Livengood said. "From a tourism standpoint, how easy it is to get in and out of Las Vegas, no issues with hotels, having (NCAA games) would be phenomenal. Having the Pac-12 in Las Vegas now could be huge in helping make this happen.
"I really believe the concerns about gambling and sports books are no longer issues that should hold any of this up."
Livengood doesn't want to stop at just basketball. He believes hosting eight teams for second- and third-round games would benefit the community more financially than a regional setting, but also envisions Las Vegas one day welcoming NCAA championships in all divisions in sports such as track and field, wrestling and golf.
He dreams big, which can only be a good thing for Las Vegas.
The chance of hosting NCAA basketball games is at least four to five years out, and there is still the issue of alcohol being sold at the Thomas & Mack (none is allowed at NCAA events), but Livengood is convinced all such potential holdups can be solved.
They sell alcohol at the Superdome for sporting events but won't this weekend. It shouldn't be that major an obstacle for anyone thinking about the big picture of what March Madness means to those host cities.
Livengood will meet with NCAA officials in the next several days and for some time has sought the opinion of a group of experienced fellow athletic directors, a collection of those he hopes can further his goal of bringing several championships to Las Vegas.
"This is about recognizing Las Vegas as a great sports community," he said. "I'm trying my best to use the relationships I've made over the years to get things done. I think I have some credibility. We'll see what happens.
"I would love to leave this job thinking I played a small, tiny part trying to grow Southern Nevada, and specifically Las Vegas, in terms of bringing these kinds of big events to our city. Who knows … I can see one day with the (right facility) built, Las Vegas hosting a Final Four. It would be the perfect place."
Yes. The man dreams big.
Huge.
Contact Ed Graney at egraney@reviewjournal.com or 702-383-4618. He can be heard from noon to 3 p.m. Monday through Friday on "Gridlock," ESPN Radio 1100 AM and 98.9 FM. Follow him on Twitter: @edgraney.