Lobos fight for position atop loaded conference
December 24, 2010 - 12:00 am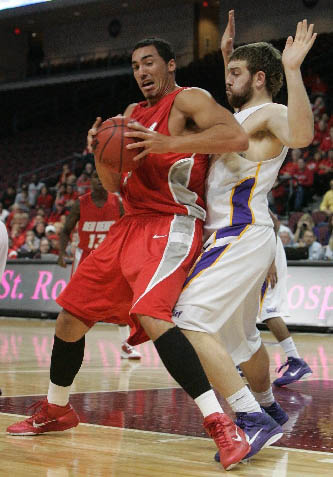 With Mountain West Conference play just two weeks away, most eyes are fixed on seventh-ranked San Diego State, No. 23 Brigham Young and previously ranked UNLV.
But revamped New Mexico could be a factor in the race for the regular-season title.
The Lobos lost Darington Hobson to the NBA but gained former UCLA forward Drew Gordon and still have Dairese Gary running the team.
Still, this week's visit to the Orleans Arena showed New Mexico coach Steve Alford that the Lobos (10-2) aren't yet ready to claim a spot among the MWC's elite.
New Mexico played from behind all night Thursday in a 66-60 loss to Northern Iowa in the championship game of the Las Vegas Classic before of an announced crowd of 2,455.
"We've played four games in a week, and we're probably in need of some rest," said Alford, whose team had won eight in a row. "I hope playing here helps us in the league because it's going to be very competitive, probably the best it's been."
The Lobos struggled to defend on the perimeter and had a hard time getting to the foul line. New Mexico made 8 of 11 free throws, and Northern Iowa hit 15 of 21.
Alford is trying not to rush Gordon, a 6-foot-9-inch junior power forward, who became eligible only last week. Both coach and player know there's plenty of basketball still to be played.
Gordon scored six points on 3-for-10 shooting in 23 minutes before fouling out with 55 seconds left and the Lobos trailing 61-60.
"You try not to get frustrated," he said. "But each game, I'm feeling more comfortable playing with the guys. There's a great chemistry on this team, and I love the coaching staff."
Gordon said he enjoyed being out of the limelight while he was redshirting and used the time to work on getting stronger and improve all facets of his game.
"It was a great experience," he said. "I've been able to work on my game, and I'm more vocal on the floor than I used to be. I can see the improvement."
So does Alford. And while it might be tempting for him to rush Gordon and play him heavy minutes now that he's eligible, Alford said he'll work him back in gradually.
"He's a very talented player," Alford said. "He'll be a go-to guy in the post for us and help us get to the line. But we're going to go slow with Drew and not rush him."
New Mexico struggled to stop Anthony James in the second half as the Northern Iowa guard scored 19 of his game-high 23 points over the final 20 minutes.
Jake Koch, one of the returnees from the Panthers' Sweet 16 squad that beat UNLV and Kansas in last season's NCAA Tournament, finished with 16 points.
Northern Iowa (9-3) beat an MWC team for the fourth straight time. It defeated Wyoming and UNLV last season and won 64-60 at Texas Christian on Dec. 4.
"They're a good team," Alford said. "They made more plays than we did. We've still got a couple of games before league starts, and our league is phenomenal. Everyone is better than a year ago, though we're not there yet."
■ Colorado 78, Indiana 69 — The Buffaloes nearly squandered a 19-point second-half lead, but Cory Higgins scored seven straight points late to preserve the win as Colorado (8-4) finished in third place.
Higgins led all scorers with 22 points.
Jordan Hulls had 17 for the Hoosiers (9-4).
Contact reporter Steve Carp at scarp@reviewjournal.com or at 702-387-2913.