Lobos forge tie for first place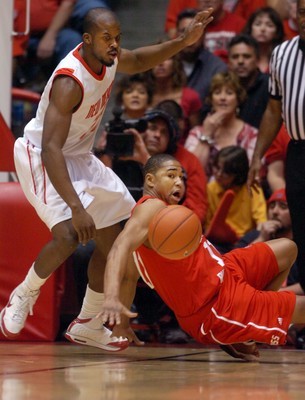 ALBUQUERQUE, N.M. — Let everyone else vote for Utah's Luke Nevill as the Mountain West Conference's player of the year. New Mexico coach Steve Alford is casting a ballot for his standout.
Tony Danridge scored a career-high 29 points, a fitting farewell on Senior Night, leading New Mexico to a 77-71 win over Utah on Tuesday night to force a tie atop the Mountain West standings.
"Tony gets our vote," Alford said. "He's been tremendous. He has put up MVP-type numbers. I don't know of anybody in our league who has put up better numbers, been harder to guard and done the job defensively that Tony has."
Daniel Faris had 16 points and 10 rebounds, and New Mexico's third senior, Chad Toppert, had 12 points for the streaking Lobos (20-10, 11-4).
"It was a perfect way for us to go out," Danridge said. "It was Senior Night, a big game in The Pit, a big-time atmosphere."
Utah (20-8, 11-4) had 18 turnovers and lost its seventh straight at The Pit. The Utes are in jeopardy of blowing the two-game lead they held with three remaining, before last weekend's 63-50 loss at rival Brigham Young.
Nevill scored 16 points on 6-for-8 shooting for Utah, but the 7-foot-1-inch standout had just four points, four fouls and one rebound after halftime.
BYU (22-6, 10-4) can jump into a three-way tie atop the standings if the Cougars win tonight at Wyoming (18-10, 7-7). That would set up a big finale to the regular season with Saturday's games.
New Mexico travels to Wyoming, Utah is home against Texas Christian (14-15, 5-10), and BYU hosts Air Force (9-18, 0-14).
The Lobos went 6-1 in February and kept the momentum going with their fourth straight victory. New Mexico led 36-34 at halftime and went on a 12-0 run midway through the second half to seize control.
Not surprisingly, the seniors made key plays in that burst. Toppert made a free throw, Faris drove on Nevill for a layup, and Danridge added a turnaround jumper to stretch the lead to 60-47 with 8:05 left.
Nevill, after drawing his third foul, grew frustrated. He picked up his fourth foul with 5:08 to go and fouled out after backing into Faris for an offensive foul with 3:41 left.
But the Utes cut their deficit to 64-58 on Shaun Green's 3-pointer with 2:43 to play, and it was 66-61 after Tyler Kepkay made a three-point play with two minutes remaining.
From there, New Mexico made 11 of 14 free throws to seal the win.
NEW MEXICO — 77 UTAH — 71
• KEY: Tony Danridge had 29 points for the Lobos, who held Utes star center Luke Nevill to four second-half points.