Local collector on a mission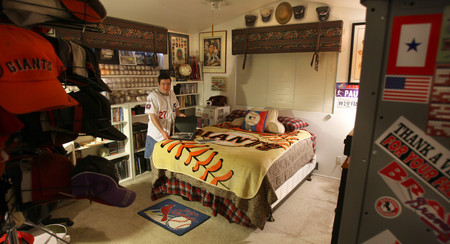 Paul Jones was so shy when he was 11 that he wouldn't make eye contact with anyone.
"It was almost spooky," his father, Barry Jones, says of his son's behavior, which was a result of a genetic brain disorder.
Paul recalls, "I didn't talk much then."
That was 12 years ago, and the behavior is hard to comprehend after watching him work the railing behind the visitors' dugout at a recent Las Vegas 51s game politely asking players to sign baseball cards.
Things began to change dramatically soon after his father took him to Nellis Air Force Base to get Hall of Fame pitcher Rollie Fingers to autograph a card. Paul became fascinated with the card.
That was about 645,000 cards ago. He has every card — every, single card — he and his parents have purchased or been given. He tends to buy random boxes of 200 cards from local shops and card shows with money provided by his parents or from a monthly Social Security disability stipend he receives.
"It was his mom's idea to take him to Nellis that day, so any time she complains about how the collection has taken over our house, I remind her that this whole thing was her idea," Barry says of his wife, Lorraine.
Last year the family tried to get the Guinness Book of World Records to create a category for the largest baseball card collection owned by one person. They met all criteria Guinness requested, including having Mayor Oscar Goodman certify the count.
"We paid Guinness about $600 to expedite the certification, and then they said the category wasn't 'extreme' enough," Barry says.
Apparently representatives of the London-based company can't fathom the risk of walking through the Jones' south Las Vegas home right after a World Series, when every box of alphabetized cards is retrieved from the garage and a nearby storage unit, then stacked throughout the three-bedroom home so Paul can count each card before spring training begins.
"I just like collecting them, and I want to have the biggest collection in the world so people remember me," says Paul, who can read at a college level and is adept at using a computer. But, because of his disorder, he usually can't tell you which president is on a $1 bill.
Paul's passion might seem obsessive — and it is — but it has become his life's work. Barry can't estimate the collection's value but guesses it is more than $100,000. And that doesn't include more than 500 autographed baseballs, including 48 signed by Hall of Famers.
And Paul got every autograph in person.
The family has had season tickets for Las Vegas' Triple-A team, the Stars and now the 51s, for 13 years. The seats always have been close to the visitors' dugout to maximize autograph opportunities. Paul wears an official uniform of the visiting team's parent club and brings only those cards of players, coaches and managers in town for the game.
"I've never sold anything," he says. "And I never will."
His father credits shopping for cards and autographs with Paul's mental development. Studying the backs of the statistic-filled cards has helped with math. Locating major and minor league teams has helped with geography.
The interaction and communication skills needed to get autographs created his outgoing personality — and his sense of humor.
"I wouldn't mind getting Barry Bonds to sign a ball, but I'd make him put an asterisk on it," Paul says devilishly, alluding to the controversy over Bonds' home run record and alleged use of performance-enhancing drugs. Any card of a player whose career has been tainted by the use of steroids has no value to him.
But Paul cherishes several cards signed by Fingers, Bruce Bochte, Tim Flannery and others who befriended Paul when they played in Las Vegas.
His oldest card is a 1952 Vern Bickford, who played for the Boston Braves.
Its value? Paul doesn't know and doesn't care.
It's just one of many, and each is valuable to him.
Contact reporter Jeff Wolf at jwolf@ reviewjournal.com or 702-383-0247.