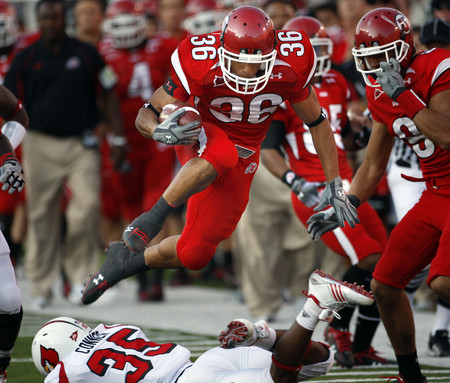 Take away the leading rusher from most teams — in this case, the Mountain West Conference's No. 1 guy — and forget about any kind of real running game.
But not at Utah.
Utes coach Kyle Whittingham knew what kind of talent he had in Eddie Wide III, a junior from Cimarron-Memorial High School.
So when starter Matt Asiata's football season ended with a knee injury in the first quarter two games ago against Louisville, Wide stepped right in and finished by rushing for 129 yards. He followed with 101 yards Saturday at Colorado State.
"He has not surprised me at all," Whittingham said. "The way he's running right now is the exact same way he ran in high school. He relies a great deal on speed and quickness, and yet he's able to lower his pads and put it up inside if he needs to."
Wide returns to his hometown when the No. 24 Utes (4-1, 1-0 MWC) play UNLV (2-4, 0-2) at 7 p.m. Saturday at Sam Boyd Stadium.
Not only did Wide star at Cimarron, his dad, Eddie Jr., played running back at UNLV in 1986, gaining 39 yards on eight carries.
"He didn't pressure me at all to choose any certain school," Wide said. "He wanted me to go somewhere I'd be comfortable at.
"He's all Utah now."
Wide never seriously considered the Rebels, his choice coming down to Utah and Washington. The assistant who tried to recruit Wide to Washington, J.D. Williams, now is the Utes' cornerbacks coach.
"(UNLV) did a really good job recruiting me, calling me and showing me they were really interested in me," Wide said. "But I wanted to get out and experience something different and be on my own."
Wide was Nevada's Gatorade Player of the Year in 2006 after rushing for 1,743 yards and 23 touchdowns. He also intercepted three passes.
Then Wide showed enough promise upon his arrival in Salt Lake City to play in 12 games as a freshman. As a sophomore last season, he averaged 6.1 yards per carry.
But he still wasn't truly tested, receiving a total of 49 carries those two seasons. Then through the first three games this year, Wide had 16 rushes for 67 yards behind Asiata, who led the Mountain West with a 101.3-yard average.
Then Asiata got hurt, and the job became Wide's.
"It was my opportunity to step up," Wide said, adding practicing against the starting defense provided good preparation. "Going against them helps me get comfortable with our (No.) 1 offense."
Not only did he rush for 230 yards the past two games, Wide also averaged 6.2 yards per carry.
But Whittingham doesn't want to give Wide — who is 5 feet 10 inches and 195 pounds — the kind of workload Asiata carried. Asiata, who is 35 pounds heavier than Wide, averaged nearly 24 rushes through the first three games.
"We've got to be careful," Whittingham said. "We can't give him the ball 25 times. We did just about right on Saturday. He ended up with 18 carries, which is just about at the top of his load."
Which, as opponents are learning, is more than enough.
Contact reporter Mark Anderson at manderson@reviewjournal.com or 702-387-2914. Read the latest UNLV football updates at lvrj.com/blogs/unlv_sports.