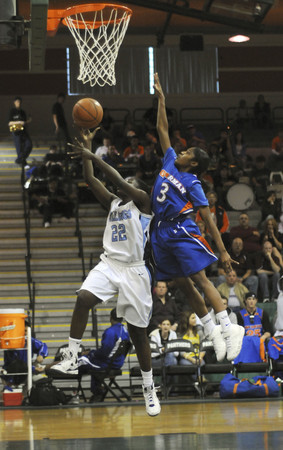 The Las Vegas area figured to have at least one high school basketball senior selected to play in the McDonald's All-American Games, most likely from Findlay Prep.
It turned out that three locals will play in the historic games in Columbus, Ohio, on March 31.
Findlay Prep guard Cory Joseph and forward Tristan Thompson were chosen Thursday for the West boys team, and Bishop Gorman guard Aaryn Ellenberg was picked for the West girls team.
"There's only 24 spots, and to have two out of that 24 is special," Findlay Prep coach Michael Peck said. "We feel pretty honored."
Thompson and Joseph, both natives of Ontario, have led the Pilots to a 25-2 start and a No. 3 national ranking by USA Today.
The 6-foot-10-inch Thompson, who signed with Texas in November, averages 16.2 points and 9.5 rebounds. The 6-3 Joseph leads the Pilots in scoring (17.8 ppg), assists (4.9) and steals (2.3).
Peck said Joseph is still considering scholarship offers from — in no particular order — UNLV, Connecticut, Minnesota, Texas and Villanova. He made official visits to all five schools and expects to sign in April.
Avery Bradley, now a freshman guard at Texas, was Findlay Prep's first McDonald's All-American last season. He won the slam dunk contest at the event.
For Ellenberg, the honor adds to a senior year in which she signed with Oklahoma in November and surpassed 2,000 career points at Gorman on Feb. 2.
Ellenberg has led the Gaels to a 21-5 start, including a 15-0 record in Southwest League play. She's the first Gorman player to be named to the game since Ashley Gayle, a sophomore post player at Texas.
"It was a pretty big deal for me because we had Ashley from our school go," Ellenberg said. "It's something to look forward to and get to that point."
Ellenberg said being named to the game was one of her goals this season but ranks beneath a possible state championship. Gorman won titles her freshman and sophomore seasons but lost 59-58 to Centennial in last year's title game.
"It's probably one of the things on top of my list, besides winning state," she said.
Contact reporter Tristan Aird at taird@reviewjournal.com or 702-387-5203.
In-depth high school sports coverage