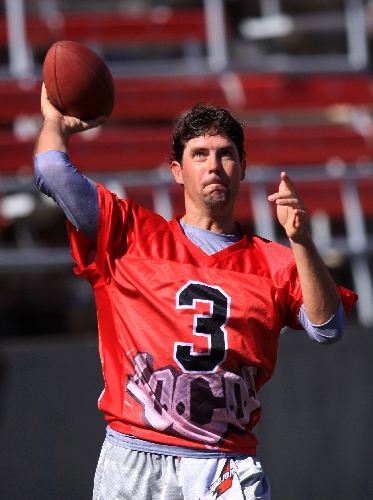 This is supposed to be Tim Rattay's favorite time of the year. But it's also his saddest.
The Locomotives' starting quarterback will help the United Football League open its second season Saturday when Las Vegas begins defense of its 2009 championship against Florida at Sam Boyd Stadium. But it also means Rattay cannot partake in his real passion — golf.
The 33-year-old Rattay, who plays to a scratch handicap, has to keep his clubs in the closet until after Thanksgiving. Locos coach Jim Fassel has imposed a "No Golf" edict for the team, particularly his QB, whose right elbow flared up during training camp from swinging his clubs six days a week.
It means Rattay will have to settle for indulging in some of Las Vegas' other attractions, such as its fine restaurants and entertainment.
"I hear Vegas has some really nice courses," said Rattay, who lives in Phoenix and gets to play some nice tracks there. "I hope to get out to Shadow Creek, Rio Secco and Bear's Best at some point."
Before reporting to training camp, Rattay got a chance to live every serious golfer's dream by playing the Old Course at St. Andrews in Scotland. Rattay, along with golfing buddies Michael Bradley and Tim Kohner, played St. Andrews three days after the British Open. Rattay said he'll never forget the experience.
"It was awesome," he said. "They still had the grandstands and the scoreboards up, and our hotel was just a few yards from the 18th (hole). You walk out the front door and you're right there."
Rattay said there was some wind and rain to help make their St. Andrews experience that much more authentic. And because it doesn't get dark until late in that part of the world, they started their round just before 5 p.m. and ended it just before 10.
"That was a little strange, playing so late," he said. "We were hoping to have caddies, but by the time we teed off, they were gone."
Instead, the trio relied on their knowledge of the course from having watched the pros play it on television. When it came time to attack the infamous "Road Hole" at No. 17, Rattay wasn't backing off.
"I killed my drive," he said. "Right over the hotel and over the road. I was about 185 (yards) out, but my second shot was to the front of the green. I was really hoping to make par, but I wound up missing the second putt and took bogey.
"But it was so cool to play the same course where so many great players have played. It was like playing football at (Green Bay's) Lambeau Field."
Rattay got hooked on golf in college at Louisiana Tech.
"My grandfather taught me how to play when I was little," he said. "But my senior year in the spring, I had more time and I had two buddies who played and they got me out there. I got addicted to the game. I started playing all the time. I'm so competitive, and I love being outside. For me, it's perfect."
Rattay said he would play every day if he could. But as the Locos prepare to open their season Saturday, his focus is on football.
"We're more talented than we were last year," he said. "We brought in some really good players on both sides of the ball, and we have more depth. It's going to be fun."
More fun than playing Pinehurst or Pebble Beach?
"A different kind of fun," Rattay said.
n NOTES — The Locos added linebacker Teddy Lehman to their roster after Lehman was released by the Jacksonville Jaguars. Lehman started for the Locos' championship squad last year. … Kicker Parker Douglass also has been signed and will replace Brooks Rossman, who injured his groin and hamstring last week and was placed on injured reserve. Douglass has had NFL stints with the New York Jets, Cleveland Browns and New Orleans Saints.
Contact reporter Steve Carp at scarp@reviewjournal.com or 702-387-2913.
TIM'S TOP COURSES
Locos quarterback Tim Rattay has played golf all over the world. He lists the five favorite courses he has played:
1. Cypress Point, (Pebble Beach, Calif.)
2. San Francisco Golf Club (San Francisco)
3. Squire Creek (Coudrant, Louisiana)
4. The Old Course at St. Andrews (Scotland)
5. Corde Valle (St. Martin, Calif.)