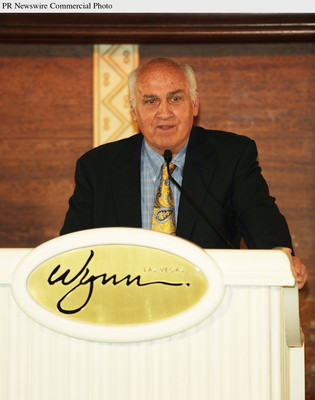 Billy Packer just couldn't stay away.
The longtime college basketball television analyst, who left his courtside job at CBS after last year's national title game, announced Monday he will return to TV as a co-host with Bob Knight on a show called "Survive and Advance" during the NCAA Tournament.
The show will be televised from the Wynn Las Vegas race and sports book.
"We could have done it anywhere, to be honest," Packer said. "But I've always wondered what it would be like to watch the tournament in Vegas."
The show, scheduled to run March 15, March 22, March 29 and April 4 and 5, will air on Fox Sports Network.
Packer said even though the one-hour programs will air from a sports book, no gambling elements will be involved.
Instead, the focus will be on analysis, interviews with coaches and players who have NCAA Tournament experience and breaking down matchups. Also, there will be interactive features such as games, fantasy leagues and chat-room opportunities with Packer and Knight.
"It's going to be a no-holds-barred show and a fun show," said the 68-year-old Packer, who approached Steve Wynn several months ago about the concept and got his approval.
Knight, a Hall of Fame coach and an ESPN college basketball analyst, said he had no problem doing the show from a casino where sports betting is legal.
"That never entered my mind," Knight said. "People who want to gamble are going to listen to anyone with an opinion. It doesn't matter where you're doing the show. It's always going to be there. If you say X has an advantage over Y, someone's going to put a bet on it."
Packer, who spent the last 34 years covering the Final Four for NBC and CBS, said he has envisioned this kind of TV project for a couple of years, and with Knight out of coaching and doing TV, it was a natural partnership.
"Working with Bob in this setting is going to be exciting," Packer said. "Next to center court, this will be the best place to be."
Contact reporter Steve Carp at scarp@reviewjournal.com or 702-387-2913.