Louisville men's basketball self-imposes postseason ban for 2016
February 5, 2016 - 12:50 pm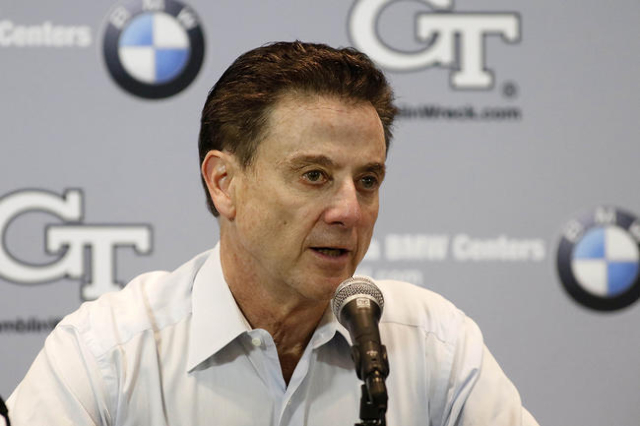 Louisville has self-imposed a postseason ban on its men's basketball team for this season, the school announced Friday.
The penalties come amid the NCAA's ongoing investigation into an alleged recruiting scandal involving paid escorts at Louisville.
The school informed the team's players in a meeting Friday and announced the sanctions at a news conference Friday afternoon.
Head coach Rick Pitino's No. 19 Cardinals have an 18-4 record and are in second place in the Atlantic Coast Conference.
"I recognize that this is a significant penalty for our program," said university president James R. Ramsey, who was accompanied at Friday's news conference by athletic director Tom Jurich and Pitino.
According to the Courier-Journal, the coaches told the players before the announcement that they only had nine games left, which is the remainder of the regular season. The Cardinals host Boston College on Saturday.
Pitino said the team stood up and hugged graduate transfer guards Damion Lee and Trey Lewis, who came to Louisville to play their final college season and pursue their first NCAA Tournament bid.
"They were hit over the head with a sledgehammer," Pitino said Friday
"This is certainly a night of extreme pain. … A complete shock. This is a punishment I thought would never happen this season. This is a decision that's as harsh as anything I've seen."
In a book published last year, Katina Powell — a self-described former escort — alleged that Andre McGee, a former men's basketball staffer at Louisville, hired dancers to strip and have sex with recruits and players from 2010-14.
Pitino has claimed he had no knowledge of the alleged wrongdoing, which Powell said took place in a campus dormitory.
Powell met with NCAA investigators and turned over detailed documents surrounding her allegations against Louisville's basketball program.
Earlier this year, Pitino was rumored to be interested in the UNLV men's basketball head coaching vacancy, though he has not yet commented on the matter.
reviewjournal.com contributed to this report.
Like Sports News on Facebook: